If there's one thing that I've learned from starting our online wedding linens business, it's that good planning can only get you so far.
You can spend hours and hours putting together the most intricate and well thought out plan only to have it blow up in your face because of one false assumption.
In order to be successful, you have to be open minded. You have to be willing to change. You have to accept that your plans might be complete garbage and that you need to start over from scratch.
Looking back, my wife and I had a ton of things that didn't go according to plan. Come to think of it, if we had proceeded down the path of our well laid out plans, my wife would still be working right now and this blog probably never would have existed.
Recently, my wife and I whipped out some of our old planning files and got such a kick out of reading them that I thought it would be interesting to share some of our failures with you.
Our Ingenious Ebay Marketing Plan
One of our biggest fiascoes was in developing the marketing strategy for our online store. At the time, I was completely new to web marketing so I had no clue what I was doing.
Basically, I hinged all of our marketing efforts on the use of Ebay. Please allow me to explain.
Ebay invests a tremendous amount of money on adwords and web advertising and in general, Ebay products do fairly well in the search rankings.
My ingenious plan was to launch a bunch of auctions with links pointing directly to our wedding linens website. The Ebay shopper would read the auction description and then go directly to our store website to make the purchase instead of waiting for the auction to complete.
We even offered lower prices on our website than on our EBay auctions in order to entice buyers to come to our site directly.
Why Didn't It Work?
We discovered the hard way that people that shop on Ebay like to shop on Ebay. Very few of the buyers actually clicked on the link to visit our website directly.
Instead, they simply bid on the auction and as a result, we ended up selling a bunch of items at a much lower profit due to Ebay's high final value fees.
We also squandered a good amount of money on Ebay listing fees without converting any customers on our direct website.
The final nail in the coffin was when we found out that it was against Ebay's terms of service to deliberately steer buyers away from the Ebay site. Fortunately, we managed to take down all of the links before Ebay banned us altogether.
Directory Submissions
The second prong of our web marketing campaign was to obtain backlinks through directory submissions. There are many services out there that offer a bazillion web directory submissions for one low price. Earn thousands of backlinks for just $19.95! Sounds like a deal right?
Well it was too good to be true. We submitted our site to a bunch of directories using some of these services and then waited for our web traffic and Google rankings to rise. Nothing happened except we received a few meaningless clicks from some random directories.
Even over two years later, I can honestly say that none of the traffic from any of these directories has ever led to a single sale on our website.
We Picked Our Best Selling Product Before Selling Anything
There was this one particular linens style that my wife and I fell in love with and thought would sell extremely well. So what did we do?
We based our initial product marketing strategies around this one particular item. Oh and did I mention that we ended up buying a crap load of these linens as well?
Yes, it's always wise to make critical product related decisions before you've even made an attempt to understand your target market:P We ended up being so wrong about these linens that over 2 years later, we still haven't gotten rid of our initial inventory!
If there's a lesson to be learned, just because you love a particular product doesn't necessarily mean that your customers will too. It's hard to predict what will sell and what will not.
In fact, we are constantly surprised by what items actually become popular.
Our Initial Product Sourcing Plans Failed
From the beginning, our plan was to source our products from Asia. All we had to do was find a cheap vendor, import the goods and sell them in the US for a nice profit. Easy as 1-2-3.
So when we found our first vendor, we placed our initial order anticipating a ridiculous profit margin. And based on this margin, we drafted up these nice hockey stick (you know up and to the right) looking graphs that depicted our massive profitability potential.
But unfortunately, our first vendor sent us a bunch of unsellable linens. Either they were damaged or the quality was horrific. Almost none of the inventory was fit for sale.
We discovered the hard way that you have to pay good money for quality merchandise. Taking into account these extra costs brought all of our profit projections back down to earth. To think that during this time I thought that we had discovered a hidden profit making machine!
Things Never Go According To Plan
Things have never gone entirely according to plan for any of my ventures. Maybe I'm just be a poor planner but I sincerely believe that it's just impossible to predict the outcome of certain aspects of your business. There are just too many variables to consider.
The proper mindset when going into business is to assume that many of your assumptions will be wrong. That way when things go awry, you'll have an open mind when it comes time to solving your problems.
If my wife and I had stuck to our original strategies, we wouldn't be where we are today.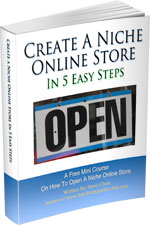 Ready To Get Serious About Starting An Online Business?
If you are really considering starting your own online business, then you have to check out my free mini course on How To Create A Niche Online Store In 5 Easy Steps.
In this 6 day mini course, I reveal the steps that my wife and I took to earn 100 thousand dollars in the span of just a year. Best of all, it's absolutely free!
Similar Posts
Have you read these?