As many of you are aware, I've been testing the comparison shopping engines on my online store for the past year and I'm ready to talk about some of my experiences with these pay per click services.

In case you don't remember what a comparison shopping engine is, please refer to my post on How To Use Comparison Shopping Engines To Increase Sales For Your Shop for a quick review.
Anyways, I wanted to blog about my own experiences with the comparison shopping engines(CSEs) because while there are many "general" articles out there, they don't give a good picture of what it's like to actually use a CSE and what you can expect to achieve.
In fact, even though I've seen a bunch of posts that rank the various comparison shopping engines, I couldn't find any posts written from the perspective of an individual shop owner.
So today, I'm going to provide you with my personal review of Google Shopping, Amazon Product Ads and Shopzilla based on my own data with these services.
Note: This post is going to be part 1 of a multi-part series that discusses my experiences with all of the popular CSEs on the market.
As a disclaimer, I just want to make sure everyone understands that my results are very specific to my online wedding linens store and should not be taken as fact.
Every store may achieve different results depending on what they sell and the results I'm reporting here should be taken with a grain of salt.
So with this in mind, let's begin!
Google Shopping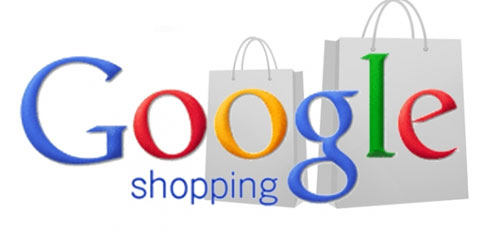 Google Shopping was the very first CSE that I tried and it really set the bar high in terms of ease of use and conversion rate. The best thing about Google Shopping is that almost every single shopping cart out there supports the Google feed format out of the box so you have to do very little work in order to submit your products online.
And even if you screw up your product feed, there's a nifty feed testing tool which gives you instant feedback in case you have errors with your submission. As a result, getting your products uploaded to Google Shopping is a snap and extremely easy to do.
Once you have everything setup, your products will start showing up in the search results and on various shopping sites. You can also implement other nifty features like dynamic product level retargeting and all functionality is nicely integrated into Google's Adwords interface.
The Conversion Rate
The conversion rate for Google Shopping is incredible. When I first signed up, I was expecting to have to do a bunch of product level optimizations with my feed in order to fine tune my return on investment like I had to do with Adwords.
But nope! Check out these ridiculous conversion rate numbers with my shop!

All of the numbers above are out of the box with no optimization! I simply listed all of the products on my site and this is what I got.
There are many other ways to further optimize and refine these campaigns which is a topic for another post but my results with Google Shopping have been nothing short of amazing.
Amazon Product Ads


With my incredible success with Google Shopping, I decided to give Amazon Product Ads a try as well. As you are probably aware, Amazon is pretty much the go to destination for ecommerce these days so it makes sense to list your products on there.
Update: Amazon Product Ads are no longer available
Amazon product ads are nice because when a customer clicks on your ad, they are still taken to your website where they complete the transaction and Amazon is out of the picture. The downside is that Amazon seems to treat their product ads customers like second class citizens compared to their other listings.
First of all, all products that are either listed on Amazon or fulfilled by Amazon seem to carry precedence in the Amazon search rankings.
And this makes sense. Amazon probably makes a lot more money when a customer buys directly from them as opposed to making money on a cost per click basis.
But not only does Amazon give precedence to their own products but they also prohibit you from listing products in certain categories.
For example, women's apparel is completely off limits for Amazon product ads customers so I had to get a little creative with my categorization in order to get my hankies listed.
The Product Feed
Amazon supports the Google Shopping Merchant feed format so getting your products listed is not that big of a hassle. However, if you want your products to be categorized properly, you pretty much have to submit a specialized feed specifically made for Amazon.
Amazon also has some little quirks that will hopefully get fixed in a future release. For example, the only way to upload your products to Amazon is through a manual feed.
In other words, I have to create my feed file, login and then manually upload my products. This is ridiculous!
Every other CSE allows you place your feed file on your webserver and automatically have it picked it up on a daily basis.
Update: Joel from Amazon informed me that they do in fact have an FTP option, but it's hidden in the menu where you select the "file format" for your feed. Hopefully, they will move this to a place where it is more obvious. But I stand corrected. Thanks Joel!
The Conversion Rate
But honestly, I can't complain because despite its quirks, Amazon Product Ads still converts like crazy. While the traffic numbers aren't nearly as high as Google Shopping, the conversion rate is what matters. Here's a snapshot of my data.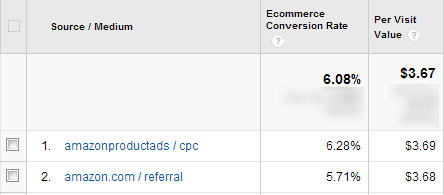 Not too shabby! These numbers are pretty awesome despite the reduced exposure compared to other Amazon products. Right now Amazon is giving away $75 in free credit for signing up. Click here to get started.
Shopzilla

Given that I was 2 for 2 with my CSE experiments so far, I was super excited to try Shopzilla next. But unlike Amazon and Google, getting my products uploaded took a bit more effort.
First off, Shopzilla has their own proprietary feed format which meant that I had to do some custom coding. Second of all, the interface was a bit more complicated for me to navigate and comprehend.
But overall, it wasn't that bad and I got my products listed without a hitch. Unfortunately, that's when things started to go south.
Because Shopzilla has a bunch of different partner sites such as Beso and Bizrate among others, it can be a little difficult to track ROI unless you specifically tag your links or use their ROI javascript.
Note: There was no way I was going to use their javascript because that would essentially provide them with all of my conversion data.
In addition, they have what they call an "affiliate partner" program where their product listings can be shown on blogs and other publications outside of sites they own.
Initially, I was not specifically tagging my links with my own tracking tags so I was getting clicks from all over the place (outside of Shopzilla.com) which weren't being accounted for in my analytics data.
Once I figured out what was going on, I made the necessary changes which made my actual numbers A LOT WORSE. Word of advice: Always tag your links!!!
The Conversion Rate
So what I'm presenting to you below are my numbers for Shopzilla and its network of sites without taking into account the "affiliate partner" sites.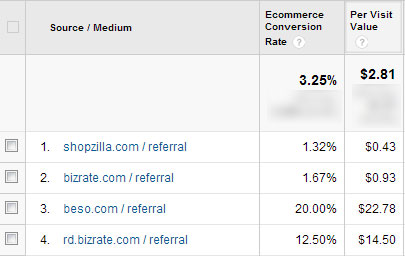 On the surface, these numbers aren't horrible and it's important to note that the 12.5% and 20% conversion rate numbers above are for very low traffic volume. But here's the thing. Once I started tagging my product links and tracking "affiliate partner" clicks, I discovered that my conversion rate was atrocious.
In other words, I was getting charged for a lot of clicks from affiliate partner sites which weren't converting. And what's worse is that "affiliate partner" traffic made up the majority of my clicks! It gets even worse. There's no way to turn off "affiliate partner" traffic either.
So what am I saying? For my online store, Shopzilla based sites were converting okay but the affiliate partner traffic was horrible and you can't avoid paying for it.
As a result, I decided to stop using Shopzilla altogether.
Conclusion
Anyways, 2 out of 3 profitable comparison shopping engines isn't bad! In my followup article, I will be discussing my results with Nextag, Shopping.com, The Find and Pronto. Stay tuned and feel free to leave me your comments below.
I'm very curious to see if other shop owners are seeing the same thing.
Further Reading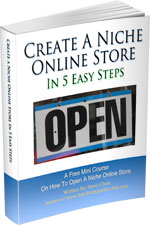 Ready To Get Serious About Starting An Online Business?
If you are really considering starting your own online business, then you have to check out my free mini course on How To Create A Niche Online Store In 5 Easy Steps.
In this 6 day mini course, I reveal the steps that my wife and I took to earn 100 thousand dollars in the span of just a year. Best of all, it's absolutely free!
Note: This post above may contain affiliate links, which means that I may receive a commission if you make a purchase when clicking a link. Please consult our privacy policy for more information.
Similar Posts
Have you read these?