For the past year, I've been using my online shop to experiment with all of the popular comparison shopping engines and I'm ready to share my results and experiences with you.
Because every shop is different, I just want to emphasize that the results I've obtained are for my online wedding linens store only and should not be taken as fact.
As a result, your own mileage may vary depending on what you sell and the nature of your customer base.

This post is part 2 of a series that I've written that documents my experiences with the various comparison shopping engines(CSE). In case you missed it, here are the links to the previous articles.
Today, I'm going to discuss my experiences with Nextag, Shopping.com, The Find and Pronto, which are all CSEs in the top ten. The data that I reference below are all numbers from my own store. Enjoy!
Nextag

In most of the comparison shopping reviews that I've read online, Nextag falls into the top 3 or 4 so I went into my Nextag experiment with fairly high expectations.
Overall, the merchant interface was fairly intuitive and I didn't have any problems navigating and setting up my product feed.
However because Nextag has its own unique feed format and does not accept Google's feed, I had to setup my own feed from complete scratch. In the grand scheme of things, this isn't that big of a deal but it did take me about an hour to get everything correct.
Ideally, even if a CSE does accept Google's product feed format, you should always generate your own targeted product feed so your products get listed where they should.
For example, most CSE's have their own distinct product taxonomy which may not necessarily translate correctly across different shopping platforms.
The Conversion Rate
Because Nextag is a high rated CSE, I went ahead and listed every single one of my products online with minimum bids and these are the results I got out of the box.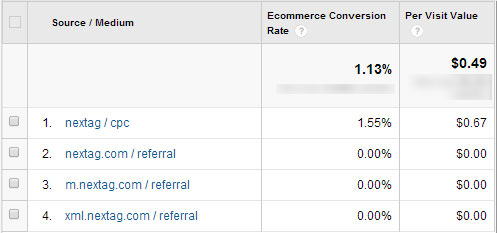 To say that I was disappointed was an understatement. Not only did Nextag perform much worse than Google Shopping, Amazon and Shopping.com but I didn't even make a profit on the listings.
The other thing that I noticed is that the minimum CPCs for Nextag are much higher than the other CSEs I reviewed.
Anyways, I took a closer look at my analytics data for Nextag and something immediately jumped out at me. It turns out that there were several categories of products that I listed that received zero sales.
While I was getting conversions, the products that did sell were all from a specific category on my shop. So I decided to give Nextag another chance and only listed the products that were selling well. Here's what I got…

As you can see from the numbers above, the conversion rates and ROI were much better once I stopped listing the non-sellers.
This just goes to show that certain CSEs cater to certain classes of products and that you really need to use your data to determine whether the ROI is worth it.
Shopping.com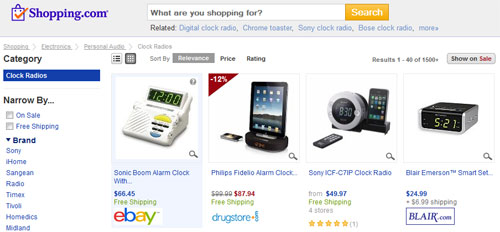 Shopping.com is also one of those CSE's that consistently ranks in the top 5. They are owned by Ebay and as a result, their listings can sometimes be seen below Ebay auctions which helps with your products' visibility.
Anyways, I went into my Shopping.com experiment with fairly high expectations. Overall, the setup and navigation was fairly intuitive and I had no problems getting everything setup properly.
Once again, I had to create my own feed from scratch. But at this point, I had already resigned myself to creating brand new separate feeds for each CSE regardless.
Conversion Rate
Following my standard setup procedure, I listed all of my products on Shopping.com with the minimum CPCs for my initial experiment.

Overall, I was pleasantly surprised with Shopping.com's performance. First off, the numbers are a bit deceiving because Shopping.com sent me a lot more traffic than any of the other CSE's except for Google.
And for the sheer amount of conversions that Shopping.com was sending my way, it was well worth the cost. At a 3.67% conversion rate, my store is still quite profitable and Shopping.com appears to get a lot more traffic than the other CSEs, especially for my niche.
As a result, I have since been playing around with my bids a little bit to optimize the ROI. Unfortunately, unlike with Nextag, there isn't anything in my data that stands out with respect to which products sell better than others. But I'm confident that I can get Shopping.com to convert at an even higher percentage.
Once I have more data from my experiments, I will update this post but for now I'm pleasantly surprised by the traffic that Shopping.com generates.
Pronto
Next up was Pronto. Because Pronto is not as highly rated as the other CSEs, I went into this experiment with fairly low expectations. And as part of evaluating this CSE, the first thing that I did was search for a few products in my niche.
Much to my dismay, this is what I saw when I searched for the term "handkerchiefs".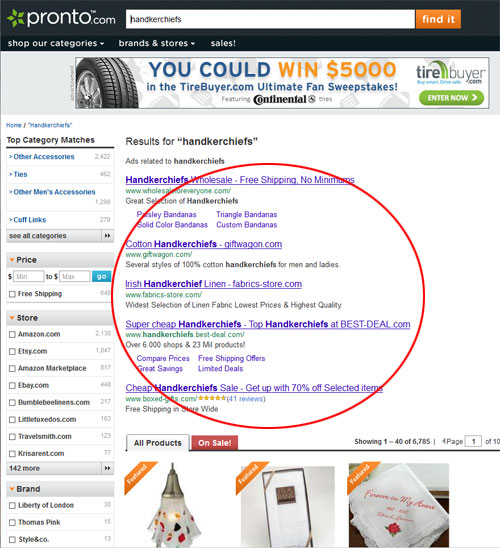 Can you spot what's wrong with the picture above? Absolutely everything above the fold is a text based Google Adwords ad. If I wanted to use Google Adwords, I would use Google Adwords.
The fact that Pronto populates their prime real estate with Google ads says something. It says that they clearly make more money selling Google ads than with their own platform.
Anyways out of all the CSEs that I tried, I had the most problems with getting Pronto's feed to work. For one thing, they force you to populate your feed with EVERY SINGLE FIELD that they specify in the EXACT ORDER they specify even if they don't apply.
This leads to a largely empty product feed which is a pain in the butt to create. Not only that, but they don't have an instant feed validator on their site either. This means that you have wait many hours to see if you created your feed properly.
As a result, it took me a few days to get things right which kind of pissed me off.
Conversion Rate
Here are my results with Pronto.

First off, I just want to warn you that you need to take these results with grain of salt because the click traffic was not nearly as high as the other CSEs in my experiments. Perhaps it's because Pronto is a ghost town or it's because my products aren't a good match.
Either way, I couldn't get good traffic or conversions with this CSE. Needless to say, I will not be continuing with them.
The Find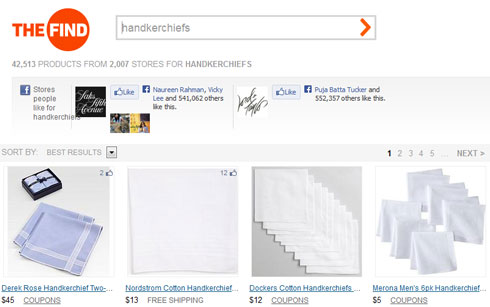 Finally, we have TheFind.com. What's awesome about TheFind is that it's 100% free which means that EVERYONE should be using them. And given that they are free, I pretty much had zero expectations going into this experiment and I was pleasantly surprised.
For a service that is free, the backend is not bad at all and I had no problems getting my products listed. First off, they will accept Google's product feed format so I didn't even bother creating a separate feed for them.
Whether or not this affected my performance remains to be seen but I was up and running within minutes!
Conversion Rate
For a service that is 100% free, I was very pleasantly surprised by my results.

I don't know about you, but a 2.5% conversion rate isn't bad at all. An even though TheFind doesn't generate much traffic at all, it still got me more customers than Pronto without costing me a penny either.
Conclusion
Out of all of the CSE's I reviewed above, the only one that I would avoid is Pronto. Clearly, certain comparison shopping engines work better than others depending on the nature of what you sell. So it's important to look at your stats closely to see what works and what does not.
And by listing and bidding up the products that you know will sell, you can probably get any CSE to generate your store a positive ROI.
Further Reading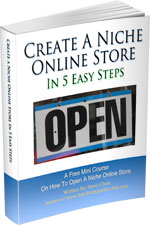 Ready To Get Serious About Starting An Online Business?
If you are really considering starting your own online business, then you have to check out my free mini course on How To Create A Niche Online Store In 5 Easy Steps.
In this 6 day mini course, I reveal the steps that my wife and I took to earn 100 thousand dollars in the span of just a year. Best of all, it's absolutely free!
Note: This post above may contain affiliate links, which means that I may receive a commission if you make a purchase when clicking a link. Please consult our privacy policy for more information.
Similar Posts
Have you read these?