This particular customer from the east coast purchased some wedding handkerchiefs from our online store about 10 days in advance and had them delivered directly to her wedding venue. The one mistake she made however was that she addressed the package to her maid of honor instead of either herself or the wedding planner. As a result, the people at the wedding venue had no idea who the handkerchiefs belonged to and the package got lost at the wedding venue itself.

So the day of the wedding, we received a bunch of calls. Since, we are on the west coast and there's a 3 hour time difference between here and the east coast, we got a series of back to back calls starting at 5am. Our normal office hours are 10-5pm and I always pipe our business calls to my cell phone when no one is in the office. Normally, I wouldn't have answered the call, especially at 5am, but fortunately for our customer, I had a 2 month old at the time who was waking me up every 2 hours anyways:) In any case, after like the tenth call, I finally decided to answer the phone.

Customer: My wedding is today and I don't have my handkerchiefs!!! I had purchased some personalized handkerchiefs for my entire wedding party. They aren't here and I really need them!!

Me: Hi ma'am, could you please let me know your order number please so I can track your package?

Customer: I'm at the wedding already and I don't have access to my computer or anything. Can you just send me another set of handkerchiefs ASAP??

Me: When do you need them by?

Customer: In about 3 hours

Me: I apologize but there's no way we can get a package to you within 3 hours. Since you don't have your order number, please give me your name so I can look up your order.

Customer: My name is Beth but I don't remember whose name I used to place the order with. Here's a list of a few possible names.

It was 5am but I fired up the computer and began looking up all of the orders with the possible list of names. Finally I located and tracked her package.

Me: Your package was delivered 3 days ago directly to your wedding venue to a person named Ann. Your hankies should be there somewhere, you just need to track them down.

***Click****

She hung up on me as soon as I told her the package had already been delivered. Sometimes customer service is a thankless job. Believe it or not, our store gets calls like this on a regular basis. Many people wait until the last minute and go frantic when things don't go perfectly. Anyways, I never heard back from this bride which most likely indicates that she tracked down her package.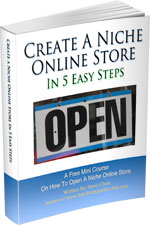 Ready To Get Serious About Starting An Online Business?
If you are really considering starting your own online business, then you have to check out my free mini course on How To Create A Niche Online Store In 5 Easy Steps.
In this 6 day mini course, I reveal the steps that my wife and I took to earn 100 thousand dollars in the span of just a year. Best of all, it's absolutely free!
Similar Posts
Have you read these?