In my last article entitled How Dedicated Hosting Can Actually Be Cheaper Than Shared Hosting, I discussed the reasons why I finally decided to switch from shared hosting to dedicated hosting with our online store.
After publishing the article, a number of readers subsequently emailed me to ask which provider I finally chose and how I made the decision. Ultimately I chose to go with Storm On Demand and here are the reasons why. Depending on what needs you may have with your own website, some of these criteria may not apply.
I Didn't Want To Pay A Ton Of Money
As I mentioned in my last article, our online store doesn't really require too much bandwidth or CPU resources at the present time. As a result, I wanted the cheapest dedicated hosting solution possible. The most reasonable dedicated plans out there are the virtual dedicated hosting plans.
For those of you who don't know what VPS hosting is, it's basically when your webhost virtually divides a single physical server into multiple virtual dedicated servers. From the perspective of the end user, it is as though you have your own physical machine and you have full control over anything that you might want to install.
The cost of VPS hosting varies but was well within my price threshold of roughly 50 dollars a month.
I Wanted A Seamless Upgrade Path
Even though my online store and blog don't require intense compute resources at the present time, it's always good to know that there's an upgrade path available.
Migrating from one hosting company to another isn't that big of a deal but it does take a good amount of time. For example, migrating our online store took me almost an entire day to perform. But if your hosting company has a good upgrade path, increasing the amount of bandwidth, disk space or even moving up to a true dedicated server is seamless.
Storm On Demand offers a wide variety of VPS packages all the way up to true dedicated hosting.
I Wanted To Use A WebHost That Well Known Bloggers Use
Let's face it, if the big time bloggers use a particular webhost, chances are that webhost is good enough for you. It's really easy to find out which webhost a particular website uses.
Simply go to www.who-hosts.com or www.whoishostingthis.com, type in a URL and you can immediately find out their web host provider.
Using these websites, I found out who a few of my favorite bloggers used to host their blogs. For example, Steve Pavlina uses ServInt, Tina Su and David Ning use Media Temple and JD Rucker uses Omegabyte.
Using this methodology, I immediately narrowed down the field of web hosts down to 2 or 3.
I Needed Good Technical Support
I'm pretty clueless when it comes to server administration, so naturally I require good technical support. To determine if the level of technical support was adequate, I called each respective webhost and asked a slew of questions to the tech. I also wrote down how long it actually took to obtain a live service rep and how long it took to get responses to my emails.
Here are some of the questions that I asked(Some of these only pertain to my online store)
Do you have a basic setup faq on how to setup a dedicated server from scratch?
How do I migrate an SSL certificate?
How do I set up a nameserver?
Can I easily install updates to Apache and PHP?
Can I downgrade my php version to version 4 if necessary?
How many VPS accounts do you place on one server?
Anyways, you get the idea. Unsurprisingly, I found that all of the web host providers used by my favorite bloggers offered very quick response times. In fact, technical support was not an issue for practically every provider that I contacted. My experience with Storm On Demand was especially good. I received email responses within minutes and I had no problems whatsoever getting a tech on the phone. The only problem that I had with Storm On Demand tech support was they had this tendency to do everything for me instead of telling me how to do things.
I Wanted The Most Bang For My Buck
By this time, I had already narrowed down my search to 2 providers, Media Temple and Storm On Demand. Ultimately, the decision came down to what I would get for my money.
Storm's lowest on demand plan, priced at $35 per month, offered 1GB of guaranteed RAM, 75 GB disk space and 1 full CPU.
Meanwhile, Media Temple's basic VPS service, priced at $50 per month, offered only 256MB dedicated RAM, 20GB of disk space and 1 TB bandwidth.
Storm On Demand offered better storage and dedicated RAM so that iced the decision for me. Hell, if Storm On Demand is good enough for other bloggers who get millions of readers a month, it should be good enough for me.
Final Words
Surprisingly, deciding on a dedicated hosting provider wasn't that big of a deal. Because it is extremely easy to find out who other people are using as their web hosts, it's usually pretty safe to just follow the leaders. If you ever have trouble deciding, just pick your favorite blog or website and find out what provider they use. It is that simple.
Related: How To Choose The Best VPS Hosting – Virtuozzo Or OpenVZ Vs Xen Vs KVM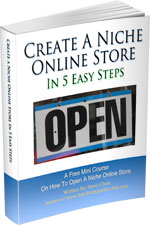 Ready To Get Serious About Starting An Online Business?
If you are really considering starting your own online business, then you have to check out my free mini course on How To Create A Niche Online Store In 5 Easy Steps.
In this 6 day mini course, I reveal the steps that my wife and I took to earn 100 thousand dollars in the span of just a year. Best of all, it's absolutely free!
Note: This post above may contain affiliate links, which means that I may receive a commission if you make a purchase when clicking a link. Please consult our privacy policy for more information.
Similar Posts
Have you read these?