Much to my surprise, a good number of my readers are either in high school or college and I regularly receive questions about our online store from students currently in school.
This one particular student became inspired after reading about our story and now wants to start a business venture of his own. The only problem is that he is also contemplating skipping college to pursue his dream. J, this blog entry is for you. I apologize for taking so long to respond to you.
Here is his original email.
I have read some of the blogs on your website and I couldn't agree more with your views on schooling and entrepreneurship. I feel we share a lot of the same views on life.

I am only 16 and in high-school. I used to earn good grades ever since elementary school, but lately I haven't been so caught-up in getting an A and more focused on how to become successful in life.

Some people will earn the grade in school and follow up with being an employee while others become the employer. Your website leads me to think you aspire to be the employer, and I am writing this to ask if you knew this before you went to college.

I am deciding whether or not I should go to college, and starting my own business seems like the way to go. What made you go to college?
After hearing stories about successful people like Bill Gates and other wealthy entrepreneurs who either skipped or dropped out of school, it is no wonder that many people now consider skipping college altogether. But keep in mind that these people are definitely in the minority.
I can not emphasize how important the college experience was to me. Going to college essentially made me who I am today and allowed me to discover what I truly wanted to pursue in life. If I had to enumerate some of the key reasons to go to college, this is the list I would come up with.
As you are reading this list, keep in mind that it is much easier to go to college first and then start your own business later rather than doing it the other way around. Don't worry about student loans for now either.
You Will Make Important Friends And Contacts
During your college career, you will meet a multitude of people, many of which will become important contacts for you later on in life. When you are in school with thousands of people, it's easy to find people that share similar interests.
Let's say you are interested in entrepreneurship. There is bound to be a group or organization dedicated to students wanting to start their own business. If there isn't, you can start your own. Finding other members to join is simple because you are in constant contact with thousands of people.
At Stanford, there were a ton of groups and organizations dedicated to entrepreneurship and you bet that I was a member of many of them. I didn't know anything about entrepreneurship or how to start a business when I first arrived and I had no clue about the process or mindset of how to begin.
By joining and taking part in various entrepreneurship programs, I established many contacts and learned from them.
Just to give you an example, when I took part in the Mayfield Fellows Program which is an entrepreneurship course at Stanford, I met many venture capitalists and other successful entrepreneurs who mentored me. I had the opportunity to really pick their brains and ask them detailed questions on how they became successful.
I learned how to evaluate the viability of my business ideas and the proper guidelines with which to start a successful business. I also discovered how to take advantage of the various resources available to me. Today, if I ever need funding for one of my business ideas, I know where to go. If I ever need a mentor or advice, I know who to contact.
The reality of it all is that a large percentage of the success of your business is about who you know and who you can contact for help when you need it. Going to college will provide you with the opportunity to meet your future partners.
You Will Gain A Depth Of Knowledge
Arguably, you can learn everything that you would learn in college on your own. However, the college environment greatly facilitates the speed and efficiency of the learning process because you are surrounded by classmates and professors who are there to help you.
I'll use computer science and programming as an example. Anyone can pick up a book and learn how to write a computer program on their own. However, the best programmers in the world also understand how the underlying hardware works in conjunction with the code that is written.
Without the necessary depth of knowledge that you would pick up from a class or professor, it would be extremely difficult to attain the same level of proficiency in a given subject matter.
Is proficiency required to start a successful business? Yes and no though it is much easier to come up with a viable idea for a business if you are already an expert in a particular area. Bill Gates could drop out of school because he was already an expert with computer software.
Because he was one of the early pioneers for operating system development, there wasn't much that Harvard could offer him.
A College Degree Will Open Doors For You
What if you need to raise money for your business? What if you need to get a job to make ends meet if your startup fails? A college degree will open many doors for you for practically everything that you may need to do.
I highly recommend getting a regular day job before starting your own business. Why? Because it's helpful to experience different working environments and learn how larger businesses are run so you can get an idea of how you'll want to run your own venture. It's extremely difficult to jump into a new startup with no knowledge, no capital and no backup plan and hope to succeed.
Without a college degree, it will be more difficult to raise capital and more difficult to find a job. You might be an extremely intelligent and capable individual but the reality of it all is that most people in the world will judge you differently based on whether or not you have a college diploma.
College is Fun
Most importantly, your college days will be some of the most memorable years of your life. If I could drop everything and relive my college years, I would do so in a heartbeat. Your college years will be one the few periods of your life where you can focus just on learning and having fun.
You will have the opportunity to test the waters and discover what you are truly interested in doing with no responsibilities whatsoever. Take some time to explore different subject areas because who knows? You might just find something else that excites you.
Should You Go To College?
Based on my own personal experiences, the answer is a resounding yes. So J, even though you may aspire to be your own boss, you need to recognize that you may not have enough knowledge at this point to succeed. But who am I to be the judge? Only you can make that decision. But for me, going to college was a no brainer.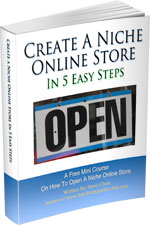 Ready To Get Serious About Starting An Online Business?
If you are really considering starting your own online business, then you have to check out my free mini course on How To Create A Niche Online Store In 5 Easy Steps.
In this 6 day mini course, I reveal the steps that my wife and I took to earn 100 thousand dollars in the span of just a year. Best of all, it's absolutely free!
Note: This post above may contain affiliate links, which means that I may receive a commission if you make a purchase when clicking a link. Please consult our privacy policy for more information.
Similar Posts
Have you read these?