As part of running my blog and my podcast, I often get questions from readers who want to know more about the early years of our business and how it has evolved over time.
How did we get started?
How much inventory did we carry early on?
Did we run it from our house in the beginning?
What does it look like now?
The answers to all of these questions are actually buried deep within my blog if you have the patience to sift through my first 50-ish entries.
In fact every now and then, I go back and re-visit some of my early posts and marvel at how bad they are! Just thinking about it makes me cringe:)
Anyway, today I'm going to save you the trouble of digging through the dregs of MyWifeQuitHerJob.com and tell you the story of how it all began.
And at the end of this post, I'll give you a personal tour of our brand new office.
Get My Free Mini Course On How To Start A Successful Ecommerce Store
If you are interested in starting an ecommerce business, I put together a comprehensive package of resources that will help you launch your own online store from complete scratch. Be sure to grab it before you leave!
The Early Years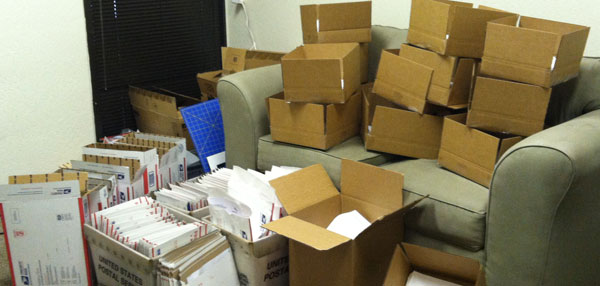 My wife and I first started Bumblebee Linens in the bedroom of our rental home. We didn't do any quality control of our products. We simply ordered linens from China and threw them in a box whenever anyone placed an order.
We did all of our packing at night after dinner starting at around 7:30-8pm. And depending on the number of orders, it would take us between 1-3 hours to pack and print shipping labels.
Once our orders grew beyond our bedroom, we moved the business into our garage. And with a bunch of cheap 80 dollar racks from Home Depot, we created a warehouse from a space that was about 350 sq ft.
I wish I had pictures to show you, but I remember a tightly packed garage with only about 3 ft between each aisle. Space was precious and we tried to maximize the square footage to fit our increasingly larger shipments from China.
At the time, we only had 1 embroidery machine which was situated in the living room next to the television set.
I would come home from work, have dinner with my wife and then run the machine until the orders were complete. While I was sewing, my wife was packing and shipping.
Then the next morning, I would take all of the boxes and drive them to the post office before heading to work.
In fact, I went to the post office so often that I became known there as "hanky boy". And over time, I actually became friends with all of the postal workers.
During the holidays, we gave them gifts and in return, they gave me great service and preferential treatment.
Always be nice to your postal workers!!!
A New House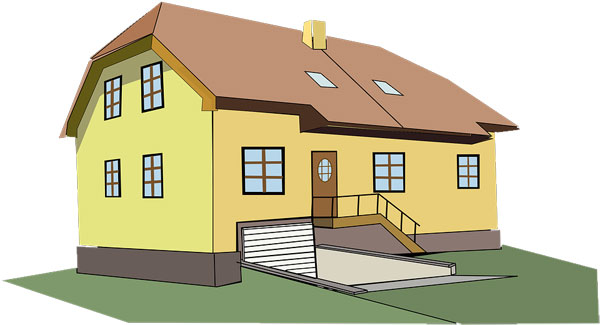 Eventually we outgrew our rental home and in 2009, we bought our first single family home which was something that we wanted to do for over 6 years.
Why did it take us 6 years?
Housing is notoriously expensive here in the Bay Area. In order to get a reasonable house in a good school district, you pretty much need to spend 7 figures.
That's right! Over here, you need to fork over a million bucks for a tiny little shack!
And prior to 2009, the real estate market was super hot.
Houses were selling "as is" within 2 or 3 days and many sold for 100% cash and significantly over asking. In fact, it wasn't unusual to have 7-10 bids per house.
Basically, we were priced out of the market. And even though we put down several bids from 2003-2007, they were all denied.
Anyway if you recall, 2009 was a low point in the real estate industry and housing demand was almost non-existent so my wife and I decided to try looking for a home yet again.
And as luck would have it, we managed to bid 100K below asking and became the proud owner of a bright yellow, smoke filled, cat ridden house in a good school district:)
Moving On Out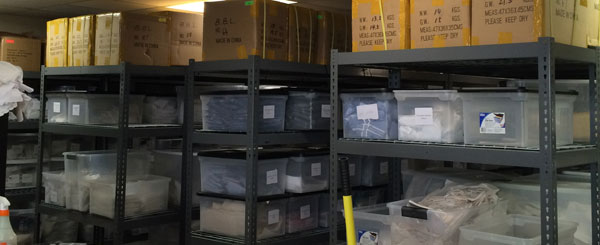 After a tiny bit of remodeling and deodorizing, we moved our business into the garage and living room of our new home. In fact, we purposely chose this house because it had a separate area where we could run our business.
We also upgraded to 2 sewing machines, a packing station and more racks to store our products. This was also when we hired our first employee to help with the sewing and packing.
Even though you technically aren't supposed to run a business in a residential area, we had our employee come by in the morning and leave at 5pm.
Meanwhile, our second child was born and Jen spent most of her days taking care of both kids.
We kept this arrangement for quite a while until my wife finally got fed up with the setup. After all, she wanted to reclaim the living room so we could actually enjoy our new house.
I remember at the time, I was dead against moving the business to a real office because I didn't want to deal with the hassle.
One, the rent was free and we'd be saving about $2000/month by running the business out of our house.
And two, we still had about 50 sq ft left in our garage to fit more linens:)
Anyway realistically, we were running out of garage space and the linens slowly started creeping their way into the house.
I remember one time, I put a box of handkerchiefs in our bedroom between the bed and the bathroom and nearly killed myself when I tripped over them on the way to pee in the middle of the night.
So finally, we decided to move our business to this tiny little office park in Santa Clara.
Our First Office
As soon as we moved, my wife breathed a sigh of relief but I was still skeptical. One, it was a 15 minute commute to the office. And two, we could no longer pack and fulfill last minute orders on demand.
In the good ole days, if a customer placed an emergency order at 8pm PST, we could have that baby packed and delivered the next morning. But without instant access to our inventory, this was no longer the case.
Overall, this turned out to be a blessing in disguise. Once my wife left the office, the business was out of sight and out of mind.
And having a separate office meant that we could hire additional workers and they wouldn't have to enter our home:)
This was key.
Having additional help also meant that my wife didn't have to be present and it granted her the flexibility to shuttle our kids around to their various activities.
Even though our first office was small, we stayed there until 2016 when we were forced to move.
Our Office Today
As I mentioned in our last income report, the decision to move offices was very hectic.
But we managed to pile our belongings into a newly remodeled facility which should tide us over for another 2-3 years.
Anyway last week, I decided to pay a surprise visit to Bumblebee Linens headquarters to film this little impromptu video. Hope you enjoy it.
Note: We're still not fully done with the office but at least everything is organized for you to see. And even though the warehouse looks kind of full, we plan on leveraging Amazon's warehouse more going forward.
Some Closing Words
Even though our little online wedding linens store is tiny by most business standards, it grants us the flexibility to be present in our kids' lives which is priceless!
Both my wife and I are able to attend all of our kids' basketball and soccer games. My wife volunteers at our elementary school to keep tabs on their progress and their friends.
And we have the freedom to help sell all of these god forsaken girl scout cookies:) Basically, we can be there whenever they need us even though they don't appreciate it right now:)
Our businesses generate more money than we need to live and we are in control of our lifestyle. That's why we do what we do.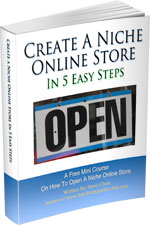 Ready To Get Serious About Starting An Online Business?
If you are really considering starting your own online business, then you have to check out my free mini course on How To Create A Niche Online Store In 5 Easy Steps.
In this 6 day mini course, I reveal the steps that my wife and I took to earn 100 thousand dollars in the span of just a year. Best of all, it's free and you'll receive weekly ecommerce tips and strategies!
Note: This post above may contain affiliate links, which means that I may receive a commission if you make a purchase when clicking a link. Please consult our privacy policy for more information.
Related Posts In Our Story
About Steve Chou

Steve Chou is a highly recognized influencer in the ecommerce space and has taught thousands of students how to effectively sell physical products online over at ProfitableOnlineStore.com. 

His blog, MyWifeQuitHerJob.com, has been featured in Forbes, Inc, The New York Times,  Entrepreneur and MSNBC.  

He's also a contributing author for BigCommerce, Klaviyo, ManyChat, Printful, Privy, CXL, Ecommerce Fuel, GlockApps, Privy, Social Media Examiner, Web Designer Depot, Sumo and other leading business publications.

In addition, he runs a popular ecommerce podcast, My Wife Quit Her Job, which is a top 25 marketing show on all of Apple Podcasts. 

To stay up to date with all of the latest ecommerce trends, Steve runs a 7 figure ecommerce store, BumblebeeLinens.com, with his wife and puts on an annual ecommerce conference called The Sellers Summit.  

Steve carries both a bachelors and a masters degree in electrical engineering from Stanford University. Despite majoring in electrical engineering, he spent a good portion of his graduate education studying entrepreneurship and the mechanics of running small businesses.