Part of the reason most kids in America have no concept of money is because parents don't share their financial information with them. Most kids have no clue how much their parents make nor do they have any idea how much it costs to survive in the real world. Because this information is not readily available, it is only natural that kids will make assumptions regarding their household finances. Most of the time, their assumptions are grossly incorrect. Next time you have the chance, talk to your kids and check to see if they have the following misconceptions.


Your Kids Think You Are Wealthier Than You Really Are
My dad is an electrical engineer and my mom is a biochemist. When I was growing up, I used to think that their combined income was around 300k a year. Why did I think this? I blame television shows and the media.


Everyday on TV, you hear about millionaires and billionaires and how their wealth is just oozing out of their ears. The media rarely reports stories about the middle class, so kids naturally correlate what they read and hear about rich people on TV with real life.

One of my favorite shows growing up used to be MacGyver. Was MacGyver ever on a budget? Sure, he wasn't flashy or anything, but he seemed to have plenty of money lying around. He was an engineer of sorts too just like my Dad. I certainly never saw him holding a day job or hurting for cash.

How about Knight Rider? Watching David Hasselhoff driving around in a fancy computerized car fighting crime on an endless budget didn't really strike me as unusual at the time. What about athletes and the ridiculous salaries that they command? If all of these people are making good money, isn't it reasonable that my parents earn good money too?

Next time you see your kids, ask them how much they think you make. Better yet, ask them this question after an episode of Beverly Hills 90210. I'm sure their numbers will be grossly off. Unless you set them straight, your kids will have a natural tendency to think that money is plentiful and that you are the king of cash.
Your Kids Have No Clue How Much The Household Expenses Are
When I was a kid, I thought that the only expenses our family had were food, gas and clothing. Our family didn't eat out that often, so food couldn't have been that expensive. We didn't drive a hell of a lot so our gasoline bill couldn't have been that high. Oh, and I certainly didn't dress as well as the other kids in my school so clothing expenses couldn't have been that much either. We must have been saving a crap load every month!

Now that I'm an adult, I look back on my teenage years shaking my head. Can you tell me what expenses I left out as a child? Practically all of the big ticket items, like rent, car payments, utilities, credit card bills etc… were missing. Trust me, if you don't point out to your kids some of your expenses, they will naturally think things are free. Take electricity for example. I used to assume that power was a god given right provided to everyone! The only utility I knew of that wasn't free was the phone bill because my Dad routinely yelled at me for racking up high long distance bills. Every since he told me how much our phone bills were, I stopped making as many calls to my friends out of state. If your kids are aware of the costs, they will do their part and try to conserve. If all else fails, you can always use guilt as your ally(more on this in a subsequent post).
Your Kids Have No Concept of Financial Priorities
As a teenager, I only had one financial priority, having fun. I spent money on clothes, games, food and going out. I wasn't aware of the necessities. I had no clue what it took to survive.

I didn't know that my parents were working their butts off so I could have fun and be like other kids. I had no idea that my parents were putting in extra hours so I could go to college and not have to take out student loans. Why did they keep this information from me? I think I would have been a much more financially conscious kid had I known the hardships that they went through to make me happy. Honestly, I didn't really need half of the stuff I spent money on.

My parents did a great job raising me, but I can't help but feel a little guilty that I didn't help out more. That's why I think it's important as parents to assure kids of the financial priorities of the household.
Your Kids Have No Idea How Much You Have Saved
This point is very similar to the one about your kids thinking that you are rich. I had no idea that our family didn't have much savings growing up. When I asked for a brand new car for my birthday, I naturally assumed that the 20 thousand dollars would just be a drop in the bucket. Just whip out a check and hand it to the car salesman. Better yet, use the credit card!

Now, I realize how low the savings rate is in the United States. The average family only saves around 5% of their income per year. Many people have negative savings and are heavily in debt. Looking back, I was such a bratty teenager but I'd like to give myself the benefit of the doubt since I didn't have all of the facts.
Why Don't We Share More About Our Finances?
I asked several parents this question along with my wife. Parents don't divulge their financials for 3 main reasons.
Parents want to shield their kids from the harsh realities of life. They don't want their kids to worry about money so they can enjoy life.
Parents that have a lot of money don't want their kids using it against them.
Parents are embarrassed at how little they've saved.
This is how I look at it. The longer that you shield your child from the harsh realities of life, the less you are preparing them for the real world. Once your kid is in college, they'll be on their own and they'll make many crucial mistakes unless you prepare them ahead of time.

If you are a wealthy parent and you don't want your kids to know about your financials, then I can't really comment because I have no experience here. All I can say is that being wealthy is a good problem to have. Worse case scenario, you can probably afford professional advice for your child.

If you are ashamed by how little you've saved, you should still let your kids know so that they'll spend less. Hopefully, they will not make the same mistakes as you in the future.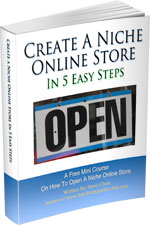 Ready To Get Serious About Starting An Online Business?
If you are really considering starting your own online business, then you have to check out my free mini course on How To Create A Niche Online Store In 5 Easy Steps.
In this 6 day mini course, I reveal the steps that my wife and I took to earn 100 thousand dollars in the span of just a year. Best of all, it's free and you'll receive weekly ecommerce tips and strategies!
Note: This post above may contain affiliate links, which means that I may receive a commission if you make a purchase when clicking a link. Please consult our privacy policy for more information.
Similar Posts
Have you read these?