I never understood how the phrase "Time is money" could ever apply to my life. After all, no one was paying me 24 hours a day so how could my free time possibly translate to money?
How could wasting time watching television or playing video games cost me anything when no one was paying me anything anyways?
It took me quite a while to comprehend the true meaning behind this statement. And after 10+ years of frittering away countless hours and taking my free time for granted, my business and my child finally made me realize how badly I was selling myself short.
For example, I used to always try to save money whenever I could by doing things myself. I would try and save a couple of bucks by changing my own oil even if it took me twice as long as going to Jiffy Lube.
One time my car needed new brake pads so I spent a full weekend learning how to replace them myself. Sure, I ended up saving a couple of bucks but at what expense? Could I have used this time more wisely by doing some other activity?
The other day one of my friends finally bought a house after over 2 years of house hunting. Turns out that he tried to save money by going with a discount real estate agent.
Basically this agent was willing to refund him .75% of the sales commission as long he did all of the leg work. As a result, he wasted tons of time looking at houses that he was not interested in and had to arrange his time around open house schedules.
In the end, he probably saved around 7000 dollars but at what cost?
He probably could've saved a ton of gas and time by having a real estate agent preview homes for him. That way he would only have had to look at houses that he realistically had an interest in buying.
Time Is Only Money When You Are Making Good Use Of It
The reality of it all is that time is not valuable until you do something valuable with it. Most people neglect to factor in the time component when it comes to making or saving money.
And as a result, most people drastically undervalue their time because they aren't making productive use of it. When my wife and I didn't have our business and I didn't have this blog, we didn't have any concept of using our time wisely.
So we squandered it away watching television and lounging around with very little to show for it.
As a result, I never used to place much value on my time at all. While I enjoyed relaxing, I always felt empty at the end of the day. Since time was not a scarce commodity for me, I was willing to do some stupid things to save money at the expense of my time.
Perhaps one of the most egregious examples of my poor use of time was when I decided to move out of my apartment without the help of a moving company.
I figured I could grab a few friends and save a good deal of cash by moving out myself. In the end, it took my friends and I an entire weekend to complete the task.
Meanwhile, a moving company could've completed the same task for a few hundred dollars and saved me over a day. Given that my 3 friends and
I probably spent over 12 hours doing the move, we were paying ourselves roughly 9 dollars an hour per person. Definitely not worth it.
How Do I Make My Time More Valuable?
So how can you avoid the same trap that I fell into? Do you find yourself selling yourself short? Do you spend time on projects that simply aren't worth your time?
If you answered yes to any of the above questions, you need to sit down and reevaluate how you budget your time. The key to making time equal money is to immerse yourself in projects that have long term value and to avoid projects with one off gains.
Instead of thinking about how you can save or make money on a singular project or activity at the expense of your time, think about how you can develop systems that can save or make money for you on a consistent basis in the long run.
In other words, instead of focusing of saving a few bucks here or a few bucks there, try and think of ways that you can provide value for a broader audience.
For example, I maintain this blog in order to motivate others and help them start their own businesses. I know that every article I write that provides value will pay me back a hundred fold in the long run.
The same is true with my online business. I know that every hour that I spend working on the website or adding new content or products to the store will eventually net me gains that far outweigh my time investments.
Meanwhile, if I use my time saving a few bucks here and there changing my own oil or doing other things that I'm simply not efficient at doing, I might save some money once but the time investment would offer no long term value.
How Do I Distinguish Between Good And Bad Time Investments?
These days, whenever I see an opportunity to save or make money, I ask myself the following questions before proceeding.
How long will it take me to complete the project?
How much money will I make or save?
Is the hourly savings or cost worth my time? What other projects require my attention?
If the hourly cost is not worth the money, is this activity something that can provide me with a useful skill? Will I enjoy doing this activity?
While I can not quantify the exact value of an hour of my time, I do know that my schedule everyday is completely packed. I have to constantly juggle spending time with my daughter, working on our online business or writing articles for this blog.
These days, an activity has to really be worthwhile in order displace some of my other activities that are already providing long term value.
As a result, I rarely try to do anything beyond my core competency by myself unless I'm really interested in learning a particular skill. Time is far too valuable to waste on petty projects. The key is prioritizing your time for activities with the most potential.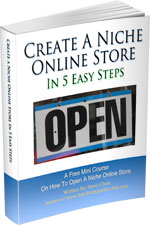 Ready To Get Serious About Starting An Online Business?
If you are really considering starting your own online business, then you have to check out my free mini course on How To Create A Niche Online Store In 5 Easy Steps.
In this 6 day mini course, I reveal the steps that my wife and I took to earn 100 thousand dollars in the span of just a year. Best of all, it's free and you'll receive weekly ecommerce tips and strategies!
Note: This post above may contain affiliate links, which means that I may receive a commission if you make a purchase when clicking a link. Please consult our privacy policy for more information.
Related Posts In Making Money
About Steve Chou

Steve Chou is a highly recognized influencer in the ecommerce space and has taught thousands of students how to effectively sell physical products online over at ProfitableOnlineStore.com. 

His blog, MyWifeQuitHerJob.com, has been featured in Forbes, Inc, The New York Times,  Entrepreneur and MSNBC.  

He's also a contributing author for BigCommerce, Klaviyo, ManyChat, Printful, Privy, CXL, Ecommerce Fuel, GlockApps, Privy, Social Media Examiner, Web Designer Depot, Sumo and other leading business publications.

In addition, he runs a popular ecommerce podcast, My Wife Quit Her Job, which is a top 25 marketing show on all of Apple Podcasts. 

To stay up to date with all of the latest ecommerce trends, Steve runs a 7 figure ecommerce store, BumblebeeLinens.com, with his wife and puts on an annual ecommerce conference called The Sellers Summit.  

Steve carries both a bachelors and a masters degree in electrical engineering from Stanford University. Despite majoring in electrical engineering, he spent a good portion of his graduate education studying entrepreneurship and the mechanics of running small businesses.