We've been running our ecommerce store for quite a while now and every single year since the beginning, our business has been growing in the double and triple digits!
But one of our problems has been that the amount of help that we've hired has not grown in proportion.
For example, while my wife doesn't really do much of the packing grunt work any more, she still touches anything that even remotely deals with money.
For example, she still prints the invoices. She still prints the shipping labels. She also handles the importing of goods and the financial reporting for the business.
In a nutshell, anything that may contain sensitive information about our finances always goes through my wife.
In addition, she also handles customer service which has been one of the secrets to our success in the wedding industry.
But now since the business has grown, all of this stuff is starting to get a little bit tedious. What was once "not a big deal" is now starting to feel like a chore.
After all, my wife's time is far too valuable to be doing anything remotely menial. So this past year, we've been working on a plan to outsource the business.
Today, I'm going to discuss what we've accomplished so far and what lies in our future.
What's Different About Ecommerce?
First off, outsourcing an ecommerce business is far different than outsourcing a blog or an affiliate site. Since ecommerce stores sell physical products, you usually have to hire physical people as opposed to virtual assistants (This only applies to stores that carry inventory).
Related: 3 Reasons You Should Stock Your Own Items Instead of Drop Shipping
After all, there has to be someone physically in your location in order to pack and ship orders. You also need a place to store your goods if you carry inventory and there's usually some amount of customer support involved.
Of course, the big plus with an ecommerce store over a blog or an affiliate site is that you will make more money within a shorter time frame. But the increased revenue velocity comes at the cost of your convenience.
We Leased A Larger Office Space
The first step of operation "Outsource The Business" was to lease an office large enough to house more employees. So I'm happy to say that as of last month, we finally got around to renting a decent sized office space in Santa Clara, CA.
This was a big step for us because I'm a pretty paranoid person. Throughout the entire process, there were a ton of negative thoughts going through my head. What if our business suddenly takes a nose dive? Why are we adding additional overhead to a business that's doing fine on its own? Why don't we just suck it up and pocket all of the extra money?
I wasn't alone in my thinking either. Believe it or not, my wife is equally if not more paranoid than I am. In fact, she was happy with the profits that we made during year 1. She didn't want to grow the business any larger and she was quite satisfied with 100K per year. But the strange thing about starting a business is that it tends to grow on its own and you can't help it.
It's kind of like having kids. Even though you want them to stay in their cute and cuddly "my parents are the greatest" stage forever, they eventually have to grow up, drive cars and date boys…*sigh*…but I'm getting a little ahead of myself here.
In any case, by leasing this new office space, we are now ready to hire additional help. In fact, we will be looking for a customer service employee very soon once we get fully settled.
We Need New Backend Systems
Because my wife used to handle all of the sensitive backend stuff, there was never a need for separate staff logins to our website. We only had a single user, and that user had complete administrative access to all parts of the website.
Now that my wife is no longer going to be the sole user of the website, we will need separate staff logins for our employees.
Unfortunately, this is something that I will have to manually code myself(I'm on an older cart). But the good news is that it will be pretty straightforward and should take me only a weekend to implement. Again, one of the big advantages of owning the source code for my shopping cart is that I can make the backend look exactly how I want it to look.
However, if I was on a fully hosted shopping cart, I probably wouldn't have full fine grained control over what my employees can and can not access on the website. I would essentially be stuck with whatever was already implemented as part of their standard package.
Anyways in the following weeks, I will be coding up a new staff backend that will restrict regular employees from accessing any sensitive information. This way, it will free up my wife from having to do some of the more tedious administrative tasks like printing invoices.
We Need To Implement Remote Access
For the past 3 weeks, my wife has been physically going into the office everyday in order to set things up and organize things around the office. But ideally, she shouldn't have to go in every day unless she feels like it. The business should be able to be run whether she is present or not. In addition, if she does need to do something, it should be able to be done remotely.
So first off, I'm going to setup VPN access to the network in the office. This way, we can place and grab files from any of the computers over there from home. Incidentally, if setting up a VPN is way over your head, you can probably get by with a service called DropBox, which will allow you to share files remotely without any technical knowledge required.
The second thing I'm going to do is setup up wireless surveillance cameras around the office. I've been doing a lot of research in this department and my weapon of choice is the Sharx SCN2700 wireless ip camera.
We have a few of these babies at home that can easily hook up to any standard wireless router and they work great! Basically, these cameras can be setup to detect motion in a very specific area of the frame. If anything so much as moves in that area, it will immediately send photos via email.
These cameras also allow you to monitor the area remotely, act as a remote DVR and even lets you listen in with live audio!
Hiring Employees
Of course once everything is setup properly, we will start looking for new employees. While we are very fortunate to have found good people so far, hiring can be an extremely tedious process. If you are curious what it takes to hire an employee legally, be sure to checkout my Ultimate Small Business Startup Guide
If all goes well, our online store should be autonomous within the next year or so once everything gets settled. Hopefully, the sacrifice in profits will be worth the additional time it will free up for my wife!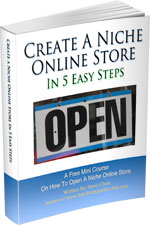 Ready To Get Serious About Starting An Online Business?
If you are really considering starting your own online business, then you have to check out my free mini course on How To Create A Niche Online Store In 5 Easy Steps.
In this 6 day mini course, I reveal the steps that my wife and I took to earn 100 thousand dollars in the span of just a year. Best of all, it's absolutely free!
Note: This post above may contain affiliate links, which means that I may receive a commission if you make a purchase when clicking a link. Please consult our privacy policy for more information.
Similar Posts
Have you read these?