A while back, I wrote an article on Why My Online Store Needs A Mobile Website And How To Tell If You Need One Too.
If you haven't read it already, I recommend that you take a quick skim through it because it outlines some of my motivations for creating a mobile version of my ecommerce store.
Now my mobile ecommerce site has been up for a few months now and the reason I haven't mentioned anything about it until this point was because I wanted to gather at least 2 months worth of data before reporting the results.
So while I'm going to show you some actual data taken from my mobile ecommerce site along with some of my observations, today's article is actually just part 1 of a multi-part series about my experiences in the world of mobile website creation.
In my next few articles, I'm going to describe to you all of the thought processes and tradeoffs that were involved in creating my mobile ecommerce site along with a description of exactly how I approached the problem. Now on to the results!
On Site Engagement Metrics
Before I begin talking about my data, I wanted to give you a brief outline of what is being compared in the tables below. First off, all of the data being presented below is for the iPhone only.
Personally, I don't consider the iPad a mobile device since it performs the same or better than a desktop device. Therefore, it's usually better to show iPad users the full version of your website.
The reason I'm not showing you any Android phone data is because the number of iPhone shoppers far exceeds Android users according to my stats.
The data for the "full site" vs the "mobile site" was gathered at different times. For example, the "full site" numbers were taken during November and December of last year which represents our store's busiest time of the year.
The numbers for our "mobile site" were taken during the latter part of February and all of March. Of course a better test would have been to do A/B testing on the two versions of the site, but I didn't really see a benefit to doing that since I already had a gut feeling that the mobile site would perform better. In any case, here are the numbers
Full Site Engagement Metrics


Mobile Site Engagement Metrics


Overall, the numbers weren't exactly what I was expecting. The bounce rate for the mobile site was actually slightly higher than the regular site and the time on site metrics were roughly similar.
However, one metric that did stand out was that mobile site users browsed 4.86 pages per visit as opposed to only 2.97 on the full site for cost-per-click(cpc) users.
Note: Comparing the cost per click data in the tables above is a better apples to apples comparison since all of the traffic is completely targeted to what I sell on my online store.
So what does this tell me? Because our mobile site is faster and easier to browse, customers are more likely to browse more products and take a more in depth look into our store. The more pages a customer browses, the more likely that he or she will make a purchase.
The Conversion Numbers
What's the point in having a separate mobile site unless it improves the conversion rate? Let's take a closer look at the conversion numbers for both versions of my store.
Full Site Conversion Metrics


Mobile Site Conversion Metrics


As you can see in the data above, the mobile site has a 2X advantage over the full site in terms of the conversion rate. This is exactly what I was hoping for!
While a 2.11% conversion rate isn't nearly as good as what I get for iPad and desktop users, this is much better than what I had before. Personally, I think that mobile phone shopping is still at its infancy.
Experts are projecting that in just a few years, mobile ecommerce traffic will exceed that of desktop computers which means that my percentage of revenue from mobile devices will continue to grow.
Why The Data Doesn't Surprise Me
Have you ever tried shopping on your mobile phone? Have you ever tried browsing a full blown desktop website on a tiny touch screen? The experience pretty much sucks. Here's why you are shedding customers by displaying your full website to mobile visitors.
Any time a customer has to scroll horizontally, you're probably going to lose that customer
Any time a customer has to pinch to zoom, you're probably going to lose that customer
Any time a customer miss clicks on a hyper link because they have fat fingers, you're probably going to lose that customer
If you've ever tried to shop on your phone (which is something I spent a lot of time doing while designing my mobile site), the experience is bad enough as it is without having to scroll around. The more user friendly your site is, the more likely a customer will shop and actually make a purchase.
With the number of mobile shoppers increasing exponentially every year, this is an issue that you can no longer avoid. In my next article, I'm going to talk about some of the design decisions that I made in creating my mobile site.
Unfortunately, it's not a cake walk and there are many tradeoffs that you have to make upfront depending on how well you want your site to perform versus the amount of work and maintenance involved. Stay tuned!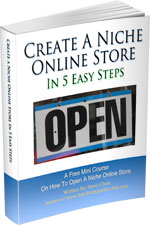 Ready To Get Serious About Starting An Online Business?
If you are really considering starting your own online business, then you have to check out my free mini course on How To Create A Niche Online Store In 5 Easy Steps.
In this 6 day mini course, I reveal the steps that my wife and I took to earn 100 thousand dollars in the span of just a year. Best of all, it's free and you'll receive weekly ecommerce tips and strategies!
Note: This post above may contain affiliate links, which means that I may receive a commission if you make a purchase when clicking a link. Please consult our privacy policy for more information.
Similar Posts
Have you read these?