Every couple of months, I take an in depth look at the search keywords that people use to arrive at our online store. In addition, I also use keyword tools to see whether people are doing searches for our business directly.
Much to my surprise, I found that some amount of searches were for the term "Bumblebee Linens coupons" or "hanky coupons bumblebee" etc… I guess it's only natural that shoppers search for coupons.
But the truth is that we rarely give out coupons yet we prominently display a coupon code field during checkout. The fact that customers are looking for coupons makes me wonder whether they are prematurely exiting the checkout process in search for nonexistant discounts.
Why We Don't Issue Coupons Very Often
There are different schools of thought when it comes to coupons. Some companies always have coupon codes outstanding as a way to entice customers to shop sooner rather than later.
The problem is that if there are always coupons available, then customers generally won't buy unless they have an active coupon code. The same theory holds true if your store runs regular sales promotions.
The other reason that we only issue coupons to our best customers is because we believe that issuing mass coupons kind of cheapens the feel of the store.
Since we are in the wedding industry, we definitely don't want people clipping coupons as a reason to come to our website. We want people to shop because we carry quality products and not because we offer the best bargains.
In addition, our cheapest customers have also traditionally been the hardest to please.
How Do You React To A Coupon Code Field?
I don't know about you, but whenever I see an empty coupon field while shopping online, I almost always take some time to do a quick coupon search.
And unfortunately, it almost always results in me leaving the ecommerce site for a short period of time.
While searching for coupons, sometimes I find a better deal and never return. Sometimes, I find a coupon code only to discover that it doesn't work. Sometimes, I waste so much time searching for the coupon that I get fed up and put off the purchase altogether.
The big kicker here is that the coupon code field actually entices a customer to leave your store during a crucial period in which you are trying to close a sale. Whenever a customer leaves your site for any reason, it's very bad for business.
The Dilemma
Looking at our statistics, 7% of our customers do not successfully complete the checkout process starting from the page that contains the coupon code field.
But to be honest, I'm not 100% positive how many customers actually leave our site to search for coupons during checkout. The only thing I really know is that there are people out there actively searching for coupons for our online wedding linens store and not finding them.
The other thing that is really annoying is that there are a whole bunch of coupon aggregator websites that pop up during a web search that carry bogus coupons.
If you run an online store, try typing in followed by the word coupons and you'll be shocked by how many bogus coupon code links pop up. It's no wonder that people get fed up with the whole process.
For us, having the coupon field is useful in order to reward loyal customers but at the same time we don't want customers leaving our site for any reason and certainly not during checkout.
This presents us an interesting dilemma. How can we give out coupons and discounts without given out coupons?
A Possible Solution
Ultimately, I don't really want to remove the coupon code field altogether because we do offer coupons to some of our biggest customers. Yet we don't want the negative effects associated with offering coupons.
Mike King offered up a possible solution which I liked.
I too don't like the idea of online coupons actually. You've be way better off to simply offer a limited time sale price for an extra deal or bundle price for a sale instead of the coupons. I see what you mean for preferred customers, but then you should call it that so people don't go searching for coupons. Change the field name to say, preferred customer code, and no one will go searching for a coupon.
Mike's solution sounded like a good one so I gave it a try.
The Outcome
The outcome wasn't exactly what I was expecting. Instead of people ignoring the field and checking out, we received several inquiries on how to become a preferred customer and how to get a preferred customer code.
Some customers that we responded to either didn't complete checkout and one customer even left a rather negative note after making a purchase. We were kind of shocked. Here's the note below.
If you would like me to come back please put whatever promotional code for free shipping or 10% discount is out there for preferred customers. It is in the best interest of future business – obviously you have one. Thank you in advance
In any case, I have temporarily removed the coupon field altogether for now until I can come up with a better solution. I may just end up using cookies and a special link to implement my discounts.
How Do You React To Coupon Codes?
When you see a place to enter coupons, do you immediately go off and do a coupon search? What is your opinion on what to do with the coupon code box for our online store?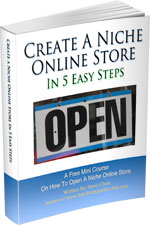 Ready To Get Serious About Starting An Online Business?
If you are really considering starting your own online business, then you have to check out my free mini course on How To Create A Niche Online Store In 5 Easy Steps.
In this 6 day mini course, I reveal the steps that my wife and I took to earn 100 thousand dollars in the span of just a year. Best of all, it's free and you'll receive weekly ecommerce tips and strategies!
Note: This post above may contain affiliate links, which means that I may receive a commission if you make a purchase when clicking a link. Please consult our privacy policy for more information.
Similar Posts
Have you read these?