Shopify Google Analytics is an extremely powerful tool for visualizing how visitors interact with your ecommerce store. And with this data, you can make actionable changes to improve your sales and traffic.
But the main problem with Google Analytics is that it's way too complicated for the average user. The sheer number of options, switches etc… make it hard to figure out where to find your data.
In addition, many of the options are not well explained. Now as an engineer, I can appreciate having all of the extra control and the expanded feature set.
But after teaching my ecommerce course for over 7 years, I've found that the average ecommerce store owner rarely looks at their Analytics (outside of traffic reports) because the tool is too intimidating.
Does this sound like you?
As a result, I'm going to show you how to extract out the useful information from Analytics that should be good enough for most of you. In reality, you don't need to understand every bell and whistle to run a successful ecommerce store.
Get My Free Mini Course On How To Start A Successful Ecommerce Store
If you are interested in starting an ecommerce business, I put together a comprehensive package of resources that will help you launch your own online store from complete scratch. Be sure to grab it before you leave!
What's Covered
First off, this post will not address how to setup your Google Analytics.
If you are on a good fully hosted shopping cart like Shopify or Big Commerce, they should provide you with detailed tutorials on how to get Google Analytics setup for your site.
After all there's no point in regurgitating shopping cart specific information that is readily available online. Instead, I'm going to focus on how to use Google Analytics data to drive your actions.
That being said, you should make sure the following is setup correctly.
Use this as a checklist
Use Google Universal Analytics
Make sure ecommerce tracking is turned on
Make sure enhanced ecommerce tracking is turned on
Make sure you've set up your checkout funnel and purchase goals
Make sure you've set up your on-site search tracking
Once again, if you do not know how to setup up anything above, contact your shopping cart provider and they should help you get going.
Note: If at anytime you'd like someone to hold your hand through this process, consider checking out my ecommerce course at http://profitableonlinestore.com
Use Ecommerce Dashboards
Most of the heartache in using Google Analytics lies in navigating an impossibly large set of options in the left hand side menu. For example, here's what it looks like when you login.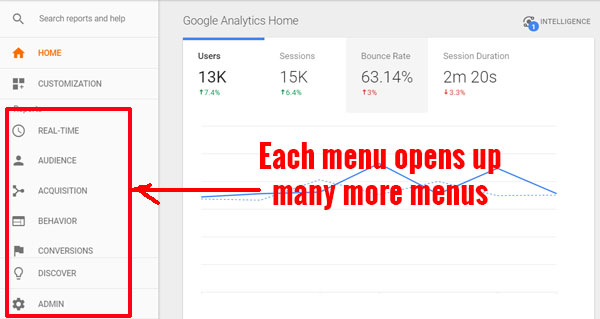 To find what you need, you often have to click on a series of menus until you find the right category. Then you need to set up filters to extract what you need.
This is all fine and good.
But given my personality, if a piece of data takes too long to find, I will be too lazy to check it regularly. As a result, I rely on several ecommerce dashboards to tell me the overall health of my shop.
What is a dashboard?
A dashboard is a way to organize your Google Analytics data so that you can easily extract out the good stuff without having to navigate an infinite array of menu options.
All of your key performance indicators should be on the dashboard so you only have to dig deeper if you discover an anomaly with your data.
The dashboards that I'm about to show you are free and can be obtained at a site called Dashboard Junkie. These dashboards are easy to install and should satisfy at least 80% of your analytics needs.
Overall Performance Dashboard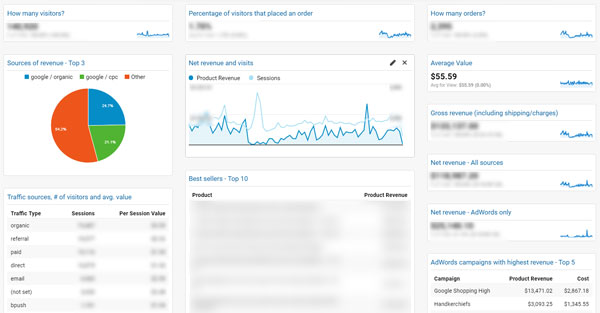 This first dashboard gives me an overall view of how my online store is performing from a 50,000 ft level. Specifically, I look for anomalies in site traffic, overall sales, traffic referrals and top products.
For example, there was one month a few years ago where my credit card expired for my Bing ad campaigns.
As a result, those ads stopped running and I probably wouldn't have noticed if it were not for the fact that Bing stopped showing up as a referrer in this report.
Once I dug a little deeper, I noticed that Bing revenue went to zero and that's when I realized my mistake.
I also make sure that my store is tracking to grow from year to year. Sometimes if it's a slow month, I'll send out additional emails or more promotional campaigns to up our revenues.
Mobile Vs Desktop Performance Dashboard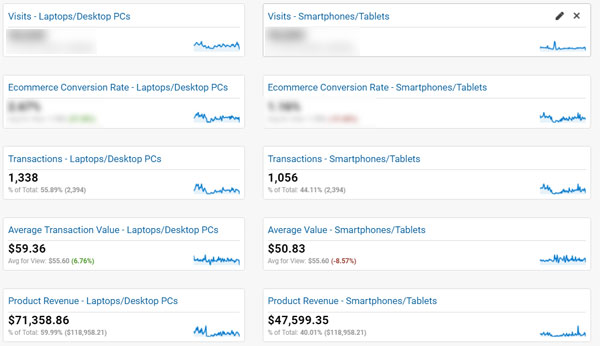 This dashboard gives me an overall view of how my store is performing on desktop vs mobile. We all know that mobile is taking over the world and this report helps me keep tabs on my mobile performance.
The image above is actually a real snapshot of my shop and right now mobile traffic is nearly double that of desktop traffic. However, my desktop/laptop earnings significantly exceed that of mobile.
While it's hard to draw any conclusions from this one data point, it does indicate to me that my customers are much more comfortable completing transactions on a real computer as opposed to a smart phone.
In any case, I use this report mainly to monitor my conversion rates on mobile vs desktop. If there are any significant fluctuations, then I'll usually dig deeper to find out why.
Adwords Performance Dashboard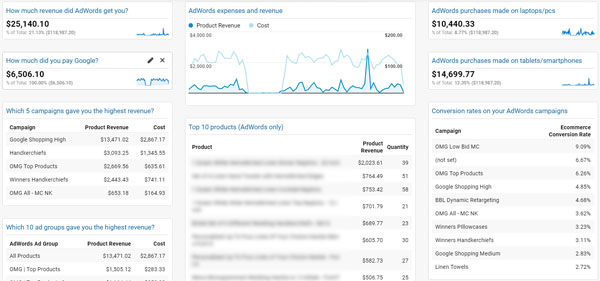 I generate a lot of revenue from running Google Adwords but in general I hate logging into the Adwords manager. Instead, I access this quick and dirty Google Analytics dashboard to get a high level overview of how my campaigns are performing.
The number one thing that I look at is how my campaigns are converting. I expect to make at least a 3X ROAS for my campaigns. If anything drops below that amount, then I take a closer look why.
Right now, it looks like my main "handkerchief" campaign is not performing as well as I would like. As a result, I'm going to take a look at the keywords to see if further optimization is required.
In addition, this dashboard allows me to quickly spot which products and keywords are performing the best which may affect my bidding strategy.
On Site Search Report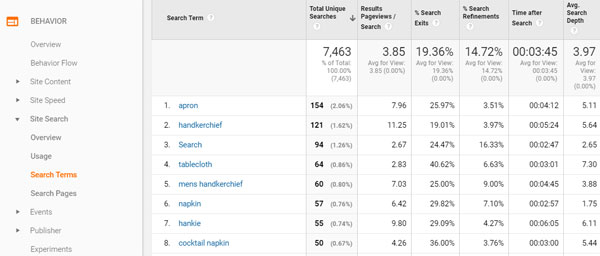 There are 3 types of customers who shop in your online store.
The Browsers – These customers use the navigation menus on your shop and browse your products until they find something they like.
Direct Customers – These customers land directly on your product or category pages and don't browse around. They either purchase what they see or they bounce
The Searchers – These customers gravitate immediately to the search bar on your site and type in what they are looking for.
While all 3 customer types are important, I've found that most online shop owners neglect the "searchers" on their site. For example with my ecommerce store, a significant number of visitors use our search engine and it's important to analyze their behavior.
In fact, 95% of my customers leave my site if their search yields zero results!
By going to Google Analytics and clicking on Behavior->Site Search->Search Terms, you can get a full report on what customers are searching for on your shop.
This data can be used in the following ways.
Improving Your Search – By looking for misspellings and synonyms for your products, you can add these keywords to your on site search engine to yield better results.
Discovering New Products – By analyzing the customer searches that return zero results, you can find hidden products that you should be carrying in your shop. For example several years ago, we noticed that many customers were searching for "vintage hankies". As a result, we decided to sell them.
Over the years, the Google search report has allowed me to fix my on site search engine problems and improve the conversion rate of my online store. In addition, several of our product decisions have been influenced by our customer's search intent.
Note: For a more in depth post on on site search, please read my post on Improving Onsite Search: Critical Mistakes That Drive Customers Away From Your Online Store
Tracking Marketing Campaigns
The problem that most brick and mortar stores face when launching an advertising campaign is that they can't easily track how much money and foot traffic resulted from the ad.
With an online store however, you can easily measure the effectiveness of your online marketing campaigns via click tracking in Google Analytics.
For example, whenever I send out a broadcast email to my store email list, I insert a link to my online store within the email that is specifically tagged with our promotion.
As a result, whenever someone clicks on that link, I know exactly which marketing campaign caused the sale. In addition, Analytics tells you exactly how much money you made from your promotion.
In order to extract this information from Analytics, you must make sure that your links are properly tagged.
To tag your links, you can click here to use Google's Campaign URL Builder
Here's an example of how I used the URL builder to run my Valentines Day email campaign.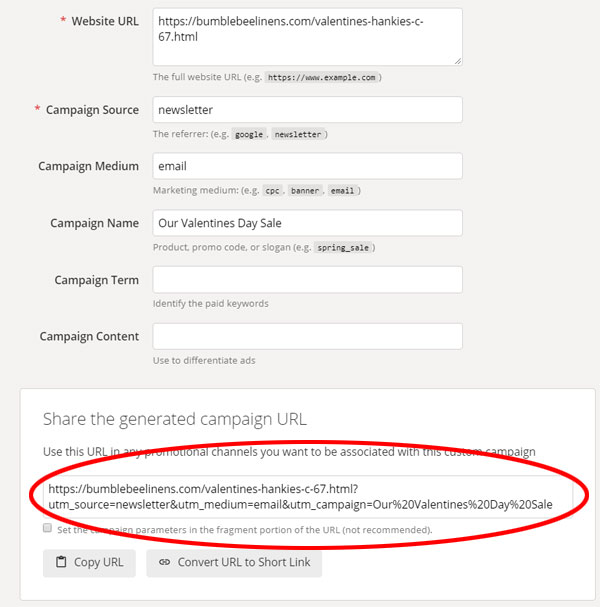 By sending out the circled link above in my emails, I'm giving Google Analytics the information it needs to track the performance of my campaign.
Then in my Analytics console, I can navigate to Acquisition->All Campaigns to view the data. In this case, my Valentines Day email campaign made me $1458.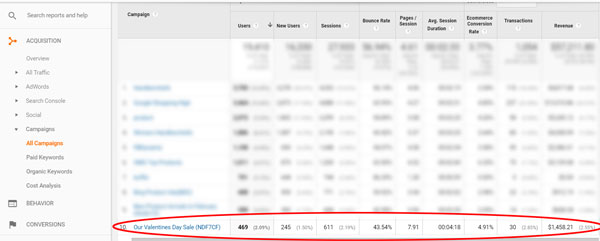 Acquisition Reports
I routinely monitor my sales channels to see how they are performing with Google's acquisition reports. Acquisition reports give you information about how your visitors found you and how they arrived at your site.
Specifically, I focus on which channels are driving the most visitors and which visitors result in the most sales.
Here's my general philosophy when building traffic.
Instead of spreading myself thin and trying to implement as many acquisition channels as possible, I look for my best performing channels and double down on them.
For example, if Facebook ads are performing extremely well for me from a conversion standpoint, I'll double or triple the ad spend. If influencer marketing is driving the needle for sales, I'll focus more effort on influencer marketing.
Google analytics allows you to easily filter out which channels are driving your best traffic so you can focus your efforts.
To find your acquisition channels, simply navigate to Acquisition->All Visitors->Source/Medium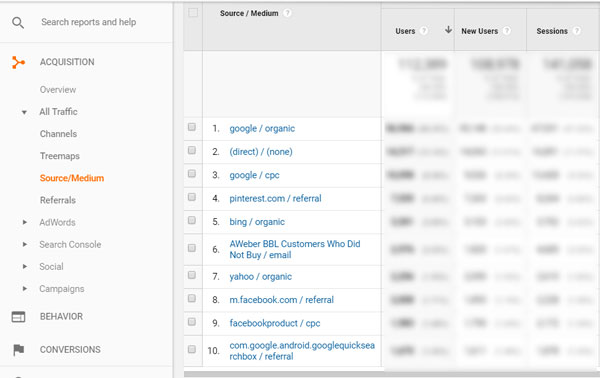 Behavior Reports
The behavior reports allow you to nail down which pages on your site are yielding the most sales or leads on your website. In addition, Google provides you with other metrics like bounce rate, load time etc… so you can improve your content.
If you have ecommerce tracking setup, you can easily figure out which landing pages are the most effective at generating sales or converting email subscribers so you can focus your efforts on optimization.
Simple navigate to Behavior->Site Content->Landing Pages to see your top performing content.

According to the report above, people landing on my ladies handkerchief page are converting at almost 3% and generating a decent number of sales.
Therefore, I would probably take a look at two things
How to tweak this page to improve the conversion rate even further
How to improve the SEO of this page to generate even more traffic
Overall, behavior reports help you focus your efforts on pages that need improvement which will ultimately lead to more sales.
Checkout Funnel Reports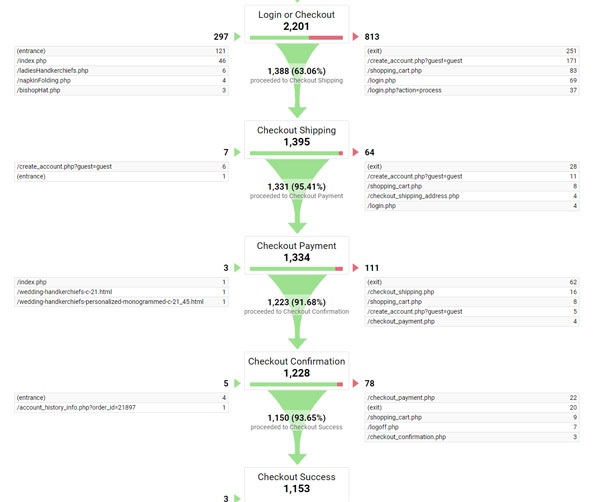 If you set up your goals and funnels properly, you can track how your customers navigate through your site step by step. One funnel that is particularly useful to monitor is your checkout funnel.
Once a customer begins checkout on your site, you need to make sure that they complete the sale.
To view your funnel reports, navigate to Conversions->Goals->Funnel Visualization.
Then, look through each step to see where customers are leaving your site. Once someone starts the checkout process, they should have a high probability of finishing the transaction. But if there's a particular step in your funnel where customers are abandoning their cart, then you need to take a closer look.
For example, if a high percentage of customers are leaving your site on the "shipping" page, then your shipping costs might be too high. If they are leaving on the payment page, then perhaps they are leaving your site to look for coupon codes.
Overall, I like to use the checkout funnel report along with a visitor tracking tool like HotJar to diagnose my checkout problems.
Conclusion
I went over a lot of information in this post so let's summarize…
Use Ecommerce Dashboards – Monitor your store performance at a high level on a regular basis. There's no need to poke into the nitty gritty unless you notice any anomalies
Monitor Your On Site Search – Look at what people are searching for to fix your on site search engine and discover new products to sell
Tag All Of Your Marketing Campaigns – Anytime you send out an email or a promotion, make sure they are tagged properly so you can track performance in Analytics
Monitor Your Acquisition Sources – Check to see which traffic channels are working the best for your shop and focus your efforts on these channels. Don't spread yourself thin
Monitor And Improve Your Landing Pages – Check to see which pages are generating the most money on your site and optimize the heck out of them.
Make Sure Your Checkout Process Is Solid – Take a close look at your checkout funnel to see if people are abandoning their carts during a certain step.
Even though Google Analytics can be confusing, if you can master everything that I mentioned in this post, you will be better than 90% of the other ecommerce store owners out there who never even check their stats!
The key is to leverage Google Analytics to focus your actions that have the greatest impact on your bottom line.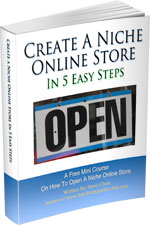 Ready To Get Serious About Starting An Online Business?
If you are really considering starting your own online business, then you have to check out my free mini course on How To Create A Niche Online Store In 5 Easy Steps.
In this 6 day mini course, I reveal the steps that my wife and I took to earn 100 thousand dollars in the span of just a year. Best of all, it's free and you'll receive weekly ecommerce tips and strategies!
Note: This post above may contain affiliate links, which means that I may receive a commission if you make a purchase when clicking a link. Please consult our privacy policy for more information.
Related Posts In Conversion Optimization
About Steve Chou

Steve Chou is a highly recognized influencer in the ecommerce space and has taught thousands of students how to effectively sell physical products online over at ProfitableOnlineStore.com. 

His blog, MyWifeQuitHerJob.com, has been featured in Forbes, Inc, The New York Times,  Entrepreneur and MSNBC.  

He's also a contributing author for BigCommerce, Klaviyo, ManyChat, Printful, Privy, CXL, Ecommerce Fuel, GlockApps, Privy, Social Media Examiner, Web Designer Depot, Sumo and other leading business publications.

In addition, he runs a popular ecommerce podcast, My Wife Quit Her Job, which is a top 25 marketing show on all of Apple Podcasts. 

To stay up to date with all of the latest ecommerce trends, Steve runs a 7 figure ecommerce store, BumblebeeLinens.com, with his wife and puts on an annual ecommerce conference called The Sellers Summit.  

Steve carries both a bachelors and a masters degree in electrical engineering from Stanford University. Despite majoring in electrical engineering, he spent a good portion of his graduate education studying entrepreneurship and the mechanics of running small businesses.