Recently, I was featured in an article published on AllAnalytics.com discussing how analytics has improved our online business. While the article was well received, I ended up getting a good amount of questions asking for more specifics on exactly how and what we track for our web store.
So, the purpose of this blog post is to point out a few important metrics that we analyze and look at on a regular basis.
First off, I just want to emphasize that analytics is more than just looking at the number of visits or the number of pageviews that your website gets.
Don't get me wrong, checking your traffic levels is both fun and rewarding but ultimately Analytics is about tracking specific metrics that will allow you to improve both the engagement and conversion rate of your website.
Make Sure You Set Up Ecommerce Tracking
Google Analytics has many ecommerce specific features which are not setup by default with the standard javascript snippet. While many shopping cart packages support Google Analytics ecommerce tracking out of the box, you sometimes have to enable this feature in the admin panel of your shopping cart because it involves sending Google all of your conversion rate information.
And by all your information, I really mean ALL which is why some people get a little apprehensive about giving all of this data to the big G.
For example, once you have the full blown ecommerce tracking set up, Google will know exactly which products you sell, how much you are making as well as how much you charge for shipping.
However, while you are sending Google a lot of private information, they will never access your records without your permission and the tracking that comes along with it is invaluable. Trust me.
In any case, once you have ecommerce tracking set up is when the fun begins. Here are a few things that Google Analytics will help you track.
The total amount of revenue broken down by products sold and correlated with every traffic source that you receive
Your conversion rate depending on the traffic source. Do certain mediums convert better than others?
The demographic data of your customers. Is someone in New York more likely to spend more than someone from Wyoming? Is someone from Georgia more likely to buy a certain item from your shop?
As you can see, ecommerce tracking in Google Analytics essentially allows you to gather and cross reference many key pieces of data for your online store. Very valuable stuff.
Refining Our Google Adwords Ads And Our Product Mix
So what are some of the primary ways we use Google Analytics? Probably one of the most important uses of Google Analytics is to refine our Google Adwords ads.
By tracking all of the search queries that customers type in when searching and clicking on our Adwords ads, we know exactly what the customer is looking for and we can adjust both our ad keywords and our landing pages accordingly.
For example, if a customer arrives at our website looking for something that we do not carry, we can add negative keywords to our Adwords campaigns.
Negative keywords prevent Adwords ads from showing up when a customer types in a query that contains a specific keyword. As a result, we save money with our ad spend because we will never pay for ads for customers that don't stand a chance of buying from us.
Another way we use Google Analytics is to decide on what new products to add to our online store. For example, if we look at our reports and find that a disproportionate number of people are searching for "European Handkerchiefs", we may decide to carry them in our store.
In fact, we added European imported lace handkerchiefs to our product mix earlier this year for precisely this reason.
Focusing Our SEO Efforts
Once you have ecommerce tracking setup, you can immediately start correlating your revenues based on which keywords customers are using to arrive on your online store through organic search.
For example, when we found that our conversion rate for the term "ladies handkerchiefs" was on the order of 15-20%, we immediately started focusing our SEO efforts around this particular keyword.
Today, our online store fluctuates between the top 2 spots for this search term and it brings in a good amount of revenue every single month for free. Without keyword analytics, it's hard to tell which search terms will bring you the most revenues.
After all, you only have a finite amount of resources and the only way to succeed is to focus your time and effort on activities which will maximize your profits.
Tracking Marketing Campaigns
The problems that most brick and mortar stores face when launching an ad campaign in a newspaper or magazine for example is that it's difficult to determine how much in sales and foot traffic were generated as a direct result of the advertisement.
With an online store however, it's very easy to track all of your online marketing campaigns via click tracking in Google Analytics. For example, whenever we send out a broadcast email to our store email list, we insert a link to our online store within the email that is specifically tagged with our promotion.
As a result, whenever someone clicks on that link to shop at our store, we know exactly which marketing campaign resulted in that new customer. Analytics will also tell us exactly how much money we made as a direct result of the email promotion.
Using similar principles, we also know which sources of traffic generate the most revenues for our store and can make the necessary adjustments.
This past year, conversions from both Bing and Yahoo have started increasing significantly which indicates that we may want to focus more efforts on these 2 search engines. In addition, traffic from Facebook has eeked into the top 10 this past year as well.
Tracking Visitor Information
One other trend that we've been noticing lately via analytics is that more and more people are now shopping on their mobile devices. This month, over 5% of our revenues have resulted from orders placed from a mobile phone.
At around the same point last year, this number hovered around 1% or less. Depending on the percentage of mobile traffic to our store, we may want to consider creating a separate design specifically optimized for mobile phones.
Another way we use Analytics is to track where our visitors are coming from. This comes in especially handy when deciding how to allocate our advertising dollars.
For example, certain wedding websites charge based on how many regions you wish to display advertisements for your store. Because it's way too expensive to advertise nationally, we use Google Analytics to tell us which states bring us the most revenues and purchase our ads based on this information. After all, there's no point in paying for ads if there's not a lucrative market.
Conclusion
These are just a few ways that we use Google Analytics to improve our store. Just because you run a small shop does not mean that you can't track customer behavior.
Google Analytics is very powerful and completely free so there's no reason not to use it. What are some ways you use analytics for your business?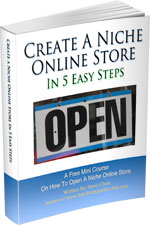 Ready To Get Serious About Starting An Online Business?
If you are really considering starting your own online business, then you have to check out my free mini course on How To Create A Niche Online Store In 5 Easy Steps.
In this 6 day mini course, I reveal the steps that my wife and I took to earn 100 thousand dollars in the span of just a year. Best of all, it's absolutely free!
Note: This post above may contain affiliate links, which means that I may receive a commission if you make a purchase when clicking a link. Please consult our privacy policy for more information.
Similar Posts
Have you read these?