After answering questions and critiquing online stores for over 4 years on this blog and running an online store course for the past year, I've noticed many common patterns and mistakes that new shop owners repeatedly make. And the funny thing is that most of these mistakes are crucial things that people often take for granted or don't consider carefully.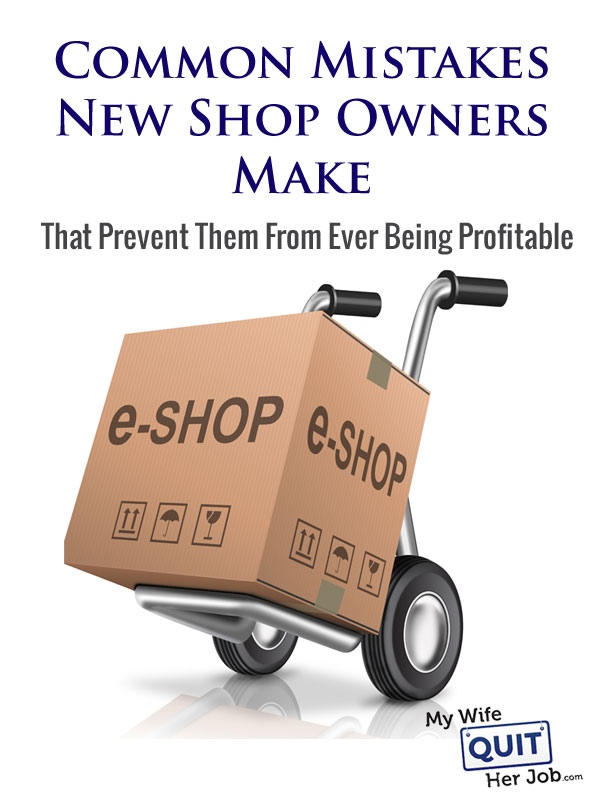 They are worried that they won't be able to figure out how to launch their store.
They are worried that it will require too much technical expertise to start an online business.
They are worried that it will cost too much to design a website.
What's ironic is that starting your website is probably the easiest task of all. With fully hosted shopping cart solutions like Big Commerce and Shopify, anyone can start a website without any technical experience whatsoever. And if you are on a budget or want more control over your website, there are many free open source options available as well.
The reality is that most new online store entrepreneurs shoot themselves in the foot long before they make it to designing their website. In fact, there are a lot of little traps along the way that can slow you down or prevent your business from ever making a profit.
Mistake #1: Choosing A Niche That Is Too Competitive
When I first launched my course on how to create a profitable online store, almost 70% of my students wanted to either sell t-shirts, baby clothing, or wedding favors. But you know what? Those markets are extremely broad and ultra competitive.
Do you know how many stores out there sell t-shirts? Tens of thousands. The same is true with baby clothing and wedding favors. The biggest mistake I see that most students make is that they choose a market that is way too competitive. And the problem with choosing a competitive market is that…
You'll probably never rank in the search engines for your targeted keywords
You'll have problems standing out among the crowd of similar stores
You'll be subject to price erosion as your competitors try to undercut you in price.
There is a fine line when it comes to choosing the right niche to pursue. If you pick a niche that is too narrow, there won't be enough customers. If you pick a niche that is too broad, you'll have too much competition.
Ideally, you want to pick a product or set of products that isn't readily found in brick and mortar stores and doesn't have a lot of online competition. And most importantly, you want to find a product that has enough demand for you to make a decent profit that meets your income goals.
I've seen it time and time again. Most people pick a niche that they are passionate about without taking into consideration the potential profit numbers and the chances of converting a sale. And more often than not, these entrepreneurs struggle to find customers and rarely make any money.
To help narrow down a good niche to sell into, use a tool like Long Tail Pro to find out what people are searching for and easily determine the level of SEO competition for that niche.
Click here for a more extensive overview of how to find the best products to sell online
Mistake #2: Finding Vendors In The Wrong Places
Most people have no clue where to find products to sell online. The Internet is a horrible place to find vendors to buy your products from because there are so many scammers out there. In fact, if you do a search for the term "wholesale", you'll get a ton of hits full of middlemen and people out there to rip you off.
The reason the Internet is a horrible place to find vendors is because most legit distributors don't advertise online. Most real distributors focus on real businesses and do not want to be bombarded with inquiries from people who are not serious about owning a business.
Just as an example, our online store is constantly bombarded by "wholesale" requests from many of our customers and it's very difficult to separate out the serious customers from the riff raff. We don't sell wholesale at our shop, but if we did we'd probably lie low and be extremely selective about who we work with.
The fact is that many new shop owners find their vendors online and expect to pay the lowest prices for their goods. But in reality, they are buying products from middlemen who in turn buy directly from the distributor and mark up the price dramatically.
If you are looking to dropship, then use a service like Worldwide Brands to help you find pre-verified wholesalers.
If you are looking to import from China, then use a service like Alibaba.
Mistake #3: Not Having A Marketing Plan
If you've picked the wrong niche or if your products cost too much to make a decent profit, your store could be dead on arrival. But even if you do get everything right, you still need a plan to get customers in the door.
Getting traffic to your website is extremely crucial to the success of your business. But you'd be surprised by how many people brush marketing off entirely and decide to "wing it" once they launch.
You can't launch a profitable store unless you have a traffic strategy in place. It doesn't matter if you've found the perfect niche or the perfect product, if no one can find your store then you are in big trouble.
There are lots of ways to drive targeted traffic to your online store. For example, you can use Google Adwords, Google Shopping and the comparison shopping engines.
Services like Amazon Product Ads give away free advertising credit so you can try them out risk free.
Mistake #4: Not Optimizing For Search
Throughout the life of your online store, you will probably get a lot of customers through the search engines. Even if you target extremely competitive keyword terms, your shop is bound to rank for at least a few long tail keyword phrases if you do things correctly. But you have to setup your website properly.
Overall, your ability to rank in the search engines is based entirely on how well you optimize your site for the search engines and your ability to build backlinks back to your site. Practically every online store that I've ever critiqued has had some major search engine optimization problems.
If you don't know what you are doing in this department, you could be throwing away large volumes of highly targeted free traffic.
Once again, a tool like Long Tail Pro can help you easily figure out what people are searching for and how to rank for your targeted keywords. They have a free trial.
Mistake #5: Not Having A Unique Value Proposition
Even if you get a customer to visit your online store, you still have to get them to whip out their credit card and make a purchase. And in order to do so, you have to convince them that your shop is the best! I can't tell you how many online stores that I've looked at that completely blend in with the rest.
Within the first 5 seconds, a customer should know exactly what makes your store special. If they can't, then they'll either leave or instantly categorize your products as a commodity. And you know what happens when your products become commodities? Your customer will most likely base their purchasing decision solely on price.
If you are going to launch an online store, make sure that you have a hook or something that makes you stand out. If you can't think of anything, then don't even bother starting your business.
Mistake #6: Not Optimizing Your Website For Conversions
Even if you're doing everything else correctly and you're driving traffic to your website, it does you no good unless your site is optimized for conversions. Here are a few deal breakers that can prevent customers from making a purchase on your online store.
Your website is too slow – Statistics show that customers are much more likely to leave your site if the loading time exceeds 4 seconds.
You have no clear call to actions – Every page on your site should have a clear goal. Customers need to be herded along like cattle, otherwise they may wander away
Your website lacks credibility – Does your website come across as amateurish? Are you missing pieces of key information that customers look for in a site? Does your website have social proof?
There are many ways to screw up the design of your website even if your shopping cart is fully functional.
Do You Want To Learn?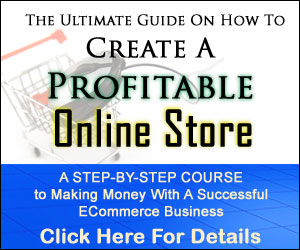 As you can probably tell, there are many ways to shoot yourself in the foot when you first start your online store.
And the question you have to ask yourself is whether you can afford to make all of these mistakes.
What if you could magically learn about all the potential pitfalls with starting an online store before you even begin?
If you want to avoid the stumbling and the painstaking setbacks, you should sign up for my full blown course on how to create a profitable online store.
My course offers over 35+ hours of video and includes live office hours where you can ask me questions directly over the phone or chat.
If you want to learn everything there is to know about ecommerce, be sure to check it out!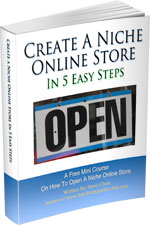 Ready To Get Serious About Starting An Online Business?
If you are really considering starting your own online business, then you have to check out my free mini course on How To Create A Niche Online Store In 5 Easy Steps.
In this 6 day mini course, I reveal the steps that my wife and I took to earn 100 thousand dollars in the span of just a year. Best of all, it's free and you'll receive weekly ecommerce tips and strategies!
Note: This post above may contain affiliate links, which means that I may receive a commission if you make a purchase when clicking a link. Please consult our privacy policy for more information.
Related Posts In Conversion Optimization
About Steve Chou

Steve Chou is a highly recognized influencer in the ecommerce space and has taught thousands of students how to effectively sell physical products online over at ProfitableOnlineStore.com. 

His blog, MyWifeQuitHerJob.com, has been featured in Forbes, Inc, The New York Times,  Entrepreneur and MSNBC.  

He's also a contributing author for BigCommerce, Klaviyo, ManyChat, Printful, Privy, CXL, Ecommerce Fuel, GlockApps, Privy, Social Media Examiner, Web Designer Depot, Sumo and other leading business publications.

In addition, he runs a popular ecommerce podcast, My Wife Quit Her Job, which is a top 25 marketing show on all of Apple Podcasts. 

To stay up to date with all of the latest ecommerce trends, Steve runs a 7 figure ecommerce store, BumblebeeLinens.com, with his wife and puts on an annual ecommerce conference called The Sellers Summit.  

Steve carries both a bachelors and a masters degree in electrical engineering from Stanford University. Despite majoring in electrical engineering, he spent a good portion of his graduate education studying entrepreneurship and the mechanics of running small businesses.