Most small business startup books recommend that you obtain a 1800 number for your business, especially if you are running an eCommerce store.
But these days, long distance calling (including international) is mostly free or extremely cheap. In today's age of cell phones and free unlimited long distance calling, is having a 1800 number really a necessity anymore?
Should encouraging more customers to contact your business via phone rather than going online to make a purchase be one of your goals?
Read on to find out!
Get My Free Mini Course On How To Start A Successful Ecommerce Store
If you are interested in starting an ecommerce business, I put together a comprehensive package of resources that will help you launch your own online store from complete scratch. Be sure to grab it before you leave!
What Is A 1800 Toll Free Number?
A toll free number is just a regular phone number with a special 3 digit prefix that can be dialed from anywhere at no charge to the person placing the call.
Back when I was a kid, all toll free numbers started with 1800, but now you can find toll free numbers beginning with 1888, 1877, 1833 etc… Most of these numbers are universally recognized by the "older generation" as being free.
What's also cool is that all 1800 numbers are "virtual" which means that they can be routed anywhere via the Internet. As a result, you can have a 1800 number connected to any phone line that is convenient for you.
For example, a 1800 provider will allow you to answer your toll free number from your office phone from 9-5 but forward to your cell phone after hours.
This makes phone based customer service extremely convenient.
How Much Does A 1800 Toll Free Number Cost?
The total cost of a 1800 number depends on several factors but the most important factor is the country of origin the number is assigned to.
In general, US and Canada numbers tend to be the cheapest but other countries like India are substantially more expensive.
For example, the cost of a 1800 number in the US can be as cheap as $5-10 month with per minute rates as low as 1 cent/minute. Some services like Grasshopper allow you to pay a flat fee of $29.99/month for unlimited calling.
Meanwhile, the monthly cost for a toll free number in India can be as high as a few hundred dollars per month.
Every call made with a 1800 number is charged in two parts. The first part of the charge is determined by where your callers are located. This is called the inbound rate.
The second part is called the termination rate and depends on how you answer your calls. In general, you can reduce your total cost of your 1800 number by forwarding all calls to a virtual phone but most service providers(in the US and CA) offer free termination.
Some 1800 number providers charge a flat rate based on the amount of call volume you expect each month. If you typically get a high volume of calls for your business, you may want to negotiate a lower rate by purchasing your minutes in bulk up front.
Do The Benefits Of A 1800 Number Still Apply?
1800 numbers were very popular back in the early 2000's when long distance charges were still a big deal. But today, all long distance calls are pretty much free.
So what is compelling about having a 1800 number today? I've compiled a list of the commonly perceived benefits of having a 1800 number below.
The real question is whether they apply to your business and how much you value the benefits. Only you can be the judge.
A 1800 Number Leads To Increased Sales
According to studies (and common sense), if a customer is given a choice between dialing a 1800 number vs a long distance number, they will invariably call the toll free number first.
Statistics show that most customers purchase from the first company they call so it is important to get that first point of contact. But the million dollar question is how many people actually think like this today?
According to a study that Neil Patel conducted on the effects of a phone number on sales, he determined that merely displaying a phone number on your webpage provides a small lift in conversions (<1%).
A similar study determined that 64% of customers are frustrated when they can't find a phone for a business online.
When dealing with two unknown companies, I'll almost always call the company with the most professional and aesthetically appealing website.
The type of phone number is rarely the deciding factor whether I will shop at a business or not.
Regardless, it's safe to say that displaying a phone number on your site is beneficial, but whether a 1800 number makes a difference is up for debate.
A 1800 Number Adds Credibility To Your Business
Consumers often assume that a toll-free number is associated with a large company so logic dictates that they will want to go with a more established player.
Again, I tend to associate credibility with the professionalism and aesthetic appeal of the website itself rather than through a phone number.
In an informal poll I conducted among my readers, almost everyone surveyed would not be deterred from shopping at a business if they didn't have a 1800 number.
However, over 76% agreed that a 1800 number provides the perception of a more established business.
Please leave your opinion in the comments if you have one.
A 1800 Number Leads To Increased Order Value
According to studies, companies with 1800 numbers receive larger order sizes on average. But all of the research I found online was dated prior to 2011.
For our online store, I know for a fact that if I can get a customer on the phone, my conversion rate is nearly 90%. In addition, I have the ability to upsell the customer much more effectively via voice than from the website.
As a result, if a 1800 number leads to more calls than a regular phone number, it could conceivably increase the AOV for your business.
A 1800 Number Leads To Decreased Returns
According to studies (conducted prior to 2011), stores with 1800 numbers are less likely to have returns. Once again, I fail to see a correlation between product satisfaction and having a 1800 number.
Product returns are usually dictated by the quality of the product and its presentation rather than a phone number.
However, if you can often talk customers out of making a return over the phone or convince them to make an exchange, then conceivably having a 1800 number can reduce your refund rate.
A 1800 Number Is Convenient
With a 1800 number, you can accept calls on any phone line of your choice whether it be a cell phone or a land line and customers won't know the difference.
While this is extremely convenient, these services are not limited to 1800 numbers. For example, Google Voice allows you to forward a call from one number to any phone of your choice depending on the time of day, and it's free!
Ring Central provides unlimited free calling within the US and Canada for only $20/month.
A 1800 Number Can Track Your ROI
Tracking your marketing efforts and calculating your customer service ROI is easy with a 1800 number. You can create multiple, separate phone extensions for all of your marketing campaigns.
Then once the campaign concludes, you can go back and determine which phone numbers contributed to the most sales.
Did having a 1800 number boost conversions? Did the toll free number increase the number of international customers?
Most providers will allow you to easily create temporary numbers and track your calls.
A 1800 Number Facilitates International Sales
Even though domestic calls are mostly free for cellular providers, international calling still comes at a cost. As a result, a toll free international number may increase the number of calls that your business receives.
In addition, having a 1800 number may provide the perception that your business is global and serves international customers.
Whenever I see a non-US phone number on a website, I'm usually deterred from calling the company because I don't want to get charged. Furthermore, I generally feel more comfortable dealing with companies based in the United States.
Having a toll free number on an international site can mask the fact that your business is in another country and facilitate a sale.
Do You Need A 1800 Number?
So the million dollar question is whether a 1800 number is inline with your business goals and whether the money spent on a toll free number is worth it.
These days, toll free numbers are fairly inexpensive so money is less of a factor. And looking online, a toll free number can be had for a small flat monthly fee that is less than $30/month.
Personally, I think that the answer depends on the nature of your business. These days, making a long distance call is more or less free, especially if you are on a cell phone.
As a result, purchasing a 1800 number depends on your target audience and what you are trying to sell.
Are your customers located close to your business geographically? Does selling your product require having a phone conversation with the customer?
Is a large portion of your business international? Do you want to come across as a global company to your customers?
Naturally, a 1800 number is required if your business relies heavily on voice communications to make a sale.
But there are other things to keep in mind as well. For example…
Does your business have the necessary infrastructure to handle the additional call volume?
Do you want to encourage customers to place orders over the phone or on your website?
Does getting more calls increase your customer satisfaction rate and lower returns?
Does getting more calls increase your AOV?
Does your business have a large international presence?
Just keep in mind that answering phone calls to make sales is not easily scalable because it requires manpower.
Instead of focusing on making more sales via phone, can you invest more time and money making your website more automated instead?
For example with our store, we try our best to anticipate customer questions online so they don't have to call us on the phone.
Recently, we've invested heavily into Facebook Messenger live chat support and chatbots to alleviate our customer support burden.
We've also written detailed FAQs and guides to avoid having to answer commonly asked questions. Truth is, as much as we enjoy speaking with customers, we would rather take less calls and rely on more automated methods of selling.
Having a 1800 number may encourage a customer to call rather than place an order online.
Our Business
Our online store gets almost as many calls as we can handle and we don't currently have a 1800 number. 60% of the time, customers call to ask simple questions that could easily be covered on the website.
With each call, we jot down the customer question and add it to the FAQ and our chatbot in hopes that we don't have to answer the same question again. We also display the FAQ page prominently on the menu bar.
For our business, getting a 1800 number is currently a toss up. This isn't to say that getting a 1800 number doesn't make sense, but we are focusing our efforts on trying to reduce call volume rather than increase it without sacrificing customer support quality.
Questions For The Audience
Is not having a 1800 number a deal breaker when contacting an online business?
How much does having a 1800 number lend credibility to a business?
Does having a 1800 number really matter to you when you shop?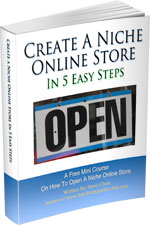 Ready To Get Serious About Starting An Online Business?
If you are really considering starting your own online business, then you have to check out my free mini course on How To Create A Niche Online Store In 5 Easy Steps.
In this 6 day mini course, I reveal the steps that my wife and I took to earn 100 thousand dollars in the span of just a year. Best of all, it's free and you'll receive weekly ecommerce tips and strategies!
Note: This post above may contain affiliate links, which means that I may receive a commission if you make a purchase when clicking a link. Please consult our privacy policy for more information.
Related Posts In Conversion Optimization
About Steve Chou

Steve Chou is a highly recognized influencer in the ecommerce space and has taught thousands of students how to effectively sell physical products online over at ProfitableOnlineStore.com. 

His blog, MyWifeQuitHerJob.com, has been featured in Forbes, Inc, The New York Times,  Entrepreneur and MSNBC.  

He's also a contributing author for BigCommerce, Klaviyo, ManyChat, Printful, Privy, CXL, Ecommerce Fuel, GlockApps, Privy, Social Media Examiner, Web Designer Depot, Sumo and other leading business publications.

In addition, he runs a popular ecommerce podcast, My Wife Quit Her Job, which is a top 25 marketing show on all of Apple Podcasts. 

To stay up to date with all of the latest ecommerce trends, Steve runs a 7 figure ecommerce store, BumblebeeLinens.com, with his wife and puts on an annual ecommerce conference called The Sellers Summit.  

Steve carries both a bachelors and a masters degree in electrical engineering from Stanford University. Despite majoring in electrical engineering, he spent a good portion of his graduate education studying entrepreneurship and the mechanics of running small businesses.