Happy New Year! My wife just closed the books on another year of business and we are proud to announce that we have achieved double digit growth yet again. The profits for our business increased by 41% and we're really happy with our accomplishments despite the down economy.
Most people consider 41% a pretty good increase in business so why the "only" in the title? The reason is because our profits could've been much much higher had certain fortunate and unfortunate events not transpired during the latter half of the year.
If you recall, I posted a mid year update back in July and profits were up 75% at that point in time. Since our sales are usually heavily weighted towards the holiday season at the end of the year, we initially projected our profit numbers to be a lot higher than they were.
Before I go into detail about why our profits sagged towards the end of the year, let's go over some of the highlights first.
Year over year profit growth was 41%. There are three main reasons for this increase. One, we introduced many more high margin personalized items to our product mix. Two, we raised prices on some of our most popular goods. And three, we simply sold more product
Year over year revenue growth was 38%
The traffic to our online store increased by 66%. This boost in traffic was largely attributed to many of our content pages getting indexed on the front page of Google.
The organic conversion rate increased by roughly 7%
Our margins increased by roughly 3%
All said, it was a pretty good year but it definitely could've been better. Now let's talk about why the second half of the year wasn't so hot.
We Had A Family Emergency
My father passed away in late July, so my wife and I had to close up the store for about a month and a half to fly back east. Even though we were closed, we still accepted orders but order volume dropped considerably as expected.
There were very few customers willing to wait a month and a half before receiving their products in the mail.
It's unfortunate, but the reality is that our business is still largely dependent on my wife and I. We have a few people that we pay to help us pack and ship product but there's no way that they could have run our business by themselves.
In any case, the latter half of July and August were pretty bad. We basically pulled in only a small fraction of our usual revenues.
Our Second Child Was Born
December is usually one of the busiest months of the year for our business. Christmas and other holiday shoppers stock up on our personalized items as gifts and many event planners purchase large quantities of our linen napkins for holiday parties.
Our son was supposed to be born on December 8th, so my wife and I decided to play it safe and shut down the store starting in the beginning of December.
We closed up shop a bit early because we wanted to avoid going into labor with a bunch of pending orders in the queue that needed to be shipped.
Initially, my wife and I thought that we could reopen our store as soon as our second child was born but this turned out to be the most ridiculous assumption ever.
I must admit that I completely forgot what it was like to take care of a newborn child. I forgot about the sleepless nights, the endless crying and fussiness, the headaches and the general lack of rest.
Basically, my wife and I were walking zombies from day to day and there was no way in hell we could run the store in our current mental state.
In addition, MyWifeQuitHerJob.com began to suffer as well. It's hard enough to write as it is but when you throw in 3 hours of sleep a night into the equation, it's downright impossible.
We Had To Move Into Our New House
To make things even worse, we also purchased a brand new house which was destined to close escrow on December 10th. It would've been all fine and good if the house was move in ready, but we wanted to make a few changes to the house which meant that I had to manage and deal with contractors shortly after Kyle was born.
In addition, my wife and I had to also worry about packing our possessions in preparation for the move.
Thank goodness my mom flew over in order to help us out. If she wasn't around, my wife and I probably would have died of exhaustion.
In any case, the birth of our child coupled with the new house caused our store to be closed for practically the entire month of December, our most profitable month of the year.
You take away 2.5 months of revenue including one of our busiest months of the year and we were really lucky to scrape by with a 41% year over year increase in profit.
This coming year, my wife and I hope to make our online store more autonomous. If we can manage to find someone responsible enough to run our store in our absence, we can avoid having these prolonged shutdowns. Here's to a profitable new year!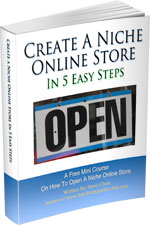 Ready To Get Serious About Starting An Online Business?
If you are really considering starting your own online business, then you have to check out my free mini course on How To Create A Niche Online Store In 5 Easy Steps.
In this 6 day mini course, I reveal the steps that my wife and I took to earn 100 thousand dollars in the span of just a year. Best of all, it's free and you'll receive weekly ecommerce tips and strategies!
Note: This post above may contain affiliate links, which means that I may receive a commission if you make a purchase when clicking a link. Please consult our privacy policy for more information.
Similar Posts
Have you read these?