I recently spent some time working with Adsense on MyWifeQuitHerJob.com so I thought I'd share with you some of the optimizations I've made with Google ads on this blog.
As many of you may have noticed, this blog makes part of its revenues from Adsense ads which can be found directly above and below the content. But depending on how you arrived at this site, you may not have noticed the ads at all.
Because the income I make from Adsense ad clicks is directly related to the conversion rate of the people seeing the ads, it is to my benefit to only show these ads to interested parties.
If too many ad impressions are shown but do not lead to conversions, Google will reduce the payout per click for my entire site. This phenomenon is know as "smart pricing".
In this case of MyWifeQuitHerJob.com, the best way for me to maximize conversions is to show Google Adsense ads only to search engine visitors and this is exactly what I do.
Now if you look online, there are many articles already posted on how to show ads only to search engine visitors so why am I covering this topic yet again?
The problem is that none of these tutorials cover how to do this if you cache your website.
WP Super Cache And Other Caching Plugins
Most of the solutions out there rely on php modifications to the WordPress template in order to serve Adsense ads only to search engine visitors.
However, if you run any sort of caching plugins for your wordpress blog, you will run into problems with dynamic code.
The reason lies with the way caching works. In the case of the WP Super Cache plugin, the plugin makes an exact copy of your html code and saves it into a file on your server.
When many visitors hit the exact same article on your site, the static copy is served instead of the regular version. As a result, many of the CPU intensive PHP and database operations are avoided.
In fact, caching is one of the best ways to speed up your website without having to upgrade your server and everyone should be doing it because it's quick, easy and free.
The problem with caching however is that because a static copy of your site is being served to the end user, dynamic content using php can not be used because the php interpreter is not even being run when a cached copy is served.
In short, many of the php based solutions to serve Adsense ads only to search engine visitors will not work when caching or the WP Super Cache plugin is used.
In addition, many other plugins that rely on dynamic content can not be used with the WP Super Cache plugin unless it is run in half-on mode.
A Javascript Solution
Even though the WP Super Cache plugin serves a static copy to the end user, one of the best ways to still serve dynamic content is through the use of javascript.
Javascript works in such a way that all of the javascript code is run directly on the client's computer. As a result, you can still serve static html files to the end user and run dynamic code.
It is through javascript that I'm able to serve fully cached files and still run my little script to serve adsense ads only to search engine visitors.
My Javascript Code
Here is my little javascript snippet below which is all contained in a .js file which I've named adsense.js.
var ref = document.referrer;
var sevisitor;
var SE = new Array('web.info.com', 'search.', 'del.icio.us/search', 'soso.com', '.yahoo.','/url','/search','.google.','.ask.','.baidu.','.bing.','.aol.','.answers.');
for ( var source in SE){
var match = ref.indexOf(SE[source]);
if (match !=-1) {
sevisitor=true;
}
}

function adsenseTop(){
if (sevisitor){
var large = '<script type="text/javascript"><!-- \n\
google_ad_client = ""; \n\
/* 336x280 Content Top, created 7/24/09 */ \n\
google_ad_slot = ""; \n\
google_ad_width = 336; \n\
google_ad_height = 280; \n\
//--> \n\
</script> \n\
<script type="text/javascript" src="http://pagead2.googlesyndication.com/pagead/show_ads.js"> \n\
</script> \n\
';
document.write(large);
}
}

Then in my single.php file under my WordPress theme, I add the following lines where I want to display my Adsense ad.
<script type="text/javascript" src="adsense.js"></script>
<script type="text/javascript">adsenseTop();</script>
To all experienced web programmers, this script probably comes across as a big joke. However, many bloggers are not programmers so I will explain what is going on.
In a nutshell, the script detects the referring website and stores this value into the variable ref. It then checks to see if the referring URL matches any of the search engines.
Naturally,I check for all of the popular ones including even Baidu. If the referring URL matches, then I set the sevisitor variable. Based on the sevisitor variable, I then use javascript to output the Google Adsense code.
Smart Pricing
Ever since I started implementing this code, MyWifeQuitHerJob.com click payouts have increased steadily. Showing adsense ads only to those searching for relevant information makes sense.
You spare your regular readers from having to see the ads and you capitalize on those who are in search of answers. It's a win win situation.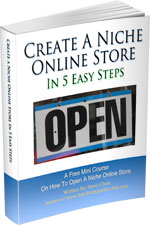 Ready To Get Serious About Starting An Online Business?
If you are really considering starting your own online business, then you have to check out my free mini course on How To Create A Niche Online Store In 5 Easy Steps.
In this 6 day mini course, I reveal the steps that my wife and I took to earn 100 thousand dollars in the span of just a year. Best of all, it's absolutely free!
Similar Posts
Have you read these?