Let's say you've just opened a little boutique store on a side street. Whilst your rent may be low, the footfall past your premises is extremely light.
You have done a great job of fitting out your store, and you have some interesting and unique products for sale. But if no one is even looking through the window, your hard work will be for naught.
So what do you do? Well, perhaps you try to add more stock, or change the type and quality of products that you have on offer, in the hope that it will boost your sales. And even though you already spent a great deal of time making your store very presentable, you decide to completely refurbish it.
Related: Habits Of Successful Entrepreneurs That I've Witnessed Personally
Sounds crazy, right? But that is effectively what a whole lot of businesses do, in one way or another, in an effort to become profitable. The blood, sweat and tears expended in doing so are real, but the results are devastatingly poor.
So What Should You Do?
Rather than focusing on your product and your brand, you focus on your customer. As I like to say, you go to the people.
Let's take another look at our boutique store analogy. The footfall past your premises is low. The simple fact is that if you take no action in going to the people, you will never gain any kind of traction – regardless of how pretty and well-stocked your store is.
You need to head out, find your target consumer, and bring them back to your premises. Not physically – I don't want you to head downtown and start loading people into the back of a van – but you do need to place your brand in front of people.
That is never going to happen whilst your store is on a side street, so you have to make your brand "portable". Advertise in local publications, do mail shots, and walk around the local mall handing out flyers. Go to the people.
Related: The Best Way To Attract Customers To Your Online Business Or Ecommerce Store
This applies to any business model – from blogs to bakeries. How you do it depends upon the business model – with a blog you would focus on guest posting and networking with well-established bloggers, and with a bakery you might place your premises within a high footfall area frequented populated by office workers who will be looking for their lunchtime fix five days a week.
The Importance of Relevancy
The point is, simply having a good product isn't enough. How effectively you put that product in front of the right people will define the success of your business.
Don't try selling ice to eskimos – put your product in front of people who will actually give a damn. If your boutique store sells expensive tailor-made items that cannot be found elsewhere, your target market is not likely to be found at Walmart. You will likely be far better served by working in partnership with other bespoke product stores that your ideal customer is likely to frequent.
A great example of how going to the right people works beautifully is the Firepole Marketing blog. Its main author, Danny Iny, wrote over 80 guest posts on other related blogs during 2011. He found where his target audience already was, then placed himself in front of them. Starting in January 2011, this was how traffic to Firepole Marketing was affected by Danny going to the people: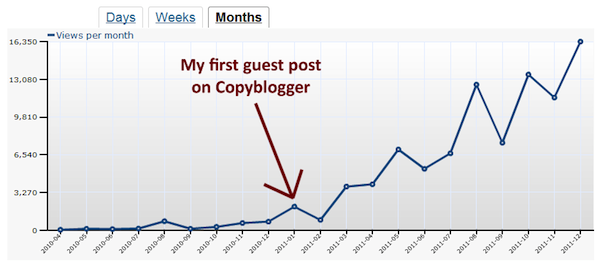 The Power of Effective Marketing
Having said that, I am keen not to touch too heavily upon specific examples in this post, as what you are reading is a basic fundamental of effective marketing – the concept that you should go to the people applies in every line of business, without exception.
There are two simple equations that apply to pretty much any business you care to mention:
Poor Product + Great Marketing = Success
Great Product + Poor Marketing = Failure

You will of course find exceptions on either side of these equations, but the fact is that if I had to choose between them, I would always pick the first.
People can only like something they can see, so an awesome product that is marketed poorly will only ever do so well. On the other hand, a poor product with great marketing is going to get so much exposure that sales will be generated, despite the lack in quality.
How Do You Promote Your Business?
There are a multitude of ways in which you can promote your business, but if you keep in mind the core concept of going to the people (and by extension, the right people), you can't go far wrong.
With that in mind, tell us – how do you promote your business? Do your methods adhere to the basic principle of going to the people? And have you found success in your methods? Let us know in the comments section!
This post was written by Tom Ewer who writes for the blog Leaving Work Behind. He's an incredible writer and I'm happy to say that he will be a regular contributor over here at MyWifeQuitHerJob.com.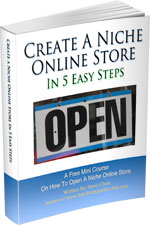 Ready To Get Serious About Starting An Online Business?
If you are really considering starting your own online business, then you have to check out my free mini course on How To Create A Niche Online Store In 5 Easy Steps.
In this 6 day mini course, I reveal the steps that my wife and I took to earn 100 thousand dollars in the span of just a year. Best of all, it's absolutely free!
Note: This post above may contain affiliate links, which means that I may receive a commission if you make a purchase when clicking a link. Please consult our privacy policy for more information.
Similar Posts
Have you read these?