Everyday as we slip further and further into recession, I'm hearing more and more complaints from my friends and coworkers about their job security and overall satisfaction in the workplace. The level of concern and panic is very real, even worse than I can remember from the dot com bust of 2002.
Most of my friends depend on their day jobs as their primary source of income so they are very afraid of getting laid off. What's worse is that some of them absolutely hate their line of work but are sticking to it because they need the money.
Lately, I've been fed up with listening to their complaints. Why? Because it's one thing to complain and another thing to do something about it. You people know who you are. Why don't you start your own little side business to make some extra cash?
That way if you lose your job or get laid off, you at least have other income streams to carry you through the bad times. Why are you sticking with a job that you can't stand? Why are you sitting here complaining to me instead of taking action?
I've heard my fair share of excuses to these questions lately so I thought I'd take the time and put these concerns to rest. While some of these excuses are valid for some people, most of the them absolutely do not apply. What are the top excuses for not starting a business?
I Don't Have The Time
This is by far the excuse I hate to hear the most.
"I have kids and a day job. When am I going to find time to start a business?"
"I have a hard time keeping up as is. I only can do so much in a day."
Let me ask you this. If you had a friend or family member in need, would you be able to find the time to help them? If your children really needed you to help out with their homework, would you brush them off? If you can find the time to help other people, you can find the time to help yourself.
Send me your schedule and I'll bet that I can find a small block of time for you to explore business ideas. A buddy of mine told me flat out the other day that he had no time or energy to think about doing a business and then proceeded to chat with me about the latest episode of a popular television show he was watching.
If you're going to make an excuse, at least be up front about it. Don't complain about your job and how you have no time, and then tell me about how you are wasting it.
The fact is is that we all have extra time, but we are lazy. In these hard times ahead, laziness is not going to cut it.
I'm Afraid of Failing
Well geez, you're also afraid of getting laid off too. Which is worse? Would you rather be afraid of something you can't control, or would you rather be afraid of something that you can help make succeed?
Would you rather spend a good chunk of the day in a job that you hate or would you rather devote your time to something that you actually enjoy?
You can't really predict how your employer is going to act so why bother worrying about it? Spend your valuable time thinking about ways to ease your pain and stress. These days, the penalties of failure aren't that great.
Starting a web based business is extremely low cost and there's practically no financial risk if your idea goes under. Start a freelance business, an online store or a blog.
It's only like 10 bucks a month to host a website. Throw something up and go with it. Learn as you go along and take your time.
What Will My Friends Think If I Fail?
Stop being so self centered. Nobody cares or will judge you if your business does not succeed. The world does not revolve around you and nobody is keeping tabs on your progress.
Would you think any less of your friend if he or she took a risk and failed? Would you look down on your friend for trying to take charge of his or her life? If anything, your friends will respect you even more for taking a chance and going out on your own.
There are no stupid ideas period. I used to think selling wedding linens was a boneheaded idea but after making 100k in 12 months, I now think otherwise. It's not about the idea, it's all about the execution. Be proud of your idea even if it sounds ridiculous.
If you still can't get over your reputation, use it to your advantage. Tell all of your friends that you are going to start a business and force yourself to follow through.
I Don't Have The Skills
We weren't all born with natural abilities. I wasn't born with the innate ability to design computer hardware or design microprocessors. I had to spend time to learn about it. If you don't have the skills, pick up a book and learn. It's that simple.
One thing that I've learned is that most people are more than willing to help you out. If any of you readers are interested in starting a business, I'd be more than happy to point you in the right direction.
If you don't have friends that can help, make new friends. Hang out in circles that discuss topics within the niche that you are trying to pursue. Because I'm in the wedding linens business, I actually take part in some of the wedding forums discussing wedding favors with brides to be.
If you have lazy friends, hang out with them less. Find other entrepreneurs to chat with and motivate you.
I Don't Have The Confidence
This is probably the hardest excuse to get over. The only thing I can say is that you'll never gain any confidence unless you give things a shot. Confidence can be bolstered through knowledge.
Perform extensive research about your business idea and the confidence will simply come with time. The more you know, the less afraid you will be.
If possible, find a mentor to help you out and give you advice. Find a similar business and offer to work for free so you can learn the ropes. Do whatever you can to learn and you'll feel better about yourself and your prospects for success.
Are there any other excuses that I'm missing?
Further Reading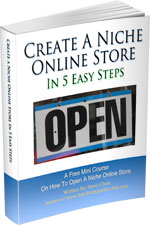 Ready To Get Serious About Starting An Online Business?
If you are really considering starting your own online business, then you have to check out my free mini course on How To Create A Niche Online Store In 5 Easy Steps.
In this 6 day mini course, I reveal the steps that my wife and I took to earn 100 thousand dollars in the span of just a year. Best of all, it's absolutely free!
Note: This post above may contain affiliate links, which means that I may receive a commission if you make a purchase when clicking a link. Please consult our privacy policy for more information.
Similar Posts
Have you read these?