This is a guest post from Mariana, who is a student in my Create A Profitable Online Store Course.
I consider Mariana a very special student of mine because she breezed through the material extremely quickly and launched her online store selling toddler backpacks and toddler nap mats in record time.
She is extremely driven and I really admire her determination and persistence. Today she is going to teach us some of the lessons she's learned on her journey and tell us a little bit about her brand new shop.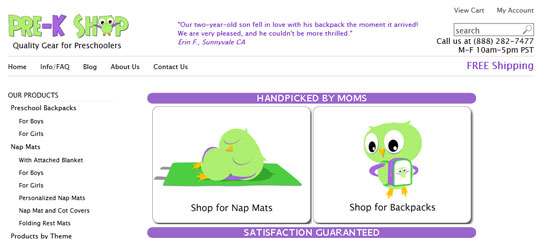 If you're reading this, chances are you're thinking of starting your own business. You might be wondering whether starting a business is going to be worth the huge effort for an uncertain payoff.
For years, I was also on the fence, pondering many ideas yet never committing to taking the first step.
One day, about 4 months ago, I was reading an email from Ramit Sethi. He asked "A year from now, you'll be a year older. What are you going to do?". It finally dawned on me, that if I didn't commit to anything, nothing was going to change!
Since I was interested in opening an online store, I took the plunge and signed up for Steve's course.
About a month ago, I launched my online store specializing in gear for preschoolers. While my business is still in its early phase, I have learned some valuable lessons that I'd like to share with you.
Go In With Confidence
You'll feel like an impostor at first, but you have to be confident if you want to be taken seriously.
It feels weird to call up established vendors when you've literally just picked your business name. At first, I was hesitant, "Hi, um, I'm starting a business…uh Pre-K Shop…and um…I'd like to sell your products?" That didn't work. People ignored me.
And then I thought about it. Would I entrust my products to someone who doesn't sound confident? So I totally changed my approach. I called or emailed vendors stating that I owned a business selling gear for preschoolers, and I'd love to carry their products in my store.
And everyone responded to me, and said they'd love to work with me. It's all about confidence. If you don't believe in yourself, no one else will.
Get Your Priorities Straight
There are too many things to do, and you really need to prioritize and eliminate less important tasks
With four young kids to take care of, I constantly have to decide on what really needs to be done and what can wait. Deciding NOT to do something is really hard. For example, I would love to dig into the details of web design.
However, my priority is to run a store, and I am only learning what I absolutely need to have a functioning site. I have a list of my goals ranked by priority, so every time I start working on something I make sure it's in line with my top priorities.
Starting A Business Is An Iterative Process.
When you're starting a business, you don't know whether your idea is going to work out. It is essential that you start getting feedback from customers and mentors, and use this to make refinements and improvements. My website is not perfect, but it's good enough for me to start getting feedback from real customers.
And this is much more valuable than any idea of perfection I may have in my own head. I've already bought some ads to drive targeted traffic to my site. After analyzing key metrics such as bounce rate and conversion rate, I made some hypotheses which I will test with my next round of ads. In this way, I plan to make iterative improvements on my site.
Associate With Like Minded Entrepreneurs
You need to find other like-minded entrepreneurs (and ideally a mentor) for support
When you start a business, you're emotionally invested in the success of your venture. When you're having a bad day, it helps tremendously to have support from peers in a similar situation.
In my case, I didn't even tell most of my friends what I was doing, so I didn't have a support group in the "real" world. Instead, I have met other entrepreneurs online.
Steve's "Profitable Online Course" Forums have been really helpful; I always feel like I can get help or bounce ideas off of other members or Steve himself. There are tons of forums online. You just have to get out there and introduce yourself. You would be amazed at how many people are happy to help. You in turn, will be happy to help others.
Find Your Unique Value Proposition
Defining your unique value proposition and answering the question "Why should you choose my business?" is the most important question you'll have to answer.
When you go on job interviews you are basically presenting your unique value proposition to the interviewers. The same goes for your business. You need to articulate very clearly why customers should pick you over your competitors.
Without an answer, you won't have strong guiding principles to abide by when you're making important decisions about your business.
In my case, I'm only offering high quality items that I would use for my own kids, so there are certain items that didn't make the cut. It took me a while to realize I had to answer this question first and foremost.
Now, it's much easier to make decisions and everything I do flows from this answer. Your answer will define the message you send to your potential customers in the form of your website copy, your store policies, and your ads.
Editor's Note: If any of you have any feedback for Mariana, leave your comments below. Please be respectful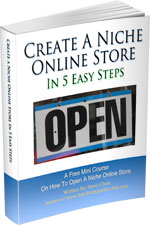 Ready To Get Serious About Starting An Online Business?
If you are really considering starting your own online business, then you have to check out my free mini course on How To Create A Niche Online Store In 5 Easy Steps.
In this 6 day mini course, I reveal the steps that my wife and I took to earn 100 thousand dollars in the span of just a year. Best of all, it's absolutely free!
Similar Posts
Have you read these?