After 3 consecutive years of achieving double and triple digit growth since making six figures our first year, I thought that our online store was finally going to run out of steam in 2012.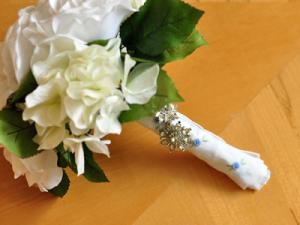 The reality is that we're not a high growth technology company. We're not a huge company with a large marketing budget.
And we're not a big retail conglomerate trying to expand all across the globe.
Bottom line, my wife and I run a small niche shop that sells wedding linens online, a shop that we started so that my wife could stay at home with our kids.
And since its launch in 2007, we've made over 7 figures already! Can you believe it?
To be honest, my wife and I are still shocked that our small niche shop has made it this far. Today, my wife manages the business full time and has the flexibility to spend as much time with the kids as she wants.
In addition, our online store makes enough money so that I don't technically have to work either (though I still do so because I love my job).
Growth By The Numbers
So my wife just closed the books on our mid year numbers (January – June) and sales are up significantly yet again! I would be lying if I told you that this was expected but the shop keeps growing on its own. Here are some highlights for the first half of this year.
Year over year revenue grew 47%
Year over year profit grew 46%
Similar to last year we had 4 consecutive months with higher revenues than last year's highest month.
Our margins grew 2%
Our average order size increased by $2 and the number of orders per day increased as well
Website traffic increased by 49%
Our direct traffic increased by over 30%
As you can tell from the numbers above, things look pretty healthy in wedding linens land. Since our profits pretty much track the number of website visitors, the more traffic we get, the better we do.
What's nice about these numbers is that the direct traffic continues to grow at a pretty good clip which means that our store name is getting out there on the Internet.
Work, Work, Work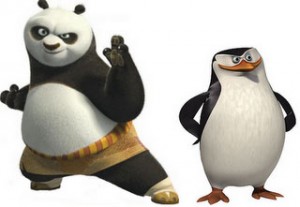 As you can probably imagine, maintaining double digit growth takes a lot of work and has its ups and downs.
Earlier this year, Google released a bunch of updates to their search algorithms known as Panda and Penguin.
And while these updates did not drastically affect us overall, it did change the dynamic of many of our keyword rankings.
For example, some of our targeted keyword phrases fell completely off the map whereas new ones shot up to the top 5. Overall, we probably came out slightly ahead but one things for sure, all of these updates sent chills up my spine.
Every time Google makes an update, it reminds me that we constantly need to diversify our traffic generation sources and not be overly dependent on the search engines.
One things for sure, great customer service continues to be one of our strengths and as a result, positive word of mouth continues to spread about our business.
When it comes to running any online store, your reputation is probably the most important traffic source there is and you can't beat direct traffic.
But enough talk! Let's discuss the reasons why the first half of 2012 was so strong!
We Increased Our Average Order Size
In the past, we've employed several pricing tricks which has allowed us to increase prices for our most popular items. This year, we made some additional changes to help customers find matching and related products to buy.
For example, we currently sell hemstitched linen dinner napkins in our store. But we also sell hemstitched linen cocktail napkins, hemstitched linen guest towels, hemstitched tea napkins etc… All of these items are a match in terms of style and often times customers are looking to buy a full set of matching products.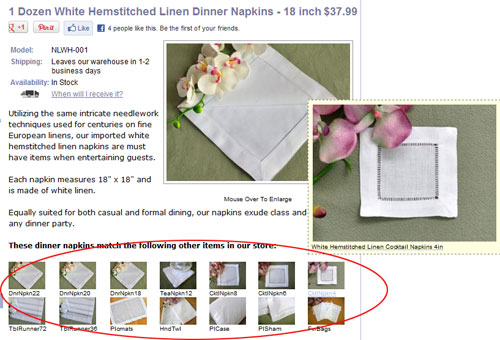 Up until this point, we've always listed items individually due to limitations with our shopping cart. But earlier this year, I made a few adjustments to the code to allow us to elegantly display matching items next to all of our products.
As a result, customers can now easily find matching sets of products which has resulted in increased order amounts across the board.
We Starting Marketing On Pinterest
After reading about all of the hype with Pinterest, my wife decided to check it out and give it a spin. And in a very short period of time, Pinterest has skyrocketed to our 6th highest traffic source almost overnight!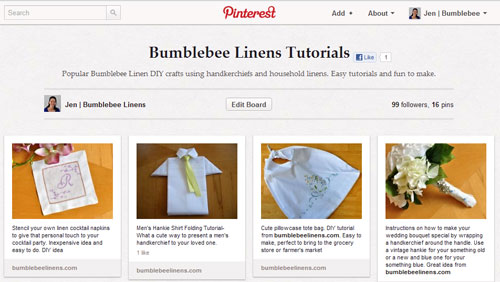 As it turns out, Pinterest is an excellent way to market your products if you run an online store and if you have eye catching photos. I've already written a few articles about Pinterest in the last few months. You can check them out below.
Mobile Ecommerce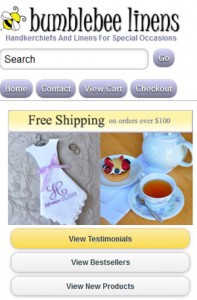 As most of you are probably already aware, shopping on mobile phones has been growing exponentially these past few years.
In fact for our online store, mobile traffic is expected to increase in the triple digits this year. One of my new years resolutions for 2012 was to create a mobile optimized version of my online store and I'm happy to announce that our mobile site launched in late February with fantastic results.
You can read about all of my mobile store statistics and how I designed my mobile site by checking out the articles below.
New Product Lines
Finally, we also increased our profits by introducing two completely new lines of product this past year. By browsing various forums, my wife discovered that there was a pretty heavy demand for both sympathy handkerchiefs and religious handkerchiefs.
So in April of this year, we launched our line of personalized handkerchiefs specifically targeting baptisms and first holy communions.
In addition, we also launched a line of memorial and sympathy hankies as well. These two product lines have done very well and we plan on adding additional products during the second half of the year.
Conclusion
Overall, this first half of 2012 has been amazing. Now that my 2 kids are much easier to take care of, I have a lot more time to make improvements to the store website. The second half of this year should be interesting!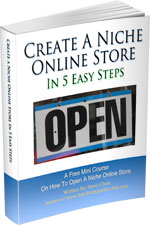 Ready To Get Serious About Starting An Online Business?
If you are really considering starting your own online business, then you have to check out my free mini course on How To Create A Niche Online Store In 5 Easy Steps.
In this 6 day mini course, I reveal the steps that my wife and I took to earn 100 thousand dollars in the span of just a year. Best of all, it's free and you'll receive weekly ecommerce tips and strategies!
Note: This post above may contain affiliate links, which means that I may receive a commission if you make a purchase when clicking a link. Please consult our privacy policy for more information.
Similar Posts
Have you read these?