Designing a clean, good looking website is not enough to guarantee a successful online store. While it certainly helps to have a great looking site, you are destined to fail unless you find a way to differentiate yourself from the competition. Below are a few ways to do just that.
Provide Good Content
Good product descriptions or reviews regarding your products instill confidence in the buyer that you know what you are selling. If you provide helpful and accurate information, psychologically a customer will feel obligated to make their purchase from you (even if your prices are slightly higher).
For example, in our online store (we run a wedding linens store), we have free dedicated pages on how to make art and crafts with the products that we sell. Customers feel like they are already getting something for free even if they don't end up buying anything. At the very least, they'll tell their friends about us.
Recently, I was shopping for camera lenses and I opted to buy from a place that was 10% more expensive because they helped me so extensively with my research. I literally felt obligated to support their online store because their site was so helpful.
Its easy to throw up a site. Make sure you take the time to make it unique and helpful for customers.
Sell Unique Products
Try and sell items that almost nobody else sells. You would be surprised at how many products sold overseas are completely unavailable in your home country. Find out what these products are and import them yourselves.
If you are creative, invent your own products or add value to existing products. If you're selling the same products as everyone else, you'll end up in a pricing game which is what you absolutely want to avoid.
A good example of creativity was what the computer maker Alienware did to differentiate themselves from the competition. In a landscape where everyone was selling vanilla PCs, Alienware differentiated themselves by building attractive, high end gaming machines which were extremely popular with enthusiasts. They targeted a specific audience with their computers and grabbed a good portion of that market.
Provide Great Customer Service
By providing great customer service, I don't just mean being nice to customers and being generally helpful. The type of customer service I'm referring to is the no holds barred, go totally out of your way type of helpfulness even if it means that it will take a tremendous amount of your time.
Let me give you an example of what I mean by "no holds barred" customer service through a personal experience of mine.
A few years ago, my wife and I were shopping for embroidery machines. The shop that we ultimately bought from went out of their way to show us how to use their machines and even gave us a loaner to try at home for a few weeks.
They also saw that we were a bit overwhelmed by the multitude of accessories that we had to buy that they decided to give us all the accessories for free. Compared to the other stores that we visited, this store was almost ridiculous in the amount of help they were willing to provide.
As a result, we are now a customer for life and will forever recommend this store to others. Whenever we need anything related to embroidery, we always buy all of our products there regardless of price.
The loss that they took by giving us the free accessories has been more than made up through our devotion and years of purchases. Yes, we became that attached. Its no wonder that this shop is one of the top embroidery machine dealers in the US.
Provide a Comprehensive Selection
Choose a specific category of products and try to be the most comprehensive seller of those products. Customers are more likely to buy from a store that specializes in what they are looking for. It is important that you don't spread yourself too thin with your online store. Instead, choose no more than a few categories to focus on and do the best job that you possibly can with it.
Looking around the web, I see many online stores selling seemingly random items. The best stores are the ones that have a cohesive theme.
Come Up With a Story
We were recently shopping for baby slings and were beset with a huge number of baby sling dealers. Despite visiting over 20 stores, we were especially drawn to this one store owned by this woman with 12 kids (yes, 12, no joke).
Her selling point was that between raising her 12 kids, she had experience with every single product in her entire store and that she only carried products that she had personally used and recommended. Her story immediately gave her additional credibility and we felt comfortable purchasing from her store.
Summing it all up
Differentiating your store is ultimately up to you. Before you put forth all of the hard work required in opening up your store, make sure that you somehow stand out compared to your competition. If your store isn't anything special, don't even bother launching it.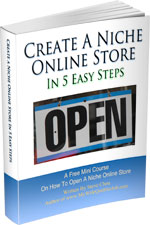 Ready To Get Serious About Starting An Online Business?
If you are really considering starting your own online business, then you have to check out my free mini course on How To Create A Niche Online Store In 5 Easy Steps.
In this 6 day mini course, I reveal the steps that my wife and I took to earn 100 thousand dollars in the span of just a year. Best of all, it's absolutely free!
Similar Posts
Have you read these?