This past month, I've been asked to critique several online store websites (click here to read some of my past online store writeups).
These days, I rarely have time to take a look at random reader's websites simply because I'm swamped with other things and taking care of little people aged 3 and below.
Also, since I run an ecommerce course, I reserve most of my non-family time for my students.
But I felt compelled to respond to these review requests because all of them had the same or similar mistakes.
And when 4 consecutive websites have the same problem, I feel compelled to write about it. Here were the problems that I found with the stores I looked at this past month.
No Value Proposition
Whenever I land on an unknown store while surfing the web, especially a site where I might be spending some of my hard earned cash, the first thing I look for is what's in it for me.
Why the heck should I shop at your store over someone else's? If this information is not concisely and effectively conveyed on the landing page, I'm outta there within 5 seconds.
For example on all of your landing pages, you should be emphasizing your unique strengths. Do you carry the largest selection of goods in your niche?
Do you offer kick ass customer service? Have you been in business for a long time or are you the absolute experts in your field? Tell me why I should buy from you over all of the other stores that I can easily find from the search engines.
If there's anything special about your online store, make sure that you shove it right in the face of your customer so they understand the value that you provide.
Especially if you sell items that many other stores carry, the worst thing that you can do is to show a customer a bland array of items on your front page with no context. Find something unique and compelling for shoppers to associate your business with.
And if you can't think of anything, then you might want to consider choosing a different niche.
Using Poor Or Copied Product Descriptions
I was a bit surprised to find that all of the stores I looked at had little or no descriptions for their products. Just indicating the size and the color of your products is not good enough.
Just including a picture of your product is not good enough. Good product copy and a strong call to action can heavily influence a customer to add that product to their shopping cart and make a purchase.
Have you ever been at a restaurant where the menu made the food sound absolutely mouth watering? One time, I remember going to this Greek restaurant with my wife and ordering lamb (I normally hate lamb and never order it) simply because the waiter's description of the dish was so enticing.
Take a lesson from the Groupon guys and take the time to write good, "unique" product copy. Why did I put "unique" in quotes? It's because the stores I looked at that did include product copy simply used the stock descriptions from the manufacturer. Do NOT ever do this!!
Not only do stock descriptions sound boring, but using them on your online store will prevent your product descriptions from ever being indexed in the search engines.
Google and other search engines hate duplicate content and chances are these stock product descriptions have been plastered all over the web already. Don't be lazy!
Multiple Product Descriptions On A Single Page
I'm not sure whether this was purely coincidence, but 2 of the stores I looked at were using poor implementations of ecommerce shopping carts using WordPress.
It's been a while since I've evaluated ecommerce for WordPress, but by default, the products are all listed in a linear blog style format.
WordPress out of the box was meant for blogs and managing content and not for ecommerce. Unless you tweak the way WordPress manages your content and your products, you could be killing your search engine optimization.
Why is listing all of your products and product descriptions on a single page bad? It's because when you shove everything on a single page, there can only be one TITLE tag and only one meta description.
If you have 5 different products and you use WordPress to list them sequentially on the same page like a blog, there is no possible way to include 5 unique title tags and meta descriptions.
Every product in your store should have it's own unique web page and it's own unique tags. If you are using ecommerce for WordPress (which is something that I don't recommend unless you absolutely know what you are doing), then you should eliminate the standard blog style product listing format.
Take A Tour Of Your Shop As A Customer
Often times, it's hard to be objective when designing your own online store so you should solicit feedback from a close friend and keep an open mind.
Ideally, you should ask the opinion of someone who is blunt and not afraid to speak their mind and be prepared to take criticism.
In reality, you don't need to be an ecommerce expert to know what to do. Most of the time, designing an effective store requires a touch of common sense and an introspective look at why you shop at the stores that you do.
Take a closer look at the shops you frequent and copy the attributes that you like.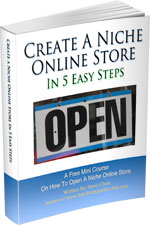 Ready To Get Serious About Starting An Online Business?
If you are really considering starting your own online business, then you have to check out my free mini course on How To Create A Niche Online Store In 5 Easy Steps.
In this 6 day mini course, I reveal the steps that my wife and I took to earn 100 thousand dollars in the span of just a year. Best of all, it's absolutely free!
Note: This post above may contain affiliate links, which means that I may receive a commission if you make a purchase when clicking a link. Please consult our privacy policy for more information.
Similar Posts
Have you read these?