Having eye popping product photos is probably the most important aspect of your online store website.
After all, if you can't convey the quality of your product to the end customer, you aren't going to be making any sales no matter how awesome your product is.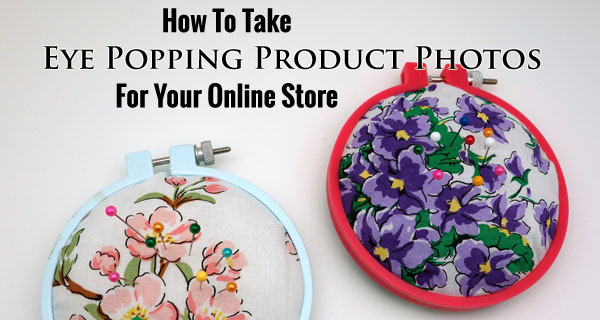 But the problem is that taking professional shots can be extremely challenging if you have no clue what you are doing. And there's this common misconception that you need expensive equipment or a super nice camera in order to produce high quality photography.
Long story short, taking great product photos is all about the lighting. If you can get the lighting down pat, then you can use any cheapo camera and get great results. But getting your lighting correct is harder than it looks.
The Problem With Using Natural Sunlight
When my wife and I first started out, we took all of our photos in natural sunlight and they turned out pretty well. But the problem was that we wanted all of our photos to use the same background and depending on the color temperature and intensity of the sun on that particular day, the background would look completely different.
If you look at the photo below, both handkerchiefs are taken on the exact same table but the color of the table looks totally different because they were taken during different times of the day.

Also because we both worked full time jobs, it was extremely difficult to get home from work and take photos before the sun went down.
The Problem With Using Individual Lights
Eventually, we decided to invest in some lighting equipment and stumbled upon this inexpensive lighting set from LimoStudio. I liked this lighting kit for a few reasons.
One, it was pretty inexpensive. And two, I could use it for creating videos as well.
Here's a picture of our setup below.
(Note: We actually use 3 lights for our product photography but I couldn't fit the 3rd light in the photo)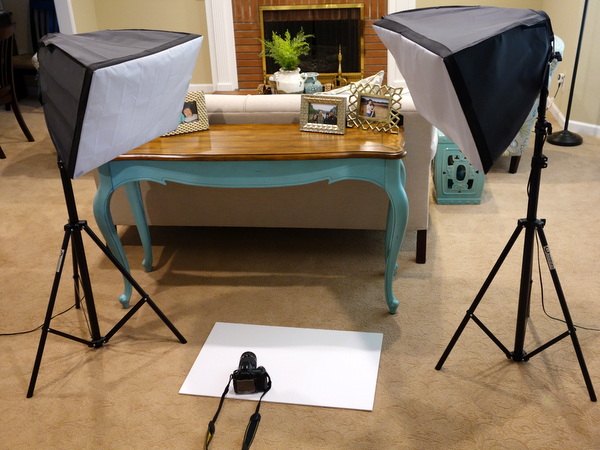 Now this setup has served us well for several years but there were many things that my wife and I didn't like about it.
For one thing, we don't have enough room in our house for a dedicated photography studio.
As a result every time we need to do a photo shoot, I have to go to the garage, lug around these big lights, move the furniture aside and set everything up. While the setup process only takes 15 minutes, it's a major pain in the butt.
In fact, I find it so tedious that I dread doing product photography altogether and take all of our new product photos in large batches. As a result, sometimes it can take months for a new product to make it to our website just out of pure laziness.
The other major pain is that I have to wait until the sun goes down in order to take pictures with consistent lighting. After all, if I let the sunlight mix in with the fluorescent lighting, the results become unpredictable. (Note: Almost every room in our house has a window except the garage)
The Best Solution That I've Found So Far
Lugging around our big lights didn't really bother me that much until I discovered the magic of portable light boxes. The light box pictured below is made by SimpQ and measures about about 16in X 16in X 3in. It's literally the size of a large briefcase and it's super light!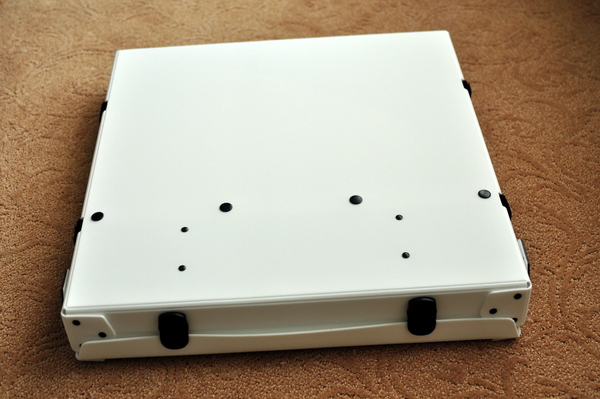 When opened, this little box expands to fully functional light box. Total set up time for me was about 5 minutes which is pretty fast considering that I wasted some time fumbling with the different panels and light diffusers.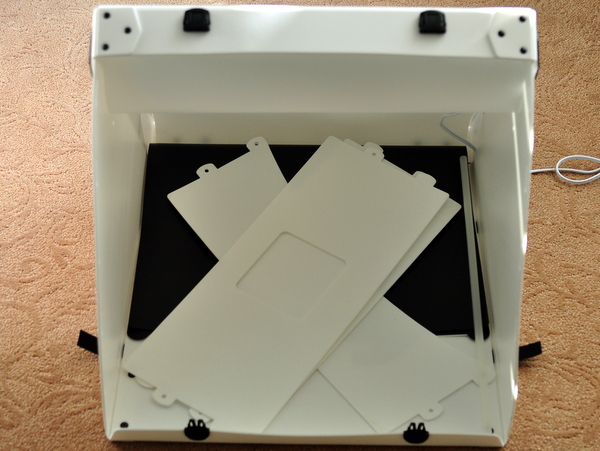 And what's really cool is that you can fully enclose your product in the box and completely remove and minimize the shadows in your photos. This particular box comes with a few different panels to allow you to easily take your products from different angles.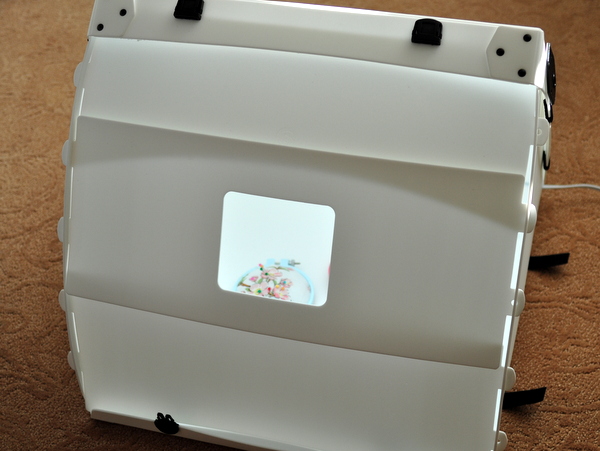 Once you have the box setup the way you want, there's this little opening where you can stick your camera. And outside of this opening, the product is pretty much bathed in consistent light from a set of fluorescent bulbs within the unit.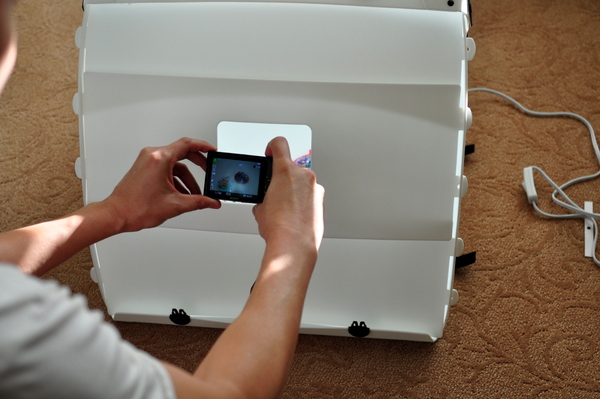 Here's a picture of what it looks like from the camera's perspective.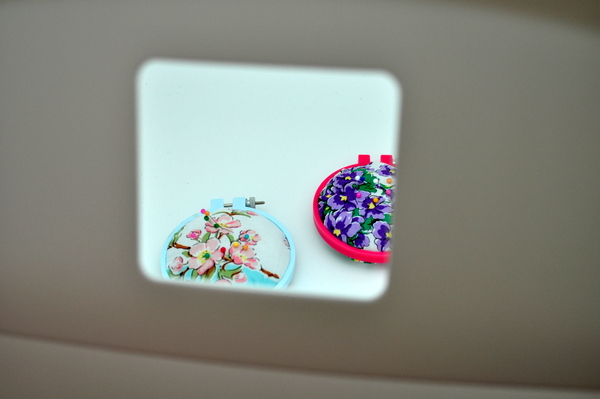 Before And After Shots
As soon as I got my hands on this light box, I immediately did some comparison photos with my existing 3 light setup.
The first photo below was taken in my living room using my 3 big fluorescent lights. As you can see, there are some light shadows underneath the red hoop and the light blue hoop looks a little dull.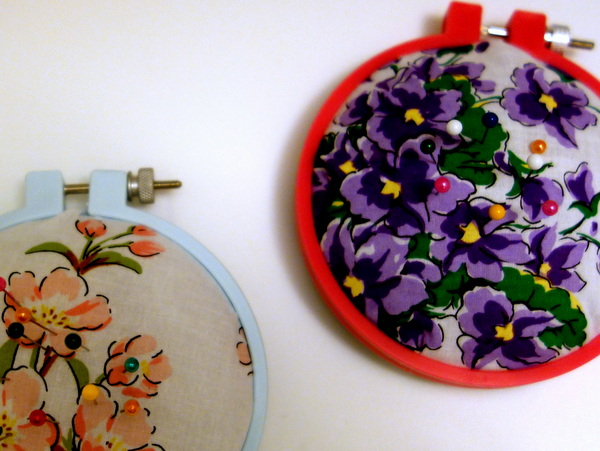 But with the SimpQ light box, both hoops are evenly lit with very few shadows.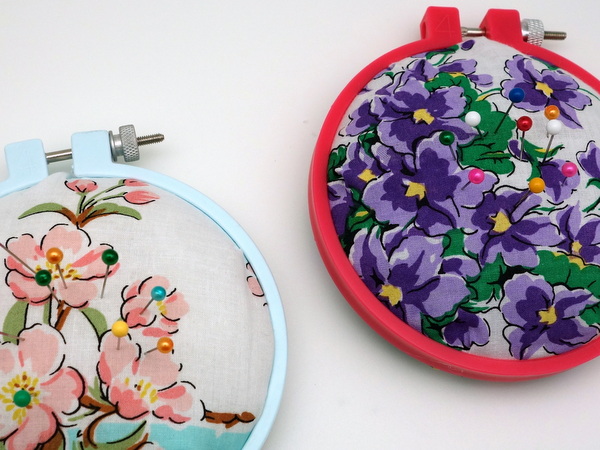 I know that I'm probably being a little too anal, but not having to worry about shadows is a major plus because I often have to adjust my lights in order to minimize reflections and dark spots in my photos.
But with the light box, every surface is consistently reflective which results in very even light with the same color temperature and intensity.
Conclusion
While the picture quality of my 3 light setup is perfectly fine and acceptable, it's a major pain in the butt for me to setup. Not only does it require more space but setup also requires a bit of adjustment in order to remove reflections and shadows from my product images.
Ever since I started using this light box, I rarely bust out the big clunky lights any more unless I'm filming a video for my blog.
The product photos for your online store are way too important for you to not invest in some sort of lighting setup. It doesn't have to be expensive and it doesn't have to be fancy, but you need to get something.
The box that I used in this post is made by SimpQ and costs only $295 dollars. It folds nicely into a small box the size of a stack of records and you can easily setup and break it down in a matter of minutes.
In fact, I may take this baby along to the next trade show and take product photos directly in my vendor's booth.
A Special Offer
In fact, I liked this box so much that I reached out to SimpQ and they were nice enough to extend a 5% discount to all MyWifeQuitHerJob.com readers.
To redeem the discount, click on this link and use coupon code: MYWIFEQUITHERJOB to receive 5% off your order.
Note: I am not affiliated with SimpQ in any way and do not receive any compensation for any purchases made. I really love this product and I think it will drastically improve your product photos.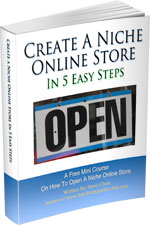 Ready To Get Serious About Starting An Online Business?
If you are really considering starting your own online business, then you have to check out my free mini course on How To Create A Niche Online Store In 5 Easy Steps.
In this 6 day mini course, I reveal the steps that my wife and I took to earn 100 thousand dollars in the span of just a year. Best of all, it's absolutely free!
Similar Posts
Have you read these?