If your store is anything like ours, we have to go through hundreds and hundreds of product photos in selecting the best ones to use for our website. If you don't have a good photo flow from your digital camera to your website, you could easily waste many hours fiddling with the product photos alone. I've put together some tips below that will hopefully make your picture flow more efficient.
Use a Good Photo Software Manager
While there are many good software packages available on the market, I have found Google's Picasa to be an excellent solution for your photo sorting needs. Not only that, but it's free too. We first started out using Adobe Photoshop to go through all of our photos and found that it was terribly inefficient. Google's Picasa allows you to
See thumbnails of all of your photos in an intuitive interface
Allows you to "Star" or tag photos that you like and want to use
Allows you to crop photos and do basic photo edits quickly and efficiently
The real beauty of Picasa is that it's extremely quick and responsive and allows you to go through hundreds and hundreds of pictures in a very short amount of time. The reason it is so quick is because it never alters your original photos directly.
Instead, it has a file that keeps track of all the edits you make and they are automatically applied if you decide to export these pictures to a separate folder. This way, you can never accidentally save over your original photos and allows you to revert back if you ever make a mistake.
Picasa is not a very powerful photo editor however. If you need to do major photo editing and adjustments, then a program such as Adobe Photoshop is more appropriate. Arguably though, if you have to make major edits, you may as well take a better photo.
Always Crop Your Pictures
Sometimes you take the perfect picture and it doesn't require any adjustments at all. Most of the time though, you'll need to make some adjustments or crop your picture to draw attention to the main product in the photo.
These days, every digital camera is at least 6 or 7 megapixels. Since your webphotos will all be in the hundreds of thousands of pixels range, you can probably get away with cropping a very tiny portion of your photo for the web.
What this means is that you don't really have to worry about framing the picture exactly correct when you take your photos. Just make sure the lighting and color is correct when you take the photo and crop everything else out except for what you want to display. Knowing this will save you a ton of time during your photoshoots!
Always Take Your Pictures in Natural Sunlight When Possible
Unless you have an expensive lighting system or a light box, there's no better light than natural sunlight for your photos. Try to find a bright room in your house that has lots of ambient light. Find out what time of day that room is the brightest and take all of your photos at that time.
By taking all of your photos in a brightly lit room, you'll require less time editing the photos later. While its important to try and maintain the same lighting conditions for all of your photos, you can still adjust the exposure very quickly in Picasa if you need to.
Make Your Product Stand Out
Make sure you choose a contrasting background for all of your product photos to make them stand out. If you are selling white products, pick a dark colored background for your shots. Conversely, choose lighter backgrounds for your darker products.
If you have an SLR camera, use a larger aperture (smaller Fstop) to shorten the depth of field and blur the background. Do whatever it takes to feature your product prominently in the frame.
Take More Pictures Than You Think You Need
Since you're using a digital camera, there's no reason to be stingy with your photos. Experiment with different angles and different setups and go through the photos later. During a product photo shoot, I go by the philosophy that if I take enough pictures, at least one of them will be perfect.
When I first started, I only took one or two pictures per product during photo sessions. When it came time to go through them, I'd often times change my mind and want a different angle or a different background for my product. I would then have to go through the chore of setting everything up again and waste a lot of time in doing so.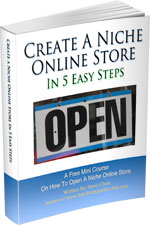 Ready To Get Serious About Starting An Online Business?
If you are really considering starting your own online business, then you have to check out my free mini course on How To Create A Niche Online Store In 5 Easy Steps.
In this 6 day mini course, I reveal the steps that my wife and I took to earn 100 thousand dollars in the span of just a year. Best of all, it's absolutely free!
Note: This post above may contain affiliate links, which means that I may receive a commission if you make a purchase when clicking a link. Please consult our privacy policy for more information.
Similar Posts
Have you read these?