I'm not sure whether it's because retailers are cutting back on their expenses and customer support, but lately I've had a rash of poor shopping experiences both online and in person. At a few of these places, I was so annoyed that I will never shop there again.
Since my wife and I run a store ourselves, I thought it would be a good idea to make a note of these annoyances so that we never make the same mistakes. Some of these things are subtle and probably wouldn't bother the average person, but I'm pretty anal when it comes to customer support. Here are some of my pet peeves.
Stores That Reply With A Terse Email
So I'm in the market for a new digital SLR camera. The other day I sent an email to an online camera store wondering if they had a certain camera in stock.
To Whom It May Concern:
I was wondering if you carry the Nikon D90 camera body in stock. I'm looking to purchase this camera body with the Nikkor 18-200m VR lens. Do you offer a kit that contains both items at a discount?

Here's the reply I got.
No.
This store didn't even have the decency to respond in a complete sentence. They could have said "We apologize but we do not bundle this camera body with this lens", or "Unfortunately, we don't carry these items". Anything would have been better than a single word answer.
Note to all store owners: Even if you have a ton of customer emails to answer and you are in a hurry, make sure you at least write some sort of sentence. Be polite, pleasant and apologetic if necessary.
Stores That Give You A Lecture
There's this shirt that I've been meaning to return but never found the time because of my busy schedule. By the time I made it out to the store, I was already beyond the return policy by a single day. Even though technically the return policy had elapsed, I tried to make the return anyway hoping for some leeway.
Me: I would like to make a return please.
Clerk: Sorry, but you have exceeded the return policy. The deadline for this return was yesterday.
Me: I'm off by only a single day. Can you make an exception? I would really appreciate anything that you can do.
Clerk: Sorry, but we can't make any exceptions. If I were to allow you to make this return, then I would be forced to take everyone else's late return. You really should have come back sooner. Why did you wait so long to make the return?
Me: I'm sorry. I was unable to make it out any earlier.
Clerk: Well what do you want me to tell you? It's your fault for missing the deadline. Try not to procrastinate so much next time. Next in line please!
Was that little lecture necessary? A simple no would have sufficed. Instead, this clerk made me feel even worse for missing the return deadline.
Stores That Nickle and Dime The Customer
The other day my wife and I were shopping at the mall and decided to stop for a bite to eat. Our little daughter was getting fussy as well so we decided to feed her at the same time. One of the hassles of feeding our daughter outside the house is that she requires her milk to be warm otherwise she refuses to eat. Most of the time, we carry a Thermos with hot water to heat up her milk but we forgot to bring it that day.
Me: I'd like to order a chicken sandwich and a chocolate croissant please.
Clerk: Sure. Would you like anything to drink?
Me: I'll have an ice tea and a Coke.
Clerk: Your total will be $13.74 please.
Me: Oh, I almost forgot. Could I get a cup of hot water as well? We need to heat up our daughter's bottle.
Clerk: You new total is $14.25
Me: What? I thought you said the total was $13.74
Clerk: That was before you ordered the hot water.
Me: I'm sorry. I don't need bottled water, just tap is fine.
Clerk: Your total is still $14.25
Me: Are you seriously charging us for tap water? I don't even see it on the menu.
Clerk: I apologize sir, but that is our policy.
Me: I'd like 2 napkins too. How much for those? (with a hint of sarcasm)
Clerk: Those are free sir.
Our order was already being prepared so I paid the money, but I was pissed. 50 cents for hot water!! It's one thing if I just asked for water without buying anything but I was a paying customer. I will never be going to that cafe ever again.
As store owners, it's absolutely crucial to have your customer leave your store feeling happy and satisfied. This cafe effectively alienated my future business over 50 cents. Not only that but I'm going to tell my friends also to never eat there again.
Stores That Make A Customer Feel Bad To Make A Sale
This particular story happened to my wife when she went to get her hair styled at this new salon that opened up near our house. She normally goes to a different place, but decided to give this one a shot. Big mistake.
While the haircut was well done, the entire time the stylist tried to sell her other products by making her feel bad
"Your hair is so dry and flaky. Have you considered trying this shampoo?"
"Your hair is out of control. I have the perfect styling gel that will do the trick"
"Your eyebrows are so bushy. Would you like a wax?"
"Your skin looks damaged and pasty. I have this perfect lotion for you."
So while the haircut itself was fine, my wife left the salon feeling bad about her eyebrows, her hair and her skin. I don't think she'll be going back there again.
Stores That Force Their Opinion On You
It was our 5 year wedding anniversary a few months ago and I thought that I would commemorate the occasion by buying my wife a necklace. I already had an idea what to buy because my wife had dropped ever so subtle hints the last time we passed by the jewelry store.
This particular store did everything it could to steer me away from the item I wanted to buy and made me feel bad about the item I actually wanted to purchase.
Me: I'd like to see that necklace please
Clerk: What is the occasion?
Me: It's our 5 year wedding anniversary.
Clerk: Congratulations! Are you sure you want to give her that particular necklace?
Me: What is wrong with THAT necklace?
Clerk: Oh nothing.
Me: Well if you must know, my wife has always wanted to carry a locket around her neck with pictures of our family.
Clerk: That is so sweet. But the one you have chosen is so simple. How about this one? This one is more suited to such a momentous occasion.
She pointed me to this gaudy locket encrusted with diamonds and sapphires. It was huge and ugly. My wife has very simple and elegant tastes. She wanted a simple white gold locket and chain. She's also extremely petite, so I needed the smallest locket possible.
Me: No thanks. May I see that one please?
Clerk: Of course sir, but that pendant is so tiny. It will be too small for your wife. How about this other one?
Me: On second thought, I don't think any of these are a good fit. Thank you for your time.
There was actually much more to the conversation than I wrote about above but the upshot was that I left the store annoyed. I was actually ready to buy the original necklace outright, but the sales lady kept trying to up sell me much gaudier items. If the shopkeeper just listened to what I wanted, it would have been the easiest sale ever.
Are You Driving Customers Away From Your Store?
Have any of these things ever happened to you? If you own a business, have you ever inadvertently done any of the above?
There is really only one rule of thumb when trying to get repeat business and referrals to your store or business. Just make sure your customer feels good about their purchase! Listen to your customers. If they want to buy a certain item, sell them that item. Make them want to come back for more.
In the examples above, I probably would have still purchased the camera from that online store had I received a polite reply via email. I would have been extremely grateful had the clothing store accepted my return and would be eager to shop there again. I wouldn't be badmouthing the cafe over getting charged 50 cents. My wife would probably be going back to that salon and that jewelry store would've made a quick and easy sale.
In the grand scheme of things, these stores probably made some extra money using these tactics, but was it worth the effect on their reputation?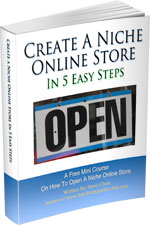 Ready To Get Serious About Starting An Online Business?
If you are really considering starting your own online business, then you have to check out my free mini course on How To Create A Niche Online Store In 5 Easy Steps.
In this 6 day mini course, I reveal the steps that my wife and I took to earn 100 thousand dollars in the span of just a year. Best of all, it's absolutely free!
Note: This post above may contain affiliate links, which means that I may receive a commission if you make a purchase when clicking a link. Please consult our privacy policy for more information.
Similar Posts
Have you read these?