Every entrepreneur has gone through it at least once. It's not pleasant. It's not fun. But things will go wrong and you will feel like quitting.

Especially early on when your business is fragile, it doesn't take much to get yourself into a rut. It could be something as simple as dealing with an irate customer or losing a big deal or contract with a large account. Maybe the lack of profitability and frustration has finally caught up to you. Whatever it is, you are going to want to throw in the towel and you'll have to dig deep to snap yourself out of it.
Our Story
With our online business, my wife and I fell into a deep rut a month after the launch of our business when no one was visiting our online store.

We had the merchandise ready. The website looked good. We were ready to process payments. But damn it! No one could find us online. We could've offered our products for free and still not have converted any sales because we just didn't have the traffic.

As thoughts of shutting the store down went through my mind, I remember thinking to myself that our online store was just a bad idea to begin with. I remember having discussions with my wife about her going back to work and searching for day care for our child. Worst of all, I kept having visions of months and months of hard work going down the toilet.

It is difficult to put into words the anguish that my wife and I felt early on with our business. The closest analogy would be to imagine yourself working nights and weekends for months and months planning a big party only to have no guests show up.

In short, it sucked. But you know what? It was painful but we got through it. Looking back, I think the mental anguish was especially bad for us because we were unprepared. Like Kevin Costner in The Field Of Dreams, we built it and thought that they would come. But when they didn't, we were in a state of shock. Here's how we got through it.

We Developed Confidence In Ourselves
People who expect to be successful are more likely to succeed.
People who expect to fail are more likely to fail.
We live up to our expectations.
(Self-fulfilling Prophecies, Terry Bragg, TerryBragg.com)
First of all, I want to thank Sid Savara for the above quote which I found while reading one of his excellent blog entries.

There is a lot of truth in Terry Bragg's quote. Even though we were down, we kept telling ourselves that our store was well done and that there was a place for us in the market. We had confidence in our online store so we expected to succeed.

During that first month of no sales, we routinely visited our competitor's websites to measure how our value proposition compared to theirs. And every time we performed this exercise, we would come away feeling better about ourselves. Our store was competitive, unique and no other store offered the same diverse array of products and content.

Confidence is crucial, but it is also important to make sure that there is a basis for your confidence. You can't just tell yourself that you are better than everyone else. You need to prove it to yourself through research and competitive analysis.

Whenever we visited our competitors' websites and found a feature that we lacked, we went back to the drawing board to see if we could add that feature ourselves. Over time, we refined our site until we felt good about our chances and that became the basis for our bravado.
We Maintained Alternative Sources Of Income
When you are running a business, the last thing you want to be is desperate. You never want to feel like money is tight and you don't want to place yourself in a position where the lack of money can force you into making a drastic decision.

That is why it is so crucial to maintain an alternate source of income while you are starting your business. It's tough but you can always find the time. My wife and I both held full time jobs working 9-6:30pm. We would come home, eat dinner and then work from 8-12am on most nights of the week. We also worked on weekends as well. If you have the energy and motivation, keep your day job until you are ready to quit.

Why is this important for your online business? By maintaining a constant inflow of cash, you can afford to keep the business running indefinitely even though you are losing money.

Having this cushion is crucial in order to make sane decisions regarding your business. If we were in a situation where money was tight and we had to chose whether to maintain the business or pay the rent, we definitely would have closed up shop. Keeping our full time jobs provided us with an unlimited runway for our business to take off.
We Talked To People Who Had Been There Before
When things aren't going well and you've exhausted all of your ideas, get help as soon as you can. During our dark period, we confided in our friends that had experience with running online businesses. Whenever we questioned ourselves, we gave them a call and they reassured us that everything was going to be ok.

It is always helpful to run through a play a play with someone who has experience. Perhaps your business is slow because you've made some mistakes. Perhaps, you are doing something fundamentally wrong. Don't be shy and let things drag on. Find someone who can help you out to make sure you are on the right track.

If anyone is trying to open an online store, feel free to contact me with any questions you may have. Use me as a resource if you have to and I'll try and help you out.
We Were Patient
If you've done the analysis, the due diligence and your business execution is fundamentally sound, it is just a matter of time until business will start to pick up.

We didn't get our first sale until a month had gone by. But that first sale gave us an enormous amount of confidence. Hell, I even remember the customer's name and exactly what he ordered. Troy of Texas, if you are out there reading this, thank you for that first sale!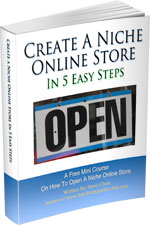 Ready To Get Serious About Starting An Online Business?
If you are really considering starting your own online business, then you have to check out my free mini course on How To Create A Niche Online Store In 5 Easy Steps.
In this 6 day mini course, I reveal the steps that my wife and I took to earn 100 thousand dollars in the span of just a year. Best of all, it's absolutely free!
Note: This post above may contain affiliate links, which means that I may receive a commission if you make a purchase when clicking a link. Please consult our privacy policy for more information.
Similar Posts
Have you read these?