Anyone who tells you that they got their business right on their first try is probably lying, forgetful, or trying to sell you something. My wife and I went through a multitude of ideas in the first month alone that went absolutely nowhere.
A few of these ideas actually made us a few bucks but in the end didn't work out for various reasons. While most of the ideas we came up with were very viable options and I'm sure you could make a decent living with some of the businesses below, they just weren't right for us. Here are some ideas we had that just didn't pan out.
Craigslist Ebay Arbitrage
I used to comb Craiglist in my free time to see if there were any deals on electronics. If you were lucky, you could find that special person who was moving out of the area and just wanted to get rid of their junk in a hurry.
I would always jump on these people and offer a modest but fair price to purchase everything in their inventory whether I needed it or not.
I took advantage of the fact that most sellers just wanted to unload their stuff in one big lump as opposed to selling everything piecemeal. After buying these electronics at rock bottom prices, I then sold everything on Ebay for a profit.
Why didn't it work out?
I made on average $1400 a month for the 3 months that I did this. This might sound like a pretty good amount of money but given the amount of work, it just wasn't worth it in the end. Competition is fierce on Craiglist and often times, I'd have to take off and visit the seller right away to lay claim on the merchandise.
Sometimes I'd have to drop everything and drive over 40 minutes in the middle of the day to pick something up. After obtaining the merchandise, I'd then have to go through the trouble of testing everything to make sure that it worked 100%.
Sometimes these sellers lived in really bad neighborhoods that I wasn't aware of. One time I actually picked up a bunch of computer equipment from what seemed like the projects. I was scared for my life and the merchandise was most likely stolen, but I went through with the transaction anyways because it was such a good deal.
In retrospect, that was the stupidest thing I ever did.
Anyways, the amount of time involved coupled with the risk of visiting a total stranger's home made the $1400 a month seem like such a small sum of money in the end. I concluded that there were better, more intelligent, not to mention safer methods of earning money with my time.
Opening a Kumons
For those of you who aren't familiar with Kumons, Kumons is a place where kids go to get extra tutoring on certain subjects such as math and science. Kumons also offers classes for certain standardized tests as well.
Because my wife and I are strong believers in child education and we fully support the idea that every child needs a little extra help to get ahead, Kumons seemed like a perfect fit. We liked the idea of opening a Kumons for several reasons. One, the startup costs were relatively low.
All you need is an empty space, some tables and some college students to teach the classes and you are ready to go. Two, the franchise fees were reasonable and Kumons was willing to subsidize the fees for the first year of operation. Three, it was a business that we felt strongly about because we could help children get ahead with their education.
Why didn't it work out?
Obtaining the franchise rights for opening a Kumons was the biggest problem. Kumons only grants franchise rights to open a facility in select locations. Even though there were no Kumons nearby in a 15 mile radius, Kumons wasn't sure about the prospect of opening a new location in our immediate vicinity.
We also vastly underestimated the startup costs. According to Kumons, they want you to invest 500k into the business to start with which was pretty much double what we wanted to layout. Finding the right office space in a good school district where a Kumons would be most successful proved a challenge as well.
Dream Dinners
Do you ever get home from work and not feel like cooking at all? Do you feel like you are wasting money going out to eat all the time? Are you trying to feed a family everyday and running out of new food recipes?
My wife and I figured that the answers to the above questions were yes for a majority of working professionals. Opening a Dream Dinners seemed like the perfect answer.
For those of you who aren't familiar with Dream Dinners, Dream Dinners basically offers a service that provides you with all of the ingredients fully prepped and assembled to make delicious dinners for your family.
They supply all of the fresh ingredients and easy to follow instructions on how to make the meal. All you have to do is to take these ingredients out of your freezer and heat it up. The cost of the service is pretty reasonable and you end up saving both time and money on your food bill.
Why didn't it work out?
We discovered Dream Dinners during a period of time where many places like it were popping up all over the place. Within the calendar year, over 5 competing franchises were going to appear in our immediate vicinity which probably would've saturated the market for us.
Obtaining the franchise rights was very difficult as well. When we applied, we found out that someone had already purchased the rights to open Dream Dinners in all 5 of the locations that we were interested in.
While opening a Dream Dinners in a further away location may have worked out, it wasn't ideal so we didn't go through with it. It was just poor timing on our part.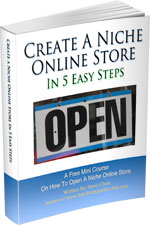 Ready To Get Serious About Starting An Online Business?
If you are really considering starting your own online business, then you have to check out my free mini course on How To Create A Niche Online Store In 5 Easy Steps.
In this 6 day mini course, I reveal the steps that my wife and I took to earn 100 thousand dollars in the span of just a year. Best of all, it's absolutely free!
Note: This post above may contain affiliate links, which means that I may receive a commission if you make a purchase when clicking a link. Please consult our privacy policy for more information.
Similar Posts
Have you read these?