If you read my last blogging income report for 2014, I was extremely happy to announce that I had doubled my earnings from the year before (2013).
In 2014, revenues came in at about $360K which made my day job income an ever shrinking percentage of my overall household income.
And this year, things are going even better!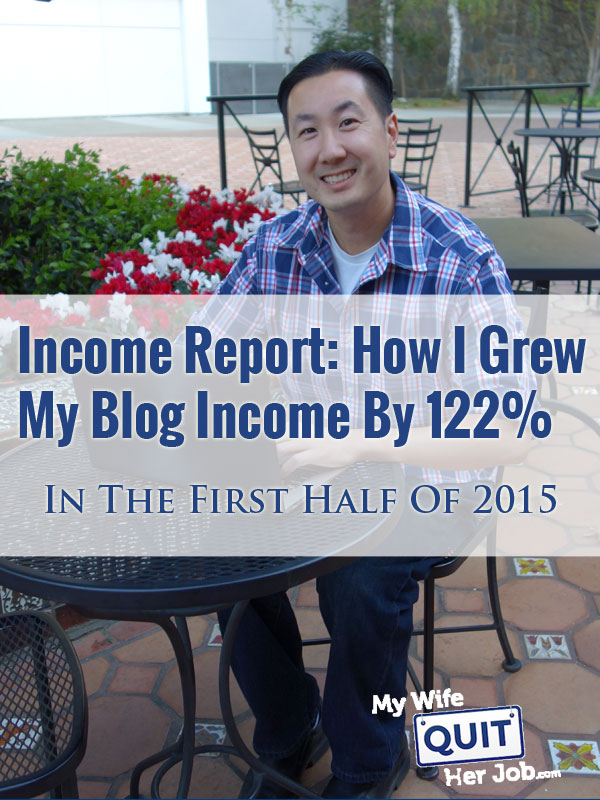 By the way, if you are wondering why I still work a full time job as an engineering director when I have 3 thriving online businesses, I wrote about why in my post on How To Prevent Yourself From Becoming Obsolete And The Reason Why I Haven't Quit My Job.
Anyway, at this point in my career I'm seriously considering going off to create a hardware product. If you listened to my podcast episode with Maneesh Sethi, his story with Pavlok really inspired me to think more strongly about creating a small tech company.
After all, technology is still my passion and whereas I find blogging, teaching and ecommerce super fun, I'm not sure that it could satisfy thirst for knowledge and challenge my brain in the long run (at least not in the way that I want to be challenged).
Don't get me wrong. I love teaching ecommerce and plan on doing so for the long haul, but I need something more:)
Ok…enough chatter. Let's talk about the first half of 2015!
Here Are The Numbers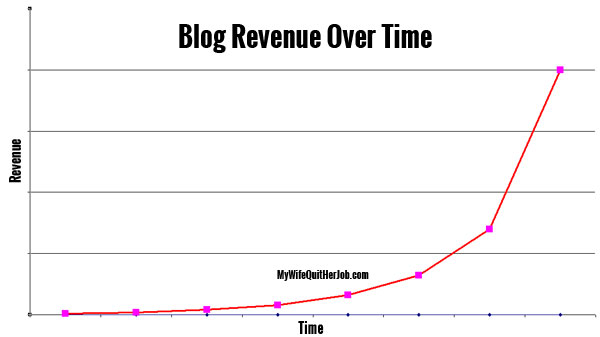 First off, here are the numbers for the first half of 2015
Here's what I like about blogging, audience building and running a business in general. The more work you put in, the more it grows! In fact, I think of my blog like a stock that always rises.
When it comes to blogging, the more good articles you post, the more traffic you receive. The more podcast episodes that you put out, the more people will listen in.
Time is your friend and not your enemy.
When it comes to running an online business, I really like playing the slow and steady game because it suits my personality. And I know that as long as I consistently put out great content, my audience will continue to rise. There's no real magic.
A Big Bet On Pinterest

In the grand scheme of things, I have not changed up the appearance or the structure of my blog very much from 2014. But I am making a big bet on Pinterest.
Did you know that a lot of people go straight to Pinterest now instead of Google to do their searches? Did you know that a large number of successful bloggers get a significant portion of their traffic from Pinterest?
So here's what I've done to make my blog more Pinteresting.
If you look at a bunch of my latest posts, I now use tall and thin photos with captions at the top of every article.
I've also invested in an assistant to increase my Pinterest following by regularly pinning related posts and helping me join collaborative boards within my niche. While I'm not seeing significant traffic from Pinterest yet, I'm confident that in a year or so, my Pinterest traffic will start kicking in.
And if Pinterest performs anything like it does for my online store, I'll be extremely happy:)
Updates To My Create A Profitable Online Store Course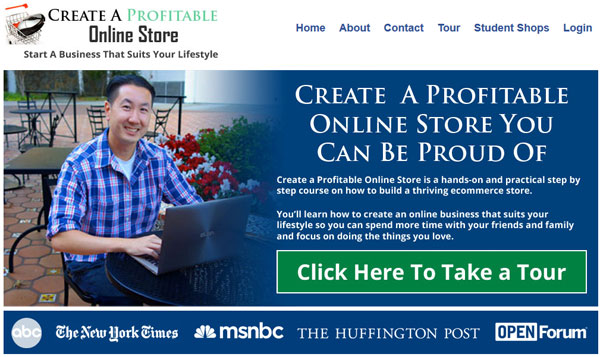 Ecommerce is constantly changing and my course has to evolve or become obsolete. As a result, I've added a significant amount of content to my class in response.
For example, I created a special section on selling on Amazon because quite frankly Amazon is huge right now. And the results of my students selling on Amazon have been pretty crazy.
You've probably read my story about how my student Lauren started doing 6 figures pretty much right away. And I have a bunch of other success stories in the queue just waiting to be posted in the coming months.
Ecommerce is blowing up right now and I'm sad (and happy) to say that specialty brick and mortar shops are slowly dying away.
The other major improvement to my class is that I've started calling in favors and inviting guests speakers to teach the class about their areas of expertise. Let's face it. I'm good but I don't know everything:)
Here's a short list of people who I've had in my class.
Is this an awesome group or what? In fact, I've learned a lot from their talks as well! What's cool is that I'm using my podcast to get to know experts in their respective fields and then working together with them to teach others. It's a win win situation.
I Revamped My Email Autoresponder Again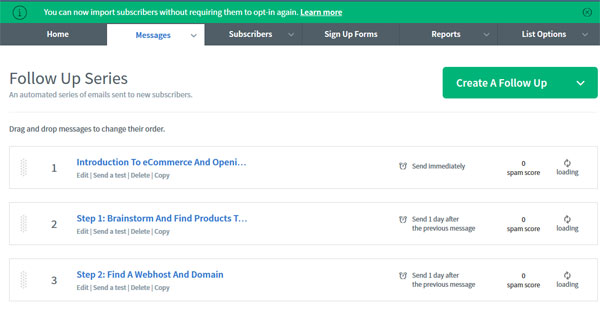 If you've watched the following presentations, you're probably aware that email marketing is a HUGE portion of my business
Long story short, I'm constantly tweaking and revamping my autoresponder sequence to increase sales and to better educate my readers. Those of you who have been on my list for a very long time probably haven't seen the changes because most tweaks are mainly for new signups but here's a summary.
First off, I've started to incorporate even more video into my email autoresponder and here's what I've found works pretty well. Some people like to read text and some people prefer to watch video, so now I include both!
Those who like to read can scan the email for a basic gist but those who want a more comprehensive lesson can watch the video.
For example, here's a link to a Frequently Asked Questions video that I made recently. What do you think?
I've also started showing off some of the key benefits of my class and I sincerely believe that my course is the best one out there in terms of both content and student interaction. If you're already on my list, you may have seen these already, but below are videos I recently posted as examples of how I help and critique student websites.
By the way, if you are interested in learning more about ecommerce, then click here to join my class
Conclusion And A Quick Announcement
Overall, it's been an incredible year for my blog and I'm on track to double last year's earnings. But I don't want to get complacent and I have plans in place to grow it even further!
For one thing, I'm going to start holding free live workshops on ecommerce! And if you're interested, you can sign up for the first one here
I also plan on attending more conferences to get to know more entrepreneurs. I'll be at Digital Colab and Fincon in September and I'll also be at the ECommerce Fuel Live event in October. Hope to see you there!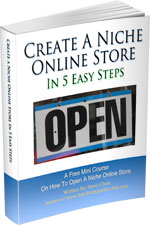 Ready To Get Serious About Starting An Online Business?
If you are really considering starting your own online business, then you have to check out my free mini course on How To Create A Niche Online Store In 5 Easy Steps.
In this 6 day mini course, I reveal the steps that my wife and I took to earn 100 thousand dollars in the span of just a year. Best of all, it's free and you'll receive weekly ecommerce tips and strategies!
Note: This post above may contain affiliate links, which means that I may receive a commission if you make a purchase when clicking a link. Please consult our privacy policy for more information.
Similar Posts
Have you read these?