My wife just closed the books on our online store and I'm happy to report that we had another record year of earnings! Looking back, we launched our online store in 2007 so that my wife could stay at home with our kids.
And what's funny is that we never expected it to make more than her salary. We never expected it to grow in the double digits year after year.
Today, my wife and I are very thankful that we took the entrepreneurial plunge.
After all, our online store has not only provided us with financial security but also the impetus for me to start this blog and an online store course as well.
I know I say this in every income report, but I'm continually shocked by how our little shop continues to grow. Even though the second half of the year slowed down a bit compared to the first half, we still demonstrated amazing growth in 2012.
Highlights For The Year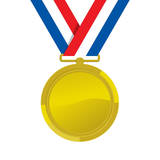 Year over year revenue grew 38%
Year over year profit grew 31%
With the exception of 3 months, we made more revenue each month than the previous year's highest month
Our average order size increased by $3 and the number of orders per day went drastically up as well
Website traffic increased by 44%
We were featured in DIY Weddings and Southern Weddings Magazine. Our products were used in a few high profile weddings
As you can see above, the numbers look pretty good. But honestly, it's getting harder and harder to achieve the same level of growth year after year. It's almost like we are climbing a steeper and steeper slope as time goes by.
The good news is that we aren't tapped out yet. There are still many strategies we have yet to implement in order to increase revenues and profits in the coming year. Meanwhile, let's review how we achieved our growth in 2012.
We Increased Traffic Via Pinterest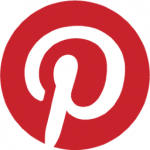 With Google changing their algorithms on a monthly basis, I started to get really nervous about relying on the big G for a good portion of our traffic. So last year, my wife started playing around with Pinterest.
Low and behold, within a few months of using the service, Pinterest has become one of our top traffic sources. And the best part is that Pinterest customers convert at a high rate compared to other forms of social media like Facebook and Twitter.
If you want to read more about our experiences with Pinterest, check out the articles below.
We Found New Vendors And New Products
While our store started out by primarily selling imported goods from Asia, we have since branched out by carrying products from different parts of Europe. Today, we sell linens from both Germany and Ireland and hope to take a "business trip/vacation" over there sometime soon to visit our vendors in person.
The great thing about European goods is that they tend to be higher quality and we can charge a premium for them. Carrying high end goods has allowed us to up sell many of our items to improve our average order size and improve our margins.
For example, we used to only carry one style of men's handkerchiefs for personalization. But today, we offer 3 different tiers of quality that the customer can choose from when deciding to personalize their hankie. And more often than not, customers upgrade their purchases and pay a premium for our higher margin goods.
We Expanded Into New Markets
While our store primarily caters to the wedding industry, who says that our handkerchiefs have to be only used for weddings? By positioning our products in a different light, we've been able to expand into some adjacent markets and gain more traffic to our website.

For example, we started positioning our handkerchiefs for funerals and other memorial services. We started a special section geared towards baby baptisms and christenings. We created special personalized products for sororities and fraternities.
Heck, we even designed a landing page specifically targeting Mormons thanks to my friend Miranda of Planting Money Seeds.
Despite the fact that these are all completely different markets, we are able to sell the exact same products to each of them by positioning them slightly differently.
We Created A Mobile Website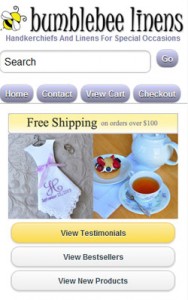 After noticing that our conversion rate was atrocious on smart phones and other small form factor devices, I finally bit the bullet and decided to invest in a dedicated mobile website for our online store.
I'm no mobile expert, but after designing a fully custom mobile website from scratch by myself, I learned a ton about how users shop differently on their phones vs a desktop computer.
The important thing to realize is you shouldn't underestimate the number of users who shop on their phones!
In fact, you could be missing out on a lot of potential business if you don't have a mobile optimized website.
After launching our mobile site, our conversion rate on smartphones increased by over 2X. If you want to read more about our experiences with mobile, feel free to check out the articles below.
Some Lowlights For The Year
Even though our business grew in the double digits, the growth could have been much larger had we not run into some hiccups along the way. One thing that was different about this year versus the past was that our margins actually dipped by 1% compared to the prior year.
There are several reasons for this. For one thing, goods coming from China continue to increase in price at ridiculous levels. In fact, prices increased several times throughout last year in the double digits each time! The good news is that these increases were somewhat offset by the extra margins we saw from our high end goods from Europe.
But at some point, China will no longer enjoy a significant price advantage over the US and importing goods there may no longer make sense. As a result, we are currently looking into importing from different countries such as Indonesia, India and different parts of South America.
Our margins also dipped because one of our largest shipments of the year was denied by customs. As a result, we made up for the lack of inventory by substituting higher priced goods for custom embroidery at no additional cost. (You can read about it here)
In addition to margin pressure, we also had extremely slow sales in November due to Hurricane Sandy. Furthermore, the US Postal service was especially flaky last year and we had to resend an abnormally high number of packages at our expense because orders were getting lost in the mail.
Our Expenses Continue To Rise
I'm always reluctant to add additional overhead to our business. After all, very early on we were only spending $80 a month to maintain our business (not counting inventory purchases). And when your overhead is so low, you know that your business can weather any storm and you don't ever have to worry about shutting it down.
This past year we decided to lease office space. And while it was a tough decision to add significant overhead to our business, it made sense especially since we plan on hiring more employees this coming year. Even though it was a major hassle moving our business, getting a good sized office was very exciting for us and will hopefully set us up for further expansion later on down the line.
In addition to leasing office space, we also increased our advertising spend and we continue to dabble with new ways to get the word out about our little shop.
Summing It All Up
Overall, it was a great year for us but things are getting more and more complicated. As our business continues to grow, we are forced to add additional expenses and headcount in order to keep up with demand. That's not to say that this is a bad thing but life was much easier in the good ole days when my wife and I were sitting on the couch packing orders in front of the TV.
The changing landscape for product sourcing should be interesting this year. In addition, our shopping cart website is due for an upgrade which will probably lead to some headaches for me on the programming front. Here's to a profitable 2013!!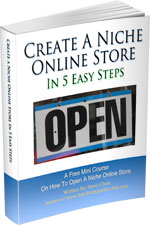 Ready To Get Serious About Starting An Online Business?
If you are really considering starting your own online business, then you have to check out my free mini course on How To Create A Niche Online Store In 5 Easy Steps.
In this 6 day mini course, I reveal the steps that my wife and I took to earn 100 thousand dollars in the span of just a year. Best of all, it's free and you'll receive weekly ecommerce tips and strategies!
Note: This post above may contain affiliate links, which means that I may receive a commission if you make a purchase when clicking a link. Please consult our privacy policy for more information.
Similar Posts
Have you read these?