How many of you check your Google Analytics stats religiously at least once a day? How many of you check your stats live using Woopra or some other real time stat tracking software?
If you run an online store or sell goods online, do you actually go to your website as a customer on a regular basis to look around?
Informally, I asked a handful of my webmaster friends these exact questions and most of them said "yes" to the first two questions and "no" to the last.
In fact, the webmasters I spoke to rarely visit their site at all unless they need to make a change. They rely mostly on analytics data to observe the health of their website.
There's Just Too Much Data
Have you looked at your analytics data recently? Of course you have. The fact is, there's just too much data. Sure, you might have detailed statistics on how customers enter and exit the various pages on your site.
You might have conversion data that outlines your ROI and which pages generate the most traffic.
But the #1 problem is that your web analytics tools only provide you with the numbers. Then it's up to you. Somehow, you have to take these vast databases of data and create quantifiable action items to improve your website.
And this can be extremely hard to do especially if you only look at the raw data. Since you face a deluge of data every single day, it's really easy to miss out on simple things that could easily be found by actually going to your own website.
Eat Your Own Dog Food. Be Your Own Customer.
Imagine that! Visit your own website! Surprisingly enough, we all don't do this enough. The truth is that the best ways to identify and fix problems with your site is if you actually immerse yourself and understand how a customer feels when they enter your website.
I'll be the first one to admit that I've been guilty of this for quite a while now. Below is an example of what I found just a few months ago when I thoroughly browsed my site and tried to buy something online.
I noticed several subtle typos in my product descriptions where I copy/pasted from other products. For example, we carry several of our products in 2 colors, white and ivory. In going through the product descriptions, I noticed that a few of the ivory items had "ivory" in the title, but the product description indicated that it was white. So which is it? White or ivory? No doubt this has confused our customers.
One of our personalized items was missing a user input field for personalization. No wonder no one has ever purchased this product before!! Imagine buying a personalized product that can't be personalized! And I thought this whole time that it was just an unpopular product.
One of our craft pages was extremely slow to load because I accidentally included a full size version of a photo that was shrunk down using HTML instead of using a lower resolution photo. As a result, this page was trying to download a 3 MB file every time.
I noticed during checkout that the address fields were a bit out of order when entering a separate billing vs shipping address. For example, the field order should be name, address, city, state, zipcode. However, the actual field order on the separate shipping address page was name, address, zip code, city, state. What ended up happening was that I accidentally typed in the city in the zip code field which was quite annoying. And the sad thing is that this problem had been on our site for quite a long time because I never bothered to checkout with a different shipping address.
Numbers Are Worthless Without Context
When was the last time you looked at your analytics numbers and actually did something about it? Having all of the data in front of you is nice.
But in most cases, they will do nothing for you or your website because they are just meaningless numbers until they are correlated.
Would I have caught the problems I described with my website above by looking at analytics data? Maybe, but highly unlikely. I'd have to have noticed fairly minute trends amongst months and years of data. I'd have to have a general idea about the problem I was looking for.
99% of the time, the numbers won't be nearly as helpful as a simple trip to your website.
When was the last time you typed in your company name in Google and looked at how your company comes up in the search results? Would you visit your own site based on your meta descriptions?
When was the last time you looked at how your Adwords ads come up compared to your competitors. Would you click on your own ads? Are they compelling?
When was the last time you actually tried to find a specific product in your online store? How good is your search? Are your products organized in a logical fashion?
When was the last time you contacted your own customer service department? Are your employees representing your company the way you want them to be? Is it a pain in the ass to make a return?
When was the last time you reviewed your email marketing campaigns?
Type In Your URL
Go ahead. You can do it. Type in your URL right now and take a look around. Go shopping. Only through putting on your customer's shoes will you come to terms with how bad your site really is and how you can improve.
Take a page out of my neurotic customer feedback techniques and get out there and ask/beg for some feedback.
Call or email people who have received their orders already and see how you can improve. We never hear from 99% of our customers after they have made a purchase.
I used to think that this was a good thing but who knows? Maybe they were secretly dissatisfied and are now telling their friends about it. It's best to know the truth and the best way is to dig down deep within the trenches.
Don't get me wrong. Analytics and numbers have their place, but going down to ground zero is the best way to go.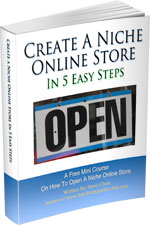 Ready To Get Serious About Starting An Online Business?
If you are really considering starting your own online business, then you have to check out my free mini course on How To Create A Niche Online Store In 5 Easy Steps.
In this 6 day mini course, I reveal the steps that my wife and I took to earn 100 thousand dollars in the span of just a year. Best of all, it's absolutely free!
Note: This post above may contain affiliate links, which means that I may receive a commission if you make a purchase when clicking a link. Please consult our privacy policy for more information.
Similar Posts
Have you read these?