My wife just closed the books on 2014 and our online store continued its trend of double digit year over year revenue growth!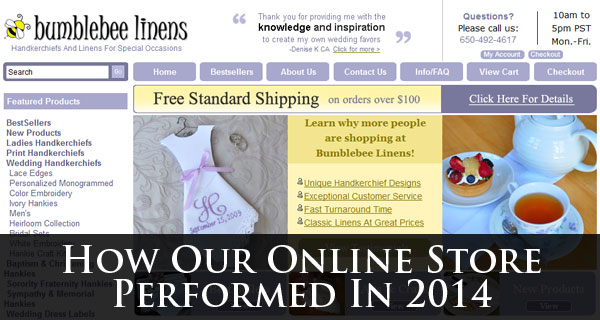 As I mentioned in our mid year report, 2014 was the year of outsourcing our business and I'm happy to say that our little business can now run on its own and my wife has even more flexibility than before.
Having a flexible schedule is crucial when raising kids because the number of activities they take part in continues to grow at an exponential rate. Not only are both of my kids in different schools across town but they also have to be dropped off at piano, soccer, math, girl scouts, play dates etc…
It's pretty crazy actually and I don't remember doing this much stuff when I was a kid. In fact, I distinctly remember walking home by myself everyday and spending my afternoons playing outside with friends. My parents never had to shuttle me around to multiple activities per day.
Anyway, what sucks is that all of this flexibility comes at the cost of additional overhead to run our business. This year, we moved into a larger office space and acquired 1 part time and 2 full time employees.
As a result, despite increasing our top line, we had a few struggles in maintaining our costs which resulted in somewhat disappointing profit numbers which I'll go into depth below.
Overall I'm a little bummed, but it's all a part of growing and running a business. There are going to be ups and downs and I strongly believe that the additional flexibility was well worth the money.
Before I get into the numbers, please allow me to go over some of the highlights and lowlights for the year.
We Automated Our Email Marketing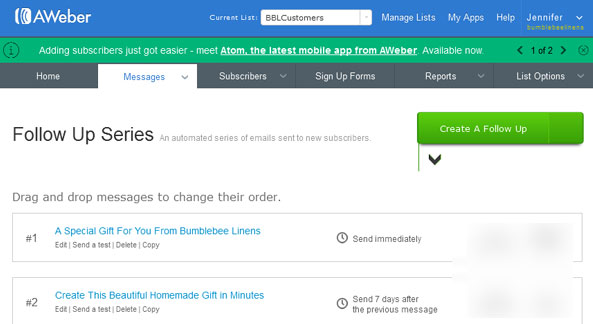 With 2 kids and all of their activities, we don't really have time to draft emails to all of our customers on a regular basis. As a result, in the second half of 2014, my wife put together our very first email autoresponder sequence which went live in the middle of August.
Things were going awesome with this sequence until MailChimp decided to ban us just as the shopping season was about to begin. Incidentally, I don't recommend MailChimp to anyone because they are too quick to drop you for arbitrary reasons.
In my case, MailChimp banned us because one email of our autoresponder sequence (which did not try to sell anything), got 1 spam request from a blast to about 200 people. And this email list was composed of paying customers who opted into to our list when they made a purchase.
However, because we used the MailChimp API and not their double optin form, they deemed that our store was too risky from an email spam standpoint!
As a result, I was forced to scramble and moved our entire list to Aweber as quickly as possible. Looking back, I should have known better than to stray from my favorite email provider. The only reason I chose MailChimp in the first place was because my wife liked the email GUI better.
But do not fall for the allure of a pretty GUI and a free account. As soon as you can afford to switch, make the switch to a more robust provider!
Anyway after the dust settled, we managed to send emails during the latter half of the shopping season. Currently, our autoresponder sequence is 19 emails long and goes out once a week to our store customers, subscribers to our blog and to our signups acquired through Facebook.
And despite the MailChimp fiasco and the late start, our autoresponder still managed to account for 2% of our revenue. Not bad for a few months work.
Overall, email marketing contributed a little over 5% to our top line. It would have been higher had we not wasted weeks of time and effort going back and forth with MailChimp and migrating over to AWeber.
Did I mention that MailChimp doesn't have phone support so communication takes forever??? No, I'm not bitter.
We Were Featured In 4 Magazines

Despite not focusing much effort on the PR front, we still managed to get into 4 major magazines in 2014. And as I mentioned in my last progress report, being featured in these publications actually brought in some revenue!
For the year, we were featured in Romantic Homes, House Beautiful, Southern Weddings and Hollywood Weekly. And one of our goals for 2015 is to be a little more proactive about reaching out and contacting editors.
We Went To The Canton Fair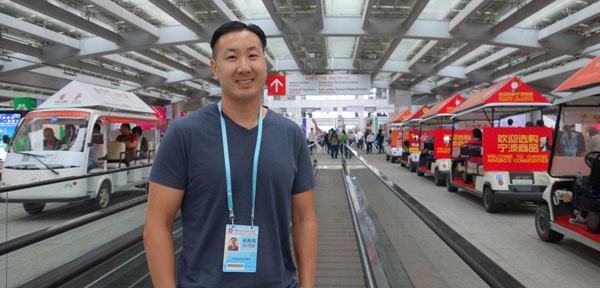 While low double digit revenue growth isn't bad, let's be honest. The growth for our online store is slowing with every passing year. And unless we do something a little more drastic, our growth will eventually taper off.
That is why my wife and I attended the Canton Fair this year in search of new products to sell online. I'm happy to report that the trip was extremely productive and we will be introducing 3 new product lines in 2015.
The unfortunate aspect of importing goods from overseas is that it takes a long time to manufacture product. As a result, our efforts at the fair did not contribute to any revenue in 2014. But looking forward, I'm very optimistic that these new products will make us plenty of money this coming year.
We Started Selling On Amazon

Similar to the point I made earlier, the growth of our online store will continue to slow down unless we find new markets to tap into. That is why we started dabbling with Amazon this past year.
Currently, Amazon is the largest ecommerce play in the United States and continues to grow. And by not selling on Amazon, you are potentially missing out on a huge audience!
So this past November, we started listing some of our best sellers on Amazon and the results were ridiculous. Within 8 days, we sold out of our initial inventory of 60 units. And as the year went on we had major problems keeping up with fulfillment.
While we could have sold a lot more on Amazon, we ran out of inventory because we only bought enough to sustain us based on 2013's projections. Going forward, we are going to put a lot more product on Amazon and I anticipate that it will be a HUGE driver for growth in 2015.
Incidentally, I'm adding a brand new section to my online store course that teaches how to sell on Amazon using techniques that I've learned along the way. In addition, I've invited Amazon experts like Brad DeGraw to give lectures to the students as well!
The Numbers
Ok, now here are the numbers for 2014.
Year over Year Revenue grew 13%
Overall traffic went up 18%
Mobile revenues went up by 54%
Mobile traffic increased by 72%
Gross Margin went down 1%
Year over year profit remained roughly flat
Now let's talk about what went wrong for 2014 and why our costs increased dramatically. Some of this was beyond our control but some of it was our fault entirely.
Our Shipping Costs Went Up

In 2014, we decided to drop USPS for all express shipments. Our business depends on timely shipments and USPS Express Mail was not doing it for us any longer. Not only were packages often delivered late, but sometimes the postal service would mark the package as delivered when it was NOT in fact delivered.
This resulted in lots of angry customers who called to complain. As a result, we moved all express shipments to UPS without increasing shipping prices and this ended up hurting our profits significantly.
Going forward, we are looking to raise prices on our products to compensate for this. It also doesn't help that UPS and FedEx recently jacked up their prices for 2015 and introduced what is called "dimensional weight".
Today, if your package exceeds a certain cubic volume, your shipping costs increase dramatically. We'll need to find a way to compensate for this which means passing more costs along to the end customer.
Our Advertising Spend Went Up

In 2014, our advertising spend nearly doubled for 3 main reasons. Two of them were intentional and the other was a bone headed mistake on my part.
Let's talk about my idiocy first:)
Back in September, Google introduced what is known as "close-variant keyword matching". Basically what this means is that your "exact match" keyword campaigns are no longer exact and Google is at the liberty to substitute synonyms and related keywords.
My Adwords strategy is predicated on exact match phrases and while I was aware of the changes, I didn't think that they were a big deal. Then I looked at my Adwords report last week and saw that Google was being quite liberal with my campaigns resulting in a lot of wasted clicks. Going forward, I've updated the negatives for these campaigns so it should be all good going forward.
The second and third reason ad spend went up was because I started using both Facebook and Google Display Network advertising. Now whenever you start advertising on a brand new platform, there's going to be a lot of wasted dollars. There's no way around it.
It took me several months of throwing money down the drain but I finally managed to turn a profit with my Facebook ads using techniques I will discuss in a subsequent post. However despite my success on Facebook, I could not for the life of me get the Google Display Network to convert.
I'm not sure if I'm going to try GDN again, but Facebook is definitely a great advertising channel going forward.
Our Cost Of Goods And Overhead Continued To Increase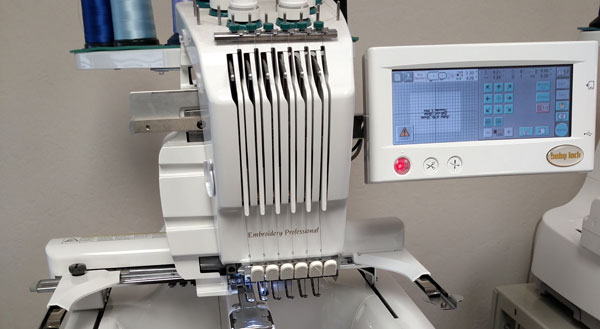 I've already mentioned this above but we only had 1 part time employee in 2013 and suddenly went to 2 full time employees in 2014. Not only that but we also moved into a larger office and hired a part time employee for the holidays.
These extra costs coupled with increasing costs of goods really put a strain on our profits for 2014. To combat the increasing prices, we've been buying in greater bulk to offset the cost but there was no way we could make up for the additional wages for 2 full time people.
In addition, we also invested in another industrial embroidery machine to take on the additional personalized product load. Our monogrammed products are the most profitable products in our shop and we're going to press this aspect of our business going forward.
Looking Into The Future
Overall, I'm really excited about our prospects for 2015. Sometime in the first half of the year, our brand new product lines should be ready to sell.
In addition, by leveraging Amazon more this year, we should be able to increase our revenues and profits substantially this coming year.
Here's a summary of what's to come
We're going to list more products on Amazon
We're going to launch our new product lines
We're going to do more outreach to event and wedding planners
We're going to reach out to influencers on You Tube and social media to endorse our products.
Should be an exciting year as usual!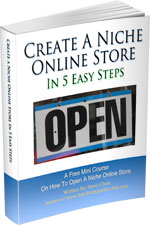 Ready To Get Serious About Starting An Online Business?
If you are really considering starting your own online business, then you have to check out my free mini course on How To Create A Niche Online Store In 5 Easy Steps.
In this 6 day mini course, I reveal the steps that my wife and I took to earn 100 thousand dollars in the span of just a year. Best of all, it's free and you'll receive weekly ecommerce tips and strategies!
Note: This post above may contain affiliate links, which means that I may receive a commission if you make a purchase when clicking a link. Please consult our privacy policy for more information.
Similar Posts
Have you read these?