The million dollar question is always how to get more people to visit your website or online store. In general, there is no way to get traffic quickly unless you have a big budget for advertising. The best thing that you can do, is to lay a solid foundation and your traffic will gradually increase over time. Beware of sites or people that promise you millions of hits overnight. These are all scams. Here are 10 things that you can do to get more traffic to your store in the long run.

Apply to Get Into DMOZ
In a nutshell DMOZ, also known as the Open Directory Project or ODP for short, is a web directory maintained by a community of volunteer editors. It's special because the search engines, especially Google, place a lot of weight on your website if you manage to make it onto the directory. You can go to dmoz.org to apply to get included into the directory. If you do apply, make sure you apply only once and then just leave it alone. While it isn't essential to make it in, it certainly will help make your search rankings higher in a shorter period of time.
Use Adwords
I don't suggest going all out and spending a bunch of money on paid per click advertising, but in the beginning, this is easiest way to get traffic. When we started out, Adwords was one of the few ways we got targeted traffic to our store. We didn't go overboard, had a modest budget, and tried to place ads that ranked in the top 8 of more obscure searches. The primary use of Adwords for us in the beginning, was to help fine tune our site in order to convert customers better. Adwords combined with Google Analytics are great tools for refining your site and ironing out the kinks in both your store layout and your checkout process. I will post an article specifically on how to use Adwords effectively in a future post.
Write Content Other Than Your Product Descriptions
The important key here is to write content regarding your products that people will be interested in reading about WITHOUT the intention of selling them anything. If you write useful content without any sales pitches, people will be more likely to link to these pages and tell their friends about it. Since you are writing about your own products or good uses of your products, they will be more likely to purchase from your store.

A good example of this is with what we do with our online store. Since we run a linens business, we write content pages on how to make arts and crafts with our linens. People are attracted by these craft pages which in turn leads to purchases of our products to make these crafts.
Find Out Where Your Competitors Do Marketing
Make a list of all of your competitors and find out all of their avenues of advertising. Then go through all of these places one by one and evaluate whether advertising through this venue makes sense for your store. This is extremely tedious, but we took our top ten competitors and did this analysis for every single one. It's valuable because your competitors are probably operating on a budget as well and have probably done most of the homework already. You can leverage their hard work!
Submit to All Directories In Your Niche
Do a search for all of the directories that apply to your store and take the time to submit to all of them. Some of them will be free and some will not, but the key is to get as many one way links as possible. While you will probably not see much traffic from these directories (since most of them will be junk), you will get clicks from a few of these directories on a regular basis. There are plenty of free directory submission websites available as well.
Publish Articles In EZines
Especially if you have a fresh spin on a new product or idea, you should definitely write an article or press release describing your store and why it is different from the rest. Submit your articles to http://ezinearticles.com/.
Give Out Referral Bonuses
There's no better way to get more customers than to have your existing customers refer their friends. Try and entice them with coupons or referral bonuses if they refer a friend. Judging by the traffic for our online store, 25% of our business is coming from referrals alone.
Submit Your Content To Social Bookmarks
If you are writing useful content about your products, you should submit all of these to social bookmarking sites like DIGG or StumbleUpon. Try and establish a community and network with other people who are interested in the products that you sell.
Post In Forums
I'm not talking about just dropping links to your store on the forums. In fact, if you simply advertise your online store on a forum and then leave, you will probably be banned. Instead, focus your posts on the forums towards steering people to your content sites and have the genuine intention of helping them out. If you are helpful, over time you will establish a reputation and can then start recommending products in your own store.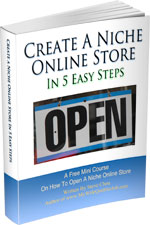 Ready To Get Serious About Starting An Online Business?
If you are really considering starting your own online business, then you have to check out my free mini course on How To Create A Niche Online Store In 5 Easy Steps.
In this 6 day mini course, I reveal the steps that my wife and I took to earn 100 thousand dollars in the span of just a year. Best of all, it's absolutely free!
Similar Posts
Have you read these?