Early on when you first launch your online store, one thing is certain. You will not be receiving many visitors and customers will have a hard time finding your website.
But rather than view the lack of traffic as a negative, this is the perfect time to do some targeted conversion testing using Google Adwords and Google Analytics.
Why? Because you have so little web traffic, there is less data to interpret which makes sifting through your Google Analytics reports much easier without having to create complex filters out of the box.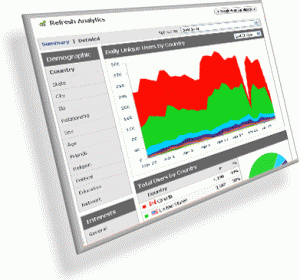 Below I'm going to describe how my wife and I tweaked the conversion rate and diagnosed the early problems with our online store website using Adwords and Google's free web analytics tool.
Incidentally, if you have not signed up for Google Analytics, you should do so right now. It's an extremely powerful tool and absolutely free (if you don't mind sharing all of your websites' intimate secrets with Google).
What's The Main Goal?
The main goal of all of this testing is to make sure that your online store is fundamentally sound. In other words, this process should help you answer the following questions about your store.
Are you carrying products that customers are actually interested in?
Do your customers stick around and browse the products in your store? How relevant is your site to what they are looking for?
Are there any kinks in your checkout process that are stopping customers from completing their purchase?
Which products are attracting the most attention?
Please note that the analysis that my wife and I used can be done using Google Analytics pretty much out of the box. In other words, there are very few tweaks that you have to perform with Google Analytics other than inserting Google's javascript snippet on every page of your store.
In terms of cost, you will have to pay for Adwords advertisements but as a new store, it shouldn't be too hard to find a free $100 coupon on the web to try out Adwords for free.
For example, shopping carts like Big Commerce have arrangements with Google to provide free ad credits for new customers.
Why Adwords Is Awesome
The use of Adwords (or any pay per click advertising for that matter) is ideal for the early testing of your online store because you have complete control over your traffic.
For example, if I want to test out a particular category of products in my store, I can tell Adwords to only drive relevant customers looking for those products to the landing page of my choice. This is extremely powerful.
So the first step of the process is to decide what part of your store you want to test. In general, I always suggest that you test out a very narrow selection of products, one category at a time.
For example, if you sell sporting goods in your store, I would avoid simply lumping all of your sports equipment into a single generic sports category. Instead, I would focus my testing on one specific product group such as tennis racquets.
In fact, the narrower the category the better because you will be able to gather much more targeted data.
Writing Your Adwords Campaign
The process of creating an Adwords campaign is beyond the scope of this article. In fact, there are many tutorials for generating an effective Adwords campaign that can be found on Google's website, but the main point I want to emphasize here is that you should avoid using broad matching keyword terms for this analysis.
Ideally, you want Adwords to drive extremely targeted customers that are looking for exactly what you offer in your online store.
The problem with using broad matching keywords is that you will have less control over the customers that visit your store which may taint your Google Analytics results and make your data analysis much more difficult.
For example, let's say I want to drive customers who are looking for "lace handkerchiefs" to our store. I know for a fact that we only sell white lace handkerchiefs so I would further refine our keywords to target customers who type in "white lace handkerchiefs".
I would also use quotation marks around my keywords to enforce that these search terms are typed in the exact same order of the customer's search query. In other words, the search "lace handkerchiefs with white bows" would not match.
In general, when generating Adwords ads for your testing, you should always err on the side of being too specific as opposed to being too broad. If your search terms end up being too limiting, you can always relax your constraints later on. Being more specific will also save you money since you are paying for traffic by the click.
It's also important that the landing page for your ad point to the specific category page of the products you are trying to test. Never write an ad and simply send the customer to your home page because this will artificially inflate your bounce rate.
Refining Your Adwords Ads
Before we delve into the analysis portion of the testing process, it's absolutely essential to make sure that you are only driving extremely targeted customers to your store using Adwords.
Once the traffic starts trickling in on your website, you need to make sure that these customers arrive on your site looking for the products that you intended.
For example with my "lace handkerchief" example above, even though I'm strictly targeting the keywords "white lace handkerchief" in quotation marks, someone searching for "white lace handkerchief curtains" would still be able to find my online store. Since I don't sell handkerchief curtains, I need to prevent these people from clicking onto my website.
Refining your ads is an iterative process. I've already written an article on how to refine your Adwords campaigns which is worth a read if you are new to Adwords.
Making sure you only receive targeted customers is an extremely important aspect of this testing and it's critical to nail your traffic down before even thinking about looking at your Analytics reports.
Setting Up Google Analytics
Once you have verified that you are sending targeted customers to your desired product category (via the Google Analytics filters described in my article), it's time to start analyzing the data.
When looking at your analytics reports, there are several things that you want to pay attention to.
The Bounce Rate – Are customers from Adwords leaving your site without clicking on anything?
Shopping Cart Abandonment – Are customers leaving your store prematurely during the checkout process without completing their purchase?
Popular Products – Which products are customers placing in their shopping carts?
The rest of this article will describe how to extract this information using Google Analytics.
The Bounce Rate
The bounce rate is the easiest metric to locate. Using the menu on the upper left corner, click on "Traffic Sources" and then on "google (cpc)". On this screen, you should see a summary of the bounce rate for your Adwords campaigns.


If your bounce rate is above 50% and you are confident that Adwords is sending you the right type of visitors, then there is probably something fundamentally wrong with your store or landing page.
Perhaps your website looks unprofessional. Perhaps you are carrying products that aren't popular. Whatever it is, you should tweak your landing page until your bounce rate is lower than 50%.
There is always a good amount of iteration involved in refining your landing pages. Have a friend or unbiased third party provide you with their honest opinion on what to change.
I'm not sure what the typical bounce rates are for other online stores but the Adwords bounce rates for our online store ranges from 20-30%.
Setting Up Your Checkout Funnel
For all online stores, the checkout process is probably the most crucial process to get right because this is how you get paid.
Therefore, it is essential to analyze each and every step of your checkout process to make sure that there are no obstacles preventing customers from giving you their hard earned cash.
Gathering data for your store's checkout sequence is simple thanks to Google Analytics' goal analysis feature. To setup goal analysis for your store, click on the "Edit" link next to your website URL on the main Google Analytics page.
Then, scroll down until you see the "Goals" category and click on "Add goal".



On this page, you can then specify the type of goal you want to set. Most shopping carts direct customers to a specific web page following a successful purchase.
For the purposes of this tutorial, your "goal" will be achieved once the customer reaches your "checkout success" page.
To set up your "success" page, follow these steps
Give Your Goal A Name
Set the Goal Type to URL Destination
Under Goal Details, set Match Type to Head Match
Enter in your Goal URL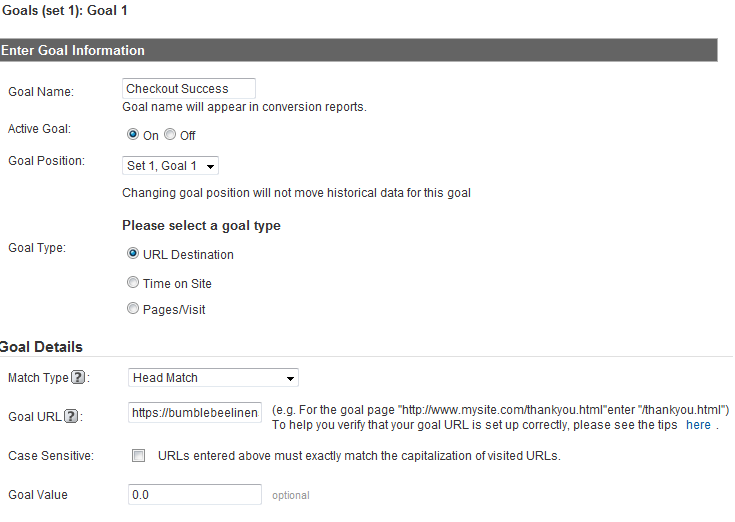 Once your success page is setup, it's time to specify your funnel sequence. A funnel is a series of pages leading up to your goal URL.
For example, a typical funnel might consist of a shopping cart page, a login page, a shipping page, a payment page and a checkout confirmation page.
In any case, it is important to let Google know all of the little steps of your checkout process that you want to track.
Under "Goal Funnel", enter in all of the webpage URLs that make up your sales funnel. Once you have entered in all of this information, click on the "Save Goal" button.
Getting The Kinks Out Of Your Checkout Process
Once you have your goal funnels all setup, the fun begins. Essentially, you have instructed Google to track every aspect of your checkout process.
For example, if you click on "Goals->Funnel Visualization" on your Analytics page, you will see something like this.




With your sales funnel visualized in this fashion, it's easy to find out where the hot spots are for your store's checkout process. Are you losing a large percentage of customers on your shipping page?
Perhaps your shipping charges are way too high. Are you losing customers when they are trying to pay? Perhaps you are not accepting enough forms of payment or your payment page is too confusing.
When my wife and I accepted Paypal as our only form of payment, we lost over 50% of our customers on our payment page. Are you losing customers on the login page?
Perhaps you are not displaying your trust logos in the right place. In any case, it's fairly easy to spot problem areas with your checkout process and then refine each step until your funnel becomes a well oiled machine.
Find Out What Products Are Popular
If you carry your own inventory and want to figure out what quantities to stock your products, you can use analytics to track what items customers are placing in their shopping carts.
To do this, you can simply setup another "Goal" that fires when a customer adds something to their shopping cart. Then, by clicking on the "reverse goal path" button, you can see what customers have placed in their shopping carts regardless of whether they make a purchase or not.
Setting up a "shopping cart" goal will also allow you to determine how well you have written your product copy and whether your products are enticing enough.
For our online store, about 17% of our Adwords visitors place something in their shopping cart and one third of these visitors go on to make an actual purchase.
Conclusion
Analyzing your sales funnel and your bounce rate is something very fundamental that all stores should focus on before working on building traffic.
Google Analytics is an extremely powerful tool that I've barely scratched the surface with the tutorial above. If you want, you can set up Analytics to track individual product sales, revenue, profit, visitor demographics etc… provided you feel comfortable giving Google all of your sales information.
Personally, I prefer to keep most of that information private and provide Google with just what I need to tweak my store. Once you've ironed out the kinks with your site, your store will become a conversion machine that will scale along with your traffic.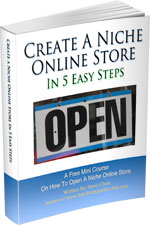 Ready To Get Serious About Starting An Online Business?
If you are really considering starting your own online business, then you have to check out my free mini course on How To Create A Niche Online Store In 5 Easy Steps.
In this 6 day mini course, I reveal the steps that my wife and I took to earn 100 thousand dollars in the span of just a year. Best of all, it's absolutely free!
Similar Posts
Have you read these?