Sometimes you spend so much time trying to increase your traffic and grow your audience that you lose track of the most important element of your business, your customers.
As many of you know from my last post on How Our Store Performed On Cyber Monday, we had so much traffic and sales that day that I had to personally man the phone lines.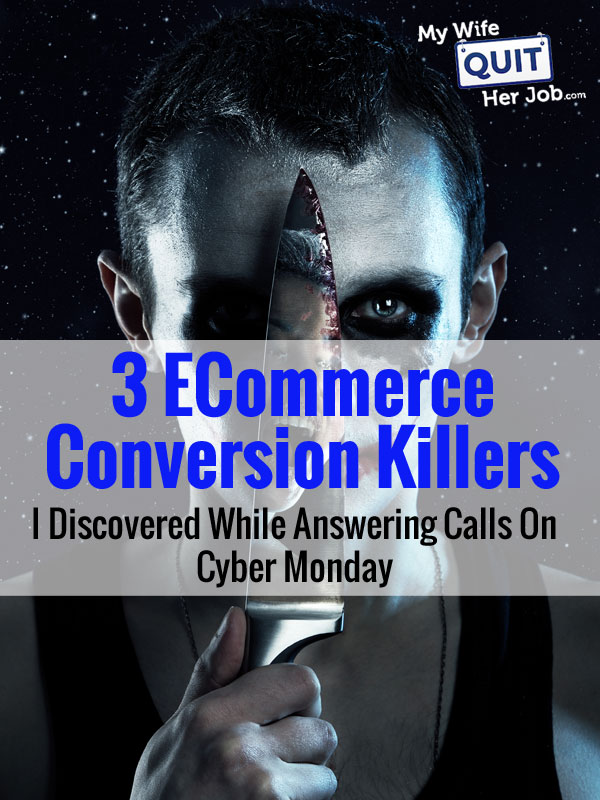 And to be frank, it was the first time that I'd run customer support in over 5 years.
Back when my wife and I first started our online store, we always answered every call and phone calls were the primary way we got feedback for our shop in the early days.
For example, customers would request certain products to carry in our store. Sometimes they pointed out bugs with our website that needed to be fixed. Sometimes we received negative product feedback on the quality of our goods.
One time, a clueless customer found 3 usability issues with our old site design in a single day!
Another time, a mobile customer had trouble checking out on her iPhone when I discovered that autocorrect was causing checkout problems on our site.
Here's the thing.
We all have tunnel vision when it comes to our own websites. We see the same site day in and day out and as long as orders are coming in, we're not aware of the customers we turn away.
This past Cyber Monday was no exception, and I found a lot of major issues with our site by just picking up the phone. Are you making these mistakes with your store?
Editor's Note: While the first 2 conversion killers described below are specific to my shop, conversion killer #3 could be affecting your store without you even knowing it!
Conversion Killer #1: We Had A Shopping Cart UI Issue
I probably answered over 30 calls on Cyber Monday and at least 2 of the people that called in could not figure out how to remove items from their shopping carts!
Now 2 out of 30 may not sound like a lot of people on the surface but potentially losing 6.67% of your sales is a HUGE deal!
The 2 customers that called in were so frustrated that they almost left without buying anything. And if this was happening to these 2 people, who knows how many others were having the same issue?
Here's the thing.
The process of removing products from our shopping cart is very obvious to me. And I've witnessed hundreds of customers remove cart items successfully so I never thought it was a problem.
But upon closer examination of our shopping cart page, I immediately saw 2 potential issues. First of all, the "remove item" checkbox is way too small and it's not easily tappable on mobile.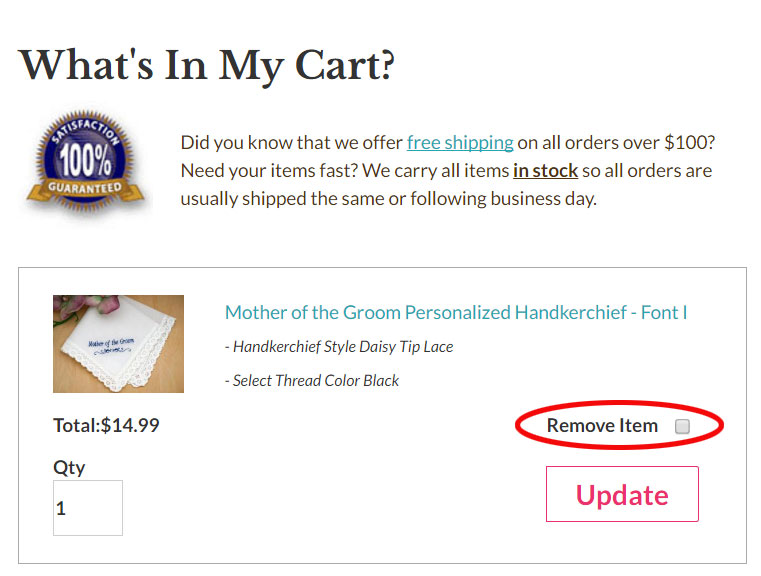 Eventually I want to have a custom checkbox created for the site but for now, I just made the "Remove Item" box bigger. Here's how it looks right now.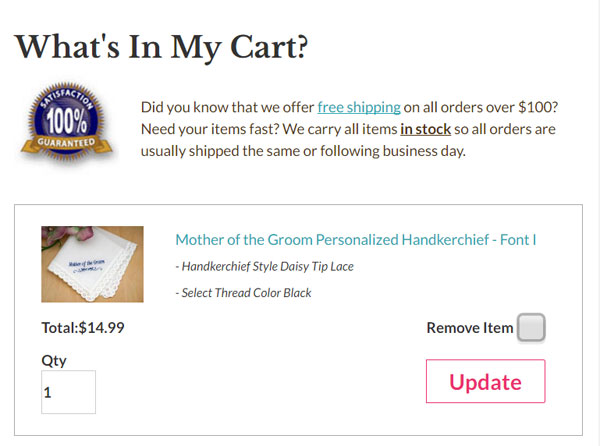 The second major problem with my shopping cart page was that entering in a quantity of 0 does not remove the item from the cart!
So I added a few lines of code to address this and voila!
Hopefully, this solves the problem but I'll be keeping a close watch on our customers to see if they continue getting stuck on this step.
Conversion Killer #2: We Were Not Emphasizing Key Product Categories
I received another call from a lady who needed some help buying personalized handkerchiefs for her entire extended family. And while we were on the call, I pulled up her browsing history so I could see what she had looked at on our site.
(Sometimes I do this if there's a potential large order at stake)
It turns out that she had already spent over 30 minutes shopping on our site and she had 10 items in her cart. This lady was clearly planning on buying a lot of hankies!
Anyway, the first question she asked was whether we sold handkerchiefs for men.
Well of course we do! It's right there on the menu!

Click or tap on the "Shop Linens" menu and then click on "Mens Collection".

**Silence**
She still couldn't find it.
And then I discovered why. Here's what our menu looks like. Can you find our mens hankies?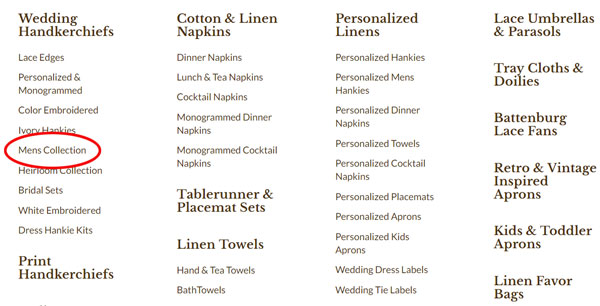 Because our mens hankies are in such high demand, we should have made this entry much more prominent in the menu. So ultimately I decided to create a separate menu entry for our mens handkerchiefs in large font.
Note: My menu is getting a little too large at this point and some of it leaks below the fold on laptops. It still needs some more tweaking.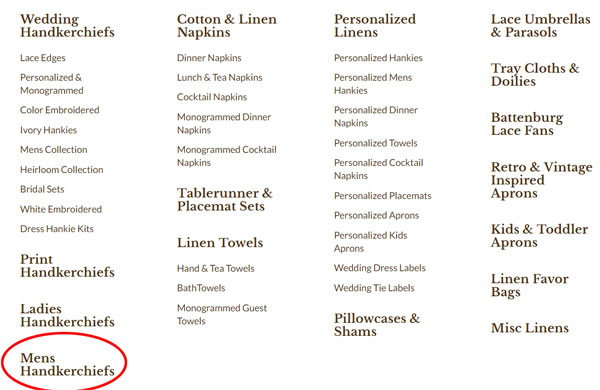 Conversion Killer #3: We Had An Obscure SSL Problem
The last conversion killer that I discovered was actually a very serious problem that I've had on my site for quite some time. And I first want to thank Kevin Unruh and Allan Douglas for helping me track it down.
Kevin is a student in my Create A Profitable Online Course and one day he emailed me to tell me that my menu wasn't working on Safari for Mac. But for some strange reason, I could not reproduce the issue.
Even after getting his exact OS and browser version, I ran tests on his exact setup and even asked friends to help test my mobile menu for me but I could not successfully break my site.
Try as I might, I could not reproduce Kevin's same failure so I brushed off the problem until I received an email from Allan Douglas a few weeks later.
Here's what he wrote…
Hi Steve,

I was taking a looking at your store for inspirational purposes and found that you have some problems with http scripts mixed with https.
What?!? I tested my site extensively across all browsers and platforms. How could I have not noticed this? After ripping my hair out, I discovered why.
My ecommerce store only uses SSL (HTTPS) for the checkout portion of the site. To make the site faster, I do not secure my product or category pages.
As a result, I never bothered to make sure that the non-checkout pages on my site worked properly with HTTPS enabled.
Here's the thing.
Most browsers by default do not force a site to run SSL for all pages. But apparently there's a setting in Safari for Mac OS that forces all pages to run HTTPS!
Later, I found out that Safari is not the only browser that does this. In fact, because Google is encouraging all webmasters to go full HTTPS on all pages, I wouldn't be surprised if this becomes a default setting going forward.
Bottom line, I had to go back to make sure that all of my pages worked properly under HTTPS whether it mattered or not. And it turns out that my little menu problem was attributed to this as well.
If you run your own website (it doesn't have to be for ecommerce), make sure that no errors pop up when it is run under https://.
If you get errors, you could be driving away potential customers!
Conclusion
If you learned anything from reading this post, the key takeaway is that you need to go out and talk to your customers directly.
Back when I first started Bumblebee Linens, I used to call every single person who abandoned their shopping cart. If I had a phone number or an email, I would use it.
My wife always thought that I was crazy and annoying for calling every customer, but it worked. We got a ton of feedback and improved our business dramatically.
But over the years, we slowly became complacent and focused our efforts on gaining traffic as opposed to improving what we already had.
There are probably a million little conversion killers on your site and only real customers can tell you what they are. So talk to them!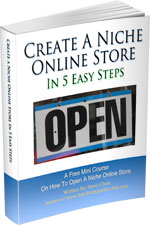 Ready To Get Serious About Starting An Online Business?
If you are really considering starting your own online business, then you have to check out my free mini course on How To Create A Niche Online Store In 5 Easy Steps.
In this 6 day mini course, I reveal the steps that my wife and I took to earn 100 thousand dollars in the span of just a year. Best of all, it's free and you'll receive weekly ecommerce tips and strategies!
Note: This post above may contain affiliate links, which means that I may receive a commission if you make a purchase when clicking a link. Please consult our privacy policy for more information.
Similar Posts
Have you read these?