Over this past weekend, I was chatting with a friend of mine about the many benefits of using Skype for video conferencing. And after talking with her at length, she seemed genuinely excited so I recommended a webcam for her to buy so she could chat online with her parents in India.
Now this friend of mine is not exactly the most tech savvy person in the world. In fact, she barely knows how to use a computer let alone shop online.
So, I did most of the research for her, found a great deal on the Logitech Webcam Pro and forwarded the information to her on where to buy it. I even emailed her a direct link to the product page thinking that was good enough.
However, the next day I got another call from her because she couldn't figure out how to make the purchase online. This is what she saw when she tried to buy from a well known ecommerce site.
What's Wrong With This Picture?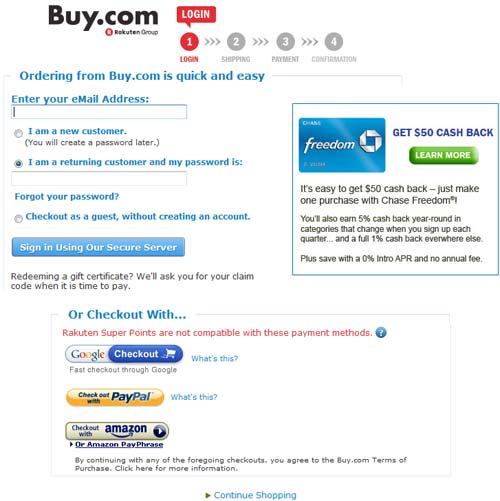 First off, can you tell why checking out was so confusing for my friend who doesn't do a whole lot of online shopping? Let me point them out to you. I'm actually pretty shocked that an established ecommerce company like Buy.com actually designed their checkout page this way.
Making It Difficult To Checkout Without An Account
First off, my friend was confused because she was expecting to be asked to enter in her credit card and shipping information but instead was greeted with what looked like an account creation form. She absolutely didn't want to create an account and simply wanted to buy the webcam and be on her merry way.
The funny thing is that she actually entered in her email address and her email password thinking for some reason that it would work. From experience, I know that this tends to happen all the time on our online store website.
People who don't shop online on a regular basis tend to make silly mistakes and as shopowners, it's our job to make the checkout process as smooth as possible.
The main problem with the Buy.com checkout page is that the "Checkout as a guest, without creating an account" radio button is hidden under the "Forgot Your Password" link and above the big "Sign in Using Our Secure Server" button.
It's really easy to miss and people who are uneasy about creating an account or entering in their email address for no reason are led to believe that they need to login to make a purchase. This is a big no-no and one of the main reasons my friend didn't buy the webcam.
To prevent this from happening, a better way to design a login page is to make the "Checkout As A Guest" option much more visible. In fact, I would make it a button on its own and label it "Click here to checkout with an account". That way you don't inadvertently drive away potential customers.
Too Many Payment Buttons
The second thing that really confused my friend was the massive array of payment options. Should she click on the "Sign in Using Our Secure Server" button? Should she click on the Google Checkout button? How about the Paypal or Amazon button?
Personally, I don't even think my friend even knows what Paypal is let alone Google Checkout or Amazon PayPhrase. Essentially, Buy.com confused the hell out of her by bombarding her with all of these options without providing the one option she was expecting to see, payment by credit card. Also, she asked me what the hell a "Rakuten Super Point" was and I actually had no idea.
A better way to create a checkout page is to present a single form where the customer can enter their shipping and billing information and then provide radio buttons on how they want to checkout making sure that "credit card" is one of the options displayed.
For our store, most customers pay by credit card while only a small fraction use Paypal or other payment methods.
Keep Your SSL Certificate Current
While my friend was shopping for a webcam, I was doing a little shopping on my own for wooden toys when I noticed my own share of shopping cart snafus. When I tried to checkout at this Mom and Pop toy store, I was greeted with the following message.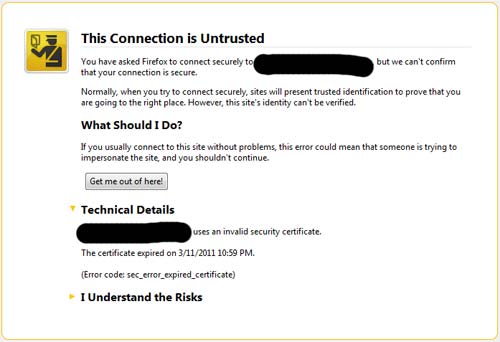 This shopowner inadvertently forgot to renew their SSL certificate and was keeping their store live without one. In large BOLD letters, the shop owner displayed a little note…
Please disregard the message about how the connection is untrusted. Everything on the site is fully functional and we are currently working on getting that message removed.
First of all, forgetting to renew your SSL certificate will drive away just about all of your customers. Without the padlock, no one is going to buy anything from you. As a result, make sure you setup a reminder for yourself to renew your SSL cert way ahead of time.
Second of all, this shopowner is just asking for trouble by running his site without SSL. Without a valid SSL certificate, all transmissions including any and all contact information including credit card information is transmitted in plain text.
Anyone sniffing on the line could obtain your information since the data is unencrypted.
Not Everyone Shops Online…Yet
Believe it or not, there's still a large population out there that rarely shops online. As a result, you have to make your checkout process as simple as possible or else you may risk alienating those who don't know what they are doing.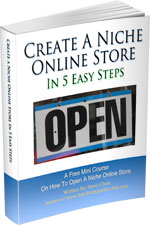 Ready To Get Serious About Starting An Online Business?
If you are really considering starting your own online business, then you have to check out my free mini course on How To Create A Niche Online Store In 5 Easy Steps.
In this 6 day mini course, I reveal the steps that my wife and I took to earn 100 thousand dollars in the span of just a year. Best of all, it's free and you'll receive weekly ecommerce tips and strategies!
Note: This post above may contain affiliate links, which means that I may receive a commission if you make a purchase when clicking a link. Please consult our privacy policy for more information.
Similar Posts
Have you read these?