This is a short follow up post to my article on Are Coupon Code Searches Costing Our Online Store Money?. I got a lot of good responses and just wanted to summarize some of the main points. Ultimately, I decided to make a small change to our store based on one particular reader's input and I wanted to talk about the effect this change had after just 2 days of operation.
Usually, two days of testing means absolutely nothing but in this case, it firmly cemented in my head what I needed to do.
From the comments, pretty much everyone agreed that as a customer, seeing a coupon code field and not actually having a coupon code carries a negative psychological effect on the whole shopping experience.
For one thing, most of you that responded stated that seeing an empty coupon field is an instant signal to go off and search online for a coupon code which usually means either putting off the purchase or leaving the ecommerce site altogether.
The other camp of people never ever look for coupon codes, complete the purchase anyways but feel ripped off because they could have gotten a better deal with a coupon. Both of these cases are bad for business.
A Possible Solution
As discussed in my last article, I don't really want to remove the coupon code field altogether because we do offer coupons to some of our biggest customers. Yet we don't want the negative effects associated with offering coupons.
Mike King of Learn This offered up a possible solution which I liked.
I too don't like the idea of online coupons actually. You've be way better off to simply offer a limited time sale price for an extra deal or bundle price for a sale instead of the coupons. I see what you mean for preferred customers, but then you should call it that so people don't go searching for coupons. Change the field name to say, preferred customer code, and no one will go searching for a coupon.
Mike's solution sounded like a good one so I gave it a try.
The Outcome
The outcome wasn't exactly what I was expecting. Instead of people ignoring the field and checking out, we received several inquiries on how to become a preferred customer and how to get a preferred customer code.
Some customers that we responded to either didn't complete checkout and one customer even left a rather negative note after making a purchase. We were kind of shocked. Here's the note below.
If you would like me to come back please put whatever promotional code for free shipping or 10% discount is out there for preferred customers. It is in the best interest of future business – obviously you have one. Thank you in advance
In any case, I have temporarily removed the coupon field altogether for now until I can come up with a better solution. I may just end up using cookies and a special link to implement my discounts.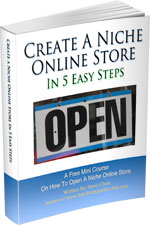 Ready To Get Serious About Starting An Online Business?
If you are really considering starting your own online business, then you have to check out my free mini course on How To Create A Niche Online Store In 5 Easy Steps.
In this 6 day mini course, I reveal the steps that my wife and I took to earn 100 thousand dollars in the span of just a year. Best of all, it's absolutely free!
Similar Posts
Have you read these?