People often ask how we decided to sell wedding handkerchiefs and linens on the Internet. While my husband might have a different opinion, in my mind we fell into the idea with a bit of luck and good timing.
When we were brainstorming ideas on businesses to start, I was infatuated with my latest hobby, embroidery. I really wanted to incorporate my hobby with our future business because I figured that there would be a high demand for personalized embroidered items and it was something I could relate to.
As I started thinking about what kind of things I could embroider, the idea of selling wedding handkerchiefs jumped into my mind.

I remembered when I was getting married that I really wanted a personalized wedding handkerchief with my name, my husband's name and our wedding date. At the time, I hadn't started my hobby yet so it didn't even occur to me that I could have one made or that I could make one myself.
I just assumed that I would have to buy the personalized handkerchief at a bridal store. After visiting many stores, I couldn't find any that offered personalization. In the end, I gave up and just bought a plain white one at David's Bridal.
Even though it was fairly simple and expensive, I bought it because I knew I was going to cry at my wedding and it was important to me that I didn't have pictures of me using a ratty tissue. I also knew it would be a great keepsake item and it could be my "something blue."
As many brides know, anything related to weddings seem to carry a surcharge and wedding handkerchiefs are not the exception. My experience looking for these hankies made me realize how ridiculously high some bridal stores would charge for even plain white hankies.
I thought to myself, I could sell hankies that were more affordable and attractive and I could personalize them for an extra charge. Most importantly, I knew there was a market for it because if I wanted a personalized hankie, I was sure other brides would too.
I started out doing some research on the web to see if anyone else had already implemented my idea. It turned out that hardly anyone sold personalized hankies directly to the consumer. Most places required you to purchase the hankie separately and then take it to a local embroiderist to personalize it.
After a bit of discussion with my husband, we decided to start an online business selling wedding handkerchiefs to local bridal stores and brides on the internet.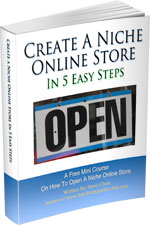 Ready To Get Serious About Starting An Online Business?
If you are really considering starting your own online business, then you have to check out my free mini course on How To Create A Niche Online Store In 5 Easy Steps.
In this 6 day mini course, I reveal the steps that my wife and I took to earn 100 thousand dollars in the span of just a year. Best of all, it's absolutely free!
Note: This post above may contain affiliate links, which means that I may receive a commission if you make a purchase when clicking a link. Please consult our privacy policy for more information.
Similar Posts
Have you read these?