Embarassing as it was for me to write my last article on how I was a neurotic mess when our business first launched, there were several points that I wanted to emphasize…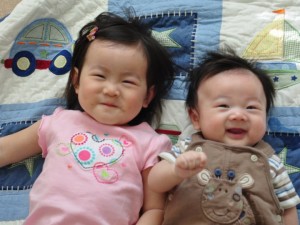 There is always a struggle and a period of uncertainty with every business until you make it over the hump. Anyone who tells you otherwise is full of it. If you hear a story that sounds too easy, chances are that it's a sales pitch.
Some amount of neurosis or craziness is required with every business because it's an indication that you have the necessary passion. The key is to channel that energy to the right place.
Sometimes you have to do whatever is necessary to get the job done even if it means sucking up your pride.
Someone needs to take one for the team. If my embarassing stories make you feel better about your own business then I've done my job. I tell it like it is.
Of course, all of that startup neurosis has to end at some point, otherwise you'll eventually drive yourself and your business partners crazy.
I happen to be spending the rest of my life with my business partner so it was important for us to have a high level plan for success even from the very start. So how did my wife and I get over the hump?
We Didn't Focus On Traffic In The Beginning
The title of this section might seem counterintuitive. After all, website traffic is the key to success for any online business. However in the back of mind, I always had faith that the web traffic would eventually come.
Perhaps I had watched Field Of Dreams one too many times but I had confidence that with enough content, the visitors would eventually find us either via the search engines or through word of mouth.
So one of the keys to getting over the hump was going into our business with the proper expectations early on. Business was going to start out slow and I knew that it was going to be slow for quite some time.
But one of the things I told myself was that I absolutely would not tolerate a high rate of shopping cart abandonment. If a customer was going to find us, I wanted to make sure that there was a high probability that they were going to make a purchase.
That is why I was so focused on stalking our customers early on. I wanted to know where they got stuck and where they left our store. I called them on the phone to find out why they weren't completing their transactions.
I desperately wanted to know what was going on in their minds when they didn't make a purchase.
We Used Adwords To Tune Our Conversion Rate
One of the best ways to test out the conversion effectiveness of your website is through Adwords. Because Adwords sends you direct traffic for people actually looking to buy products matching your keywords, they are ideal test subjects to iron out any conversion issues with your online store.
So early on we used very targeted, narrowly matching keywords and phrases to drive specific customers to our site with Adwords. And since traffic was pretty much nonexistent for our site outside of Adwords, we knew that almost everyone who arrived at our site was specifically looking for the items that we carried in our store.
Having targeted customers at your online store is great because if they don't make a purchase at a high percentage, it usually means it's your fault. After all, if you can't convert customers who are actively looking to buy, then your site has problems that need to be fixed.
After a long period of stalking, calling and doing exit rate analysis, we got our store to the point where we were satisfied with our conversion rate. If a customer was going to step into our online store, we had a pretty good chance of making a sale.
We Focused On Content
Once our conversion rate was stable, we then focused on long term traffic. If you've read some of my case studies, then I'm probably starting to sound like a broken record. The key to long term sustainable traffic is content.
And by content, I don't just mean any content, I mean content that people actually want to read as opposed to a bunch of verbiage that repeats your site's keywords.
Our long term strategy was providing content that showed customers how to make various fun projects using our products as raw materials. By attracting people to our site through our content, customers were more likely to buy because they could easily purchase the things they were reading about without leaving the site.
Around the six month mark or so, our content strategy started paying dividends and we noticed a rise in the number of people arriving at our site through our content pages to make a purchase.
We Targeted Volume Customers In Our Niche
Selling one off products to individual customers is all fine and good but my wife and I knew that if we wanted to supplant her income within a year, we needed some big ticket customers as well.
So we made an active effort to target the biggest and most consistent buyers in our niche, the wedding and event planners.
If we could land consistent business from customers who would buy large quantities from us and refer us to other customers, we were set. Today, we get a good chunk of consistent business from event planners, wedding planners, hotels, restaurants and even private airlines.
In fact, our general consumer vs bulk purchasing numbers are pretty balanced and the two together make up a very powerful revenue generating combo.
How Did We Get Over The Hump?
To sum it all up, we got over the hump by initially focusing our energies on conversion rate before moving on. Getting all of the web traffic in the world doesn't matter if you can't complete the sale. Then, we put in place a long and a short term strategy for sales.
In the short term, we used adwords and focused on event planners for immediate traffic and sales. We also marketed on the wedding forums as well. For the long term, we focused on content to drive organic traffic based on search.
When things got tough and we wanted to give up, thoughts of spending more time with the family kept us going.
All of these things allowed us to make over 100K in profits in a little over a year of business and we've grown in the double and even triple digits ever since.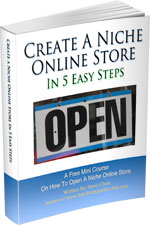 Ready To Get Serious About Starting An Online Business?
If you are really considering starting your own online business, then you have to check out my free mini course on How To Create A Niche Online Store In 5 Easy Steps.
In this 6 day mini course, I reveal the steps that my wife and I took to earn 100 thousand dollars in the span of just a year. Best of all, it's absolutely free!
Note: This post above may contain affiliate links, which means that I may receive a commission if you make a purchase when clicking a link. Please consult our privacy policy for more information.
Similar Posts
Have you read these?