My wife and I jumped right into our online business with a "whatever it takes" attitude. We were excited. We were enthusiastic. And we were ready to make money by any means necessary even if it meant catering to our customers.
Looking back, this was not necessarily the wrong attitude to have. But this no holds barred policy got us into a lot of trouble and wasted a lot of our time early on in the life of our business.
The truth was that we felt desperate. After countless hours of work, we launched our online store but didn't have the customers to justify our efforts. Our website was a ghost town and we practically jumped on every customer that came through our virtual doors.
As a result, we went out of our way to do special requests for anyone that asked even if it had no long term value for the business.
The quick cash was like a drug. Seeing money come in validated our store's existence and we let our fear of missing out on potential business turn us into virtual doormats.
Back then, we didn't value our time and it took a few bad customer situations to that help us realize our true worth.
The Wealthy Customer
I very clearly remember our first large potential customer. Her name was Anita and she was helping her daughter plan her wedding which was to take place the following year.
I remember speaking with her on the phone for the first time and getting the impression that she was extremely wealthy. I also received a vibe that she wanted her daughter's wedding to be extra special no matter what the cost. That last part made me salivate.
I remember Anita found us on the web by clicking on our adwords link and wanted to order personalized wedding handkerchiefs for her daughter's wedding invitations.
She had this vision of embroidering the guest's name on a lace handkerchief and wrapping a paper invitation inside. Quite a novel idea actually and all told we were looking at a deal worth well over $2500 in revenue which easily would have been our largest single order to date.
The problem was that Anita was not satisfied with any of the embroidering options that we had in place at the time. She wanted something very specific to be stitched onto each handkerchief and she wanted to see what it would look like before placing her order.
After getting a rough outline of what she wanted, my wife and I were comfortable with her request and we agreed to help her out. After all, Anita seemed like a very pleasant lady and easy to work with as well. We would work out the details later.
The Result
While Anita was extremely nice, she had no clue what she really wanted. Even though we made samples for her and even put up webpages with detailed photos of the handkerchiefs, she never seemed satisfied.
She would tweak things slightly this way, or move the text around. And each iteration would take us several hours to implement.
In fact, we spent several weeks trying to refine the embroidered design to her specifications and she was clearly getting frustrated and so were we.
Meanwhile, my wife and I had completely dropped the rest of our business on the floor for this lady. Our original vision of our online store was one of complete automation. Orders were supposed to fly in from the internet and we would just have to fulfill them.
Working with Anita on her wedding project just took too much of our time.
Ultimately, we decided to call it quits. The aftermath? One month wasted and no money to show for it.
The Special Order
One of the main strategies that my wife and I had early on with our business was to specifically go after wedding planners. The idea was that if we could get a bunch of wedding planners on board that we could sustain a steady stream of referral business over the long haul.
So we were always on our best behavior whenever any sort of event planner contacted us over the phone..
This particular wedding planner wanted to order 50 dozen of our rose embroidered napkins for a last minute reception. But the problem was that it was one of our least popular napkin styles and we didn't have enough in stock to fulfill her order.
The other problem was that she needed the napkins in under 2 weeks.
Since our vendors are from overseas and our products are made to order, we had to pay extra for expedited manufacturing and air delivery.
Normally, we would never have placed such an order without collateral, but the wedding planner assured us that she was definitely going to buy from us and just needed the final okay from her customer.
The timeframe was so tight that we decided to place the order with our manufacturer even before the final approval was met. After all, thousands of dollars were at stake.
The Result
The wedding planner was true to her word. She did receive approval from her customer and she did place the order. However, the order was far less than she had initially specified.
Turns out her customer decided to reduce their budget and slashed their guest list by over a half. We ended up only making 40% of what we thought we were going to make and we were stuck with dozens of our worst selling napkin styles.
Special Delivery
Perhaps we're just softies but my wife and I tend to be very sympathetic towards desperate brides. Whenever we get calls from customers on the verge of tears over something wedding related, we are much more inclined to listen and go out of our way to help them out.
Occasionally, we'll receive orders from customers who live only 10-15 minutes minutes away. This one particular customer placed an order online and then called us begging for permission to pick up her wedding linens in person for her wedding the following day.
One of our policies is that we don't allow customers to visit our storage facility. We don't have a physical storefront so we are not comfortable handling customer visits directly. We either ship our orders or we turn the customer away.
Honestly, I have no idea what came over us that day. Perhaps it was because we were desperate for business. Perhaps it was because this bride wanted to order a large quantity of linens.
Perhaps it was because she cried over the phone. In any case, we decided to deliver the linens to her rather than have her come to pick them up.
The Result
In her haste, the bride gave us an incorrect address which caused my wife and I to go on this wild goose chase to deliver her order. While her residence was only supposed to be 10 minutes away, we could not find her house nor could we contact her by phone either.
She simply wasn't picking up her cell.
So my wife and I ended up expending a lot of energy trying to track down her real address over the internet. We used every means possible. We searched for her on Google. We tried looking for her fiance by combing the wedding registries.
When we finally found her, we had effectively wasted our entire day.
What's The Point Of All This?
After going through many more situations like the ones described above, my wife and I gradually learned to say no. Learning to say no was an important word to learn because it will allowed us to focus on growing our business the way we wanted it to grow.
These days, my wife and I use the following rules of thumb when it comes to one off projects.
Does the nature of the work provide long term value to the business? Can the work be leveraged towards content or new products for the store?
Is the money involved justify our personal time and effort? Are we paying ourselves enough?
Is the income scalable? Can we afford to take on many of these projects without killing ourselves first?
Take it from a former "yes" man. Saying "no" is an underrated skill and can be one of the most valuable words in your vocabulary. One thing we often neglect is the value of our own time.
The sooner we realize our true worth, the sooner we can focus our efforts on what truly matters.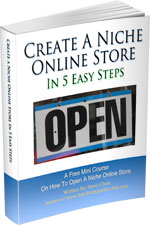 Ready To Get Serious About Starting An Online Business?
If you are really considering starting your own online business, then you have to check out my free mini course on How To Create A Niche Online Store In 5 Easy Steps.
In this 6 day mini course, I reveal the steps that my wife and I took to earn 100 thousand dollars in the span of just a year. Best of all, it's absolutely free!
Note: This post above may contain affiliate links, which means that I may receive a commission if you make a purchase when clicking a link. Please consult our privacy policy for more information.
Similar Posts
Have you read these?