I received a surprisingly large number of emails after writing my last article entitled Housing Has Dropped And Rates Are Low – Should I Buy A House? so I thought I'd devote a blog post to addressing some of these mails.

I was kind of shocked because the majority of emails that I received were in favor of purchasing a house right now despite the mathematical analysis that I performed in my last article.

So I went ahead and picked some of the strongest arguments from these emails to address below. Most of these points may be valid for some people but I don't feel that they apply to me directly. In any case, here are some of the arguments in favor of purchasing a house right now and why I personally disagree.
Argument 1:Interests Rates Are Low And They'll Never Be This Low Again
One of my readers strongly urged me to take advantage of the ridiculously low interest rates while they still last. His argument was that interest rates may never be this low again so you should take advantage of your increased purchasing power.

Honestly, I want interest rates to rise. Hell, I want interests rates to rise so high that my borrowing power goes to crap. Why? Because if interest rates go up then housing prices will go down and I can get a better deal on a house. The prices for housing in my area are still a bit inflated and they are still high partially because low interest rates are propping prices up.

Interest rates are at historic lows and people are losing their jobs. Most of my friends aren't getting raises this year and many of them are lucky just to be employed. Once interest rates go up, housing prices will drop because incomes are not increasing and peoples' borrowing power will decrease. Since interest rates are practically as low as they can go right now, rates can only go up which means housing can only go down in the near future.

I would much rather have a cheaper house with high interest rates than a more expensive house with lower interest rates.
Argument 2:Real Estate Never Drops In Value In The Long Run
I strongly dislike general arguments like this one that have no specific time frame involved. Sure, if you hold real estate long enough, eventually you'll probably come out ahead. It's the same as the tried and true 'buy and hold' strategy for stocks right?

But you know what? If you think that housing is going to drop in the near future, shouldn't you wait until it makes sense to buy and hold? If you thought that a stock was going to drop in value for all of this year, wouldn't you want to wait and buy the stock next year?

Times are tough right now and I personally want to keep as much money in cash in case of emergencies. It is not my goal to burden myself with a large mortgage which I could potentially get stuck with if housing goes down.
Argument 3:The Equity Of Your Payments Increases Over Time
This is very valid argument. In my last article, I didn't account for the increase in equity year over year for a mortgage payment. After the first year, the equity portion of the payment does in fact increase slowly over time. Arguably, after 5 years or so, I would be just about break even in the scenario I presented in my last article.

But let's say I think housing prices are going to drop. What happens to my equity then? Buying a house is a lot like trading stock options without a time frame mainly because real estate is a highly leveraged investment. Let's say I put 125k down on a 625k house. My equity is 20% right?

But if my house were to go down 10% in value or 62.5k, I would be effectively losing 50% of my investment. When it comes to buying a house, everything is amplified. Why should I risk leveraging my wealth when I think housing still has a ways to drop?

Argument 4:Buying A House Is A Good Hedge Against Inflation. Rents May Rise
This is a completely valid argument. No matter how much prices or rents may rise in the future, your monthly housing payments will remain fixed for the term of your loan (assuming you have a fixed interest mortgage). And the way the fed has been printing money lately, it is inevitable that we will hit a large amount of inflation sometime in the future.

But I don't think that this will happen anytime soon. Arguably, we'll see flat prices or even a little bit of deflation because everyone's houses are dropping in value. In fact, most people are struggling just to make payments on their loans. The general public simply does not have the money right now to buy anything. Because everyone's income is staying flat to lower, it is unlikely that rents or rates will rise in the near term.
Argument 5:The Intangibles Of Owning Are Worth It
I can't really argue with this one. Believe me, my wife and I really want to own a home. But on the flip side, we also don't want to put ourselves in a situation in which I'm forced to work for my mortgage.

This article is not intended to say that housing is not a good buy for everyone. Hell, I'll bet that housing in Detroit or Florida is probably a great value right now. Perhaps it makes sense to buy something there!

But where I live right now, housing prices are still disjointed from rental costs. As long as I believe that housing is still going to fall and that renting is cheaper than buying, I'm going to stay on the sidelines no matter how badly I want to buy something.
Further Reading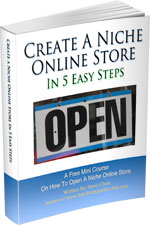 Ready To Get Serious About Starting An Online Business?
If you are really considering starting your own online business, then you have to check out my free mini course on How To Create A Niche Online Store In 5 Easy Steps.
In this 6 day mini course, I reveal the steps that my wife and I took to earn 100 thousand dollars in the span of just a year. Best of all, it's absolutely free!
Note: This post above may contain affiliate links, which means that I may receive a commission if you make a purchase when clicking a link. Please consult our privacy policy for more information.
Similar Posts
Have you read these?