This past week I read an article on TechCrunch about how retailers weren't ready for iPad shoppers this past holiday weekend. Now I don't know much about the author or her ecommerce background, but I strongly disagreed with the post.
The main premise was that most of the top online retailers missed out on a lot of sales because they neglected to have an iPad app or an iPad optimized site ready for holiday shopping.
First of all when I go shopping on my iPad, the last thing I want to do is to have to download an app in order to shop efficiently. The iPad screen is large enough such that browsing full blown sites is comfortable for most online stores.
The only thing that would be a detriment to online shopping on an iPad would be if the site used flash, which most sites already do not.
In any case, reading this article made me wonder how many customers shopped with iPads and other mobile devices at my online store during the Black Friday weekend and how many customers actually made a purchase.
After all, I hadn't done this analysis for several months now. Was I wrong in disagreeing with this post? Do I now need a mobile version of my store? What metrics should I use to make my decision?
Last Year's Results
Last year, only about 6% of our online visitors arrived through a mobile device using data gathered starting from Black Friday through the first week of December. Note that this period of time reflects our busiest shopping days of the year. Here was the breakdown among devices.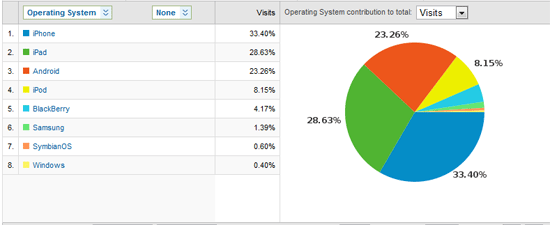 It's important to note that during this period last year, we had 0 customers actually make a purchase from our store. If you recall, last year I was considering whether to create a mobile version of my website but was still hesitant to pull the trigger.
This Year's Results During The Same Time Period
This year, the number and percentage of mobile visits increased dramatically by over 3X. In fact, this was the first year ever where the percentage of mobile visits hit double figures at over 14%. Here was the breakdown among devices.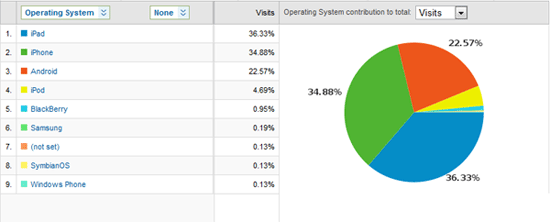 In terms of sales, mobile visitors accounted for about 6.6% of revenues with about 90% of mobile sales coming from iPad users. Not too shabby. Clearly, the number of people who shop on their mobile devices has been growing exponentially!
Time To Pull The Trigger On A Mobile Optimized Site?
So here's my situation. When I first designed my online store, I had dial-up visitors in mind. I chose a screen resolution of 800×600 and optimized the site to render the pages in under 10 seconds on a 56K modem!
These days, the newest Android phones pack screen sizes that are 1280×720-pixels in resolution with download speeds that are even faster than my cable modem connection at home.
It's pretty clear in my mind that mobile devices are getting better and better at browsing full blown websites even on a phone. Am I losing out on potential customers by not having a cell phone miniaturized website?
Personally, I try to avoid most mobile optimized shopping sites when browsing from my phone because they are usually poorly done. Having another site design would mean that I would have to do double testing on both full and mobile browsers with my shop.
Real Data From My Online Store
Whenever I have to make a design decision, I always look to my stats so here are some web browsing statistics for mobile users compared to the desktop/laptop users on my website.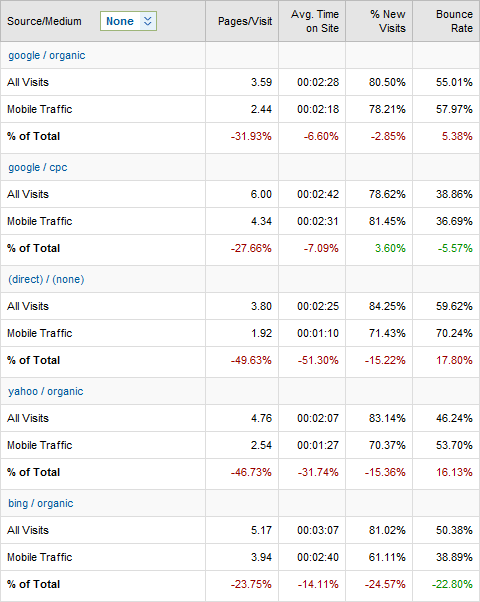 In addition to analyzing the data above and drawing some conclusions, I also did some research about the inherent differences between mobile versus desktop traffic. Here's what I found.
Mobile users are more affected by proximity. For example, if someone types in "bike shop" on their desktop computer, they are probably looking to shop online. But if they type "bike shop" into their phone, they might be looking to shop at the bike store closest to them. What does this mean? Mobile searchers might be expecting to find a place within walking distance or within a short drive. If these visitors land on my shop which is only offered online, they might leave immediately.
The search listings are usually abbreviated on a mobile device. The fact that the title tags and meta descriptions are often abridged on a mobile device means that a user has less information when they actually click on a link. As a result, bounce rates will tend to be higher in general
People don't like scrolling to the right. If your site is too large to fit horizontally on the screen, chances are that your customer will leave.
People who shop on their mobile devices have more money. I didn't know this before but it turns out that 42% of mobile internet users earn over $80,000 a year, and tend to spend more on the run.
Mobile users are more impatient than desktop users 60% of mobile users only wait 3 seconds or less for a page to load before leaving. 74% of mobile users will only wait 5 seconds. That's not very long.
Analyzing The Data
Ok, so back to the million dollar question. Do I need to design a mobile enabled version of my store? If you look at the metrics above, the statistics that compare desktop users vs mobile users is pretty frightening. All across the board, the bounce rate is mostly higher, the average time on site is lower and the pages per visit is lower as well.
But if you take a closer look at the data, I chose to break things down by traffic type because I wanted to specifically separate out cost per click traffic.
Why? It's because my CPC traffic is my most predictable and consistent form of traffic. If I want to do an apples to apples comparison of my data, then the CPC data is the way to go.
After all, every keyword that a visitor uses to land on my site from a PPC ad is extremely targeted and brings them to a very focused landing page.
So if I look at CPC data alone, it looks like my bounce rate isn't really an issue. For this limited data set, the bounce rate for mobile users was actually better than desktop/laptop users.
However, what worries me is that both the time on site and the pages per visit metrics were drastically lower.
Given the differences between mobile and desktop traffic, I'm not quite sure that I can rationalize a 27.76% drop in pages per visit on a mobile device.
In addition, a statistic missing from the table above is that my mobile conversion rates are almost 50% lower than my desktop/laptop conversion rates. Naturally I would expect mobile conversion rates to be lower but definitely not as bad as 50%!
What this tells me is that I need to take mobile a little more seriously. As of today, none of my competitors for my main targeted keyword phrases in the top 10 of search have a mobile enabled version of their site.
If I start now, I can get a jump on the competition. After all, mobile traffic seems to be growing exponentially with no end in sight.
The big question in my mind is whether the browsing experience on mobile will improve to the point where it will be equivalent to a desktop computer.
Don't get me wrong. I'm not worried about iPad or tablet traffic. I'm more concerned about people who shop using their itty bitty phone screens.
At this point, it would be a mistake to sit back and hope. I'm going to start experimenting with a mobile site to see if it makes a difference with my numbers. What do you think?
Do any of you have a mobile enabled version of your online store? Are your numbers better than mine? Please go to my online store at Bumblebee Linens on your cell phone and let me know what you think.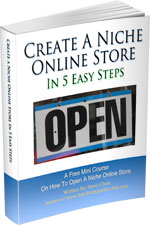 Ready To Get Serious About Starting An Online Business?
If you are really considering starting your own online business, then you have to check out my free mini course on How To Create A Niche Online Store In 5 Easy Steps.
In this 6 day mini course, I reveal the steps that my wife and I took to earn 100 thousand dollars in the span of just a year. Best of all, it's absolutely free!
Note: This post above may contain affiliate links, which means that I may receive a commission if you make a purchase when clicking a link. Please consult our privacy policy for more information.
Similar Posts
Have you read these?