It's been almost 4 years since I last changed the look and feel of MyWifeQuitHerJob.com so I knew that a complete website overhaul was long overdue.
One of the reasons that I've waited so long is because I don't believe in changing things unless something is broken. And because my blog has been steadily increasing its readership and making more money every single year, I didn't feel like anything needed to be changed…at least not until this past year.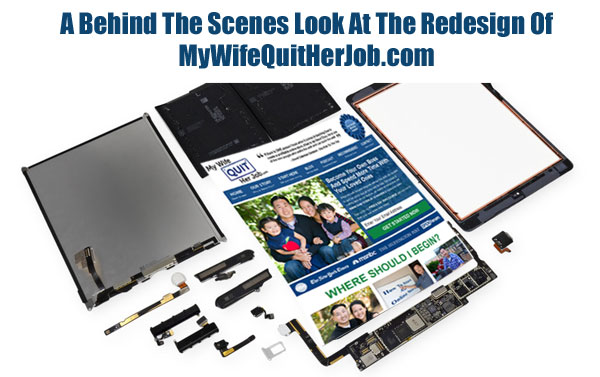 I don't know exactly what triggered it in me. Perhaps it was because I took a look at my site from a distance and decided that I wanted to brand myself better. Perhaps it was because my previous site looked like it was designed in the late nineties. But looking back, my objectives for the blog have definitely evolved over time.
During my last redesign in 2010, the focus was to provide as much space for advertising as possible. As a result, you probably noticed that my previous design was completely plastered with ads.
I had ads above the content, below the content, on the sidebars, in the header and in the footer. In fact, I still remember when my mom first saw my blog that she thought it was an online billboard.
Also back in the day, I didn't really know what I was doing and I didn't have any concept of website conversion optimization. Grabbing newsletter subscriptions was an afterthought and most of the signup forms on the site were haphazardly bolted together.
Finally, because it was my first WordPress blog design, the source code for the site was an unintelligible mess of php, html and css that was all garbled together.
This time around, I wanted to be much more deliberate in my design choices with a specific focus on improving the reader experience. Here's what was going on in my head during the redesign and my motivations for some of the changes.
I Removed All The Spammy Ads

First off, I pretty much removed almost all of the ads on the site. Whereas my last design was all about making money with advertising, the focus of the new design is about building authority and mindshare.
In my previous theme, I used this service called BuySellAds to sell advertising spots on my website. While I highly recommend this service, the problem was that my website tended to attract ads for info products about making money.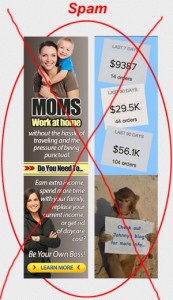 Some of these ads were really spammy(as shown to the right) but I decided to go with the "John Chow" method of monetization and accepted them anyways. My reasoning at the time was that they offered a decent payout and earning an extra 1200-1600 bucks a month wasn't anything to scoff at.
But here's the thing. Some of these ads were so spammy that they really detracted from my own reputation. After all, if I was displaying spammy ads, wouldn't people think that my Create A Profitable Online Store Course was spammy as well?
The last straw that broke the camels back happened late last year when a reader scolded me over email because he signed up for one of the products in one of my ads and lost his money in a get rich quick scam.
Even though it was not my product, he thought that I had endorsed it because I was willing to display an ad for it on my blog. And when he lost his money, he lost a little bit of faith in me as well.
Long story short, the spammy ads were hurting my reputation even though I couldn't directly measure the effects. And earning an extra 1200-1600 dollars a month simply wasn't worth the lost mindshare.
In the current design, you'll probably notice that I've replaced the large banner ads with testimonials and there are no get rich quick ads in sight.
I Added More Personality To The Site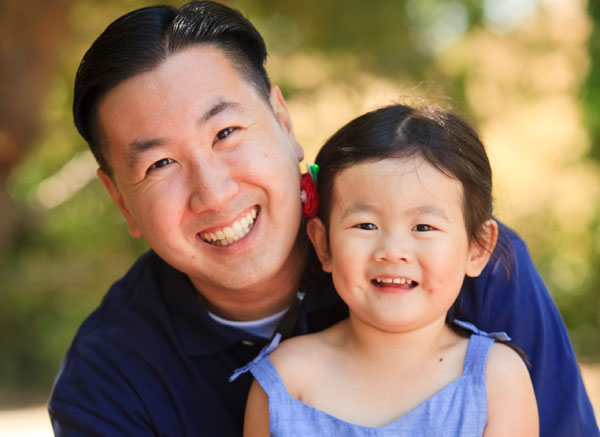 My previous design was all about site speed. So as a result, I didn't use many photos on the site and I focused my efforts on writing great text based content.
But one thing that I've learned over the years is that the key to running a successful business is infusing your personality into everything that you do.
It's one thing to write about your wife and your family, but it's a whole other ballgame to tell your story visually to the audience. In the new theme, I've added many more photos of my family and myself with the hope of connecting better with my readers.
With larger photos and more story telling, I hope to leave a lasting impression to those that can relate to my story.
I Improved The Navigation


Getting around my blog in the last design pretty much sucked. The main horizontal menu bar was cluttered and used really tiny text that didn't stand out at all.
The only way to view older posts was to use this little sidebar widget which provided links to previous, featured and popular posts. And it wasn't entirely obvious how to access the main blog portion of the site.
Having ads plastered all over made things even worse because not only did you have to search for the navigation but you were constantly distracted by random get rich quick ads as well.
So in the present design, I decided to use large arrays of photos and text to highlight the main portions of the website. The navigation totally stands out now and it's very obvious what I have to offer on my website.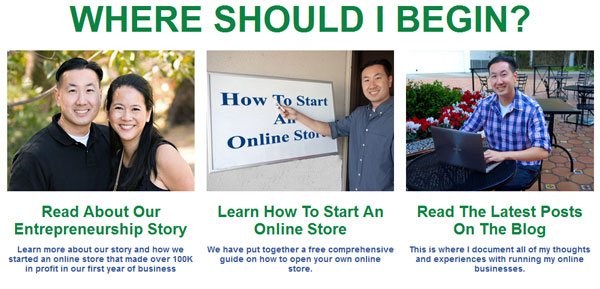 On the sidebar, I've implemented a "sticky" block that fades in and stays visible on the site while the user is scrolling to direct new visitors to the 3 most important pages on my blog.
In fact, every feature in my new theme is designed to guide the reader to one of 3 things, a newsletter signup form, a page with my background story and/or posts that promote my course.
I Added More Social Proof


Over the years, my blog has been featured in many mainstream publications so I finally decided to use this to my advantage. On my main page, I now proudly display a banner with some of the more prominent sites that I've been featured on.
Also, I decided to publish my readership numbers in the header as well. While 90K visitors isn't as much traffic as some of my colleagues, it's still not a bad number and my readership is very focused on learning more about ecommerce and running online businesses.
I Implemented Bolder, More Readable Fonts And A Responsive Design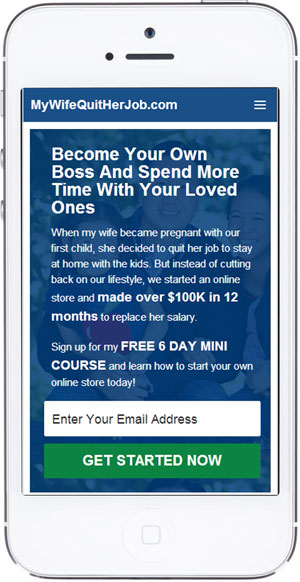 By now you've probably realized that mobile is all the rage. If you look at the traffic stats for MyWifeQuitHerJob.com, over 30% of my readers browse my site on a mobile phone. Therefore it was imperative that my blog displayed well on a smaller screen.
As other webmasters have done, I opted for a responsive design. But instead of having support for 3 or more media screen sizes, I opted only to support 2 in the interests of time and verification. After all, each additional screen size needs to be thoroughly tested across a wide variety of devices.
For this design, I had to test my new theme on Internet Explorer 7 8 9 10 11, Firefox, Safari, Chrome, iPad, Android tablets, iPhone and various android phones. Needless to say, it was very tedious.
The other important emphasis of the redesign was on readability. The serif font that I used in my previous theme was too light and hard to read. Plus, I used a much smaller font size which forced my mom to bust out her reading glasses every time she visited the site.
As you can probably tell, the fonts now are much bolder, larger and easier to read.
The Results
Of course there's no point in redesigning a website without a target in mind. The primary objective of my redesign was to remove all distractions and focus on getting people to sign up for my email list.
And I'm happy to say that in the 4 days that my redesign has been live, I've increased the conversion rate of my signup forms by over 108%. On one hand, removing all of the ads is costing me between 1200-1600 dollars a month. But at the same time, I'm adding more potential customers for my online store course.
Only time will tell whether that trade off was a wise one. But if anything, the user experience on my blog is now vastly improved and I'm much more proud to show this site off to my friends. Admittedly, I always used to cringe every time I saw one of those spammy get rich quick ads. But now I can breath a sign of relief since they are all gone.
Anyways, I hope you enjoyed this behind the scenes analysis of my site redesign. What do you think of the new layout?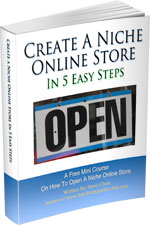 Ready To Get Serious About Starting An Online Business?
If you are really considering starting your own online business, then you have to check out my free mini course on How To Create A Niche Online Store In 5 Easy Steps.
In this 6 day mini course, I reveal the steps that my wife and I took to earn 100 thousand dollars in the span of just a year. Best of all, it's absolutely free!
Note: This post above may contain affiliate links, which means that I may receive a commission if you make a purchase when clicking a link. Please consult our privacy policy for more information.
Similar Posts
Have you read these?