This past weekend, I was casually glancing at my Google Analytics numbers when I noticed a statistic that surprised me. Almost 3 percent of our revenues last month came from customers making purchases on their mobile devices.
While 3 percent doesn't sound like a huge percentage, this is pretty shocking to me on several fronts.
First of all, I never used to imagine anyone shopping or making purchases on such a tiny screen. Second, up until this point in time I hadn't given mobile shopping a second thought because of my personal biases.
Personally, I would never use my phone to buy anything online and I had assumed no one else would either given today's technology.
While mobile users only represent about 5% of the overall traffic to my store, this number is clearly trending higher. In fact at this exact same point last year, our mobile phone and mobile device purchases were at zero.
In other words, last year no one bought anything from us using their phones. But given that mobile phone purchases are now on my radar, do I need to create a brand new store optimized for portable devices?
Some Statistics
Since I was curious, I dug a little deeper and found some statistics regarding ecommerce shopping on mobile devices and this is what I found.
35% of US Web-enabled mobile phone owners said they had participated in some form of mobile shopping in the past year, such as browsing or researching but not necessarily purchasing products.
A PriceGrabber study showed that mobile purchases were only up 3% from the year before.
The largest category of products purchased via a mobile phone were apps or other digital content (ie. ringtones, music, video clips, games)
The second largest category for shopping via mobile was consumer electronics followed by computers, electronic equipment, books and finally clothing.
Unfortunately, I couldn't find a concrete number for the percentage of consumers who actually made a "purchase" on their phones. I can understand doing a little comparison shopping on my phone while I'm at a brick and mortar store but in general I find it too frustrating to go through the entire checkout process on a 4 inch screen.
What Does It Take To Make A Mobile Version Of A Store?
So fine… The use of mobile devices for eCommerce is increasing. I can accept that. But what does it take to create a mobile optimized site?
In the back of my mind, I was thinking that it wouldn't be such a big deal. Adjust the screen resolution, fiddle with some CSS parameters and voila! A mobile shopping cart! But after doing some research, I found that optimizing your site for mobile isn't all that easy.
To make a website truly mobile, there are a number of things that need to be taken under consideration.
All pictures and photos need to be scaled down to lower resolutions for faster loading times
All background images need to be removed
The font size needs to be increased to improve readability
The site needs to be redesigned to flow vertically as opposed to horizontally. In other words, you need to turn your site into one long column that requires no side scrolling.
Pages that use the "float" attribute tend to wreak havoc on phones so they need to be removed
Pages that use mouseover states don't work too well since your finger doesn't quite work like a mouse, so these attributes need to be altered
In addition to all of the attributes above, there's also the problem of detecting the fact that a mobile phone is accessing your site.
One way is to parse the user agent string at the server level and look for a mobile device, but with new user devices and new user agents coming out all of the time, you have to constantly update the list of devices that require mobile access to your site.
Do I Need To Take Action?
Given the amount of work involved, it still doesn't seem quite worth it at the present time to design a new mobile version of my ecommerce store.
3% of revenues isn't large enough of a percentage to sacrifice a good chunk of my time or my money to hire a developer. But there are some lingering questions in my mind. Would the number of mobile conversions go up if I did have a mobile optimized version of the store?
In addition, mobile versions of websites tend to be really ugly. Would a mobile site drive away customers who are looking for an attractive store to shop at?
These days, there are several open source shopping carts like Magento that have mobile features already built in. Should I just bite the bullet and migrate my site altogether to a brand new and more modern platform?
These are all questions that I will need to answer in the next year or so. Way back when I first designed our shopping cart, I had dial-up users in mind so I've already somewhat optimized our store for low bandwidth customers. Hopefully, that will tide me over for another year.
Just curious though. How many of you actually shop using your mobile phone? And if any of you run your own online stores, what percentage of your revenues come from mobile devices today?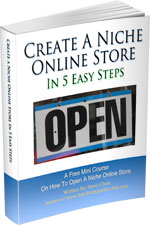 Ready To Get Serious About Starting An Online Business?
If you are really considering starting your own online business, then you have to check out my free mini course on How To Create A Niche Online Store In 5 Easy Steps.
In this 6 day mini course, I reveal the steps that my wife and I took to earn 100 thousand dollars in the span of just a year. Best of all, it's absolutely free!
Note: This post above may contain affiliate links, which means that I may receive a commission if you make a purchase when clicking a link. Please consult our privacy policy for more information.
Similar Posts
Have you read these?