"I have no idea how to create and manage my own website and I have absolutely no interest in learning either. I'm just going to hire someone or pay for a service."
Believe it or not, most people that I encounter who want to create their own online store or business have this attitude. They are reluctant to learn basic web programming because they are afraid of the technical aspects of running a website.
To me, this attitude is contradictory. You want to start an online only business yet you have no desire to learn about the web? That's
like saying that you want to be a real estate agent but have no desire to learn about the rules and regulations involved in buying or selling a house.
Unless you have the budget to hire a full time web developer, you are going to have to learn a few basic skills in order to be successful with your online store.
If you think it's as simple as hiring a contractor every time you need something done, think again because it will be expensive and a royal pain in the butt.
Trust me, I've seen it time and time again. When you rely on a third party programmer to put together a website for you, you're inevitably going to want to make changes.
And especially if this is your very first website, you probably don't have a good idea exactly what you want in the first place. As a result, you'll change your mind constantly.
Do I want this graphic on the left or the right? Do I want a pull down menu? All of these little tweaks and changes will add up over time and you'll soon find yourself spending too much money and time getting your website just right.
The problem is that when you have absolutely no desire to learn about basic web programming, you have to rely on your developer every single time you want to make even the smallest of changes.
Do You Even Know What You Want In An Online Store?
Just the other day, I had lunch with a friend of mine who wanted to start an online store in the wedding industry and asked for my advice on how to get her website implemented.
Because of her aversion to web programming, she wanted to know the best way to proceed in order to avoid having to deal with anything technical.
What's funny was that when I first asked her why she didn't want to learn about the web, she replied that she had no interest in taking a hands on approach in creating her own website. She just wanted to get her store designed and up and running as easily as possible.
But once I showed her the backend of our website, the analytics and all of the cool features I added to our online store, she was completely amazed.
In fact prior to my little demonstration, she was under the impression that every single webpage was hand coded in html from scratch each time.
She had no idea that websites could possibly have a dynamic, easy to use graphical backend with which to add/remove products or to add content.
She was also surprised at all of the code that was written and available for free! After my brief tutorial, she was definitely intrigued by what she could accomplish with just a little knowledge.
Moral of the story? Don't say that you are not interested in something until you've done a little research and have given things a chance.

In any case, no matter which route you decide to take in creating your online store website, you definitely don't want to be completely dependent on your web developer. At a bare minimum, you should learn the following basic skills.
You Really Don't Need To Learn Very Much
No matter which shopping cart solution that you choose whether it be OSCommerce, OpenCart, Magento or Big Commerce, the core shopping cart engine will already be written for you.
For example, out of the box you should already have the ability to do the following without even touching any source code whatsoever.
Manage inventory using a graphical web interface
Manage content pages within your website
Manage shipping costs and methods
Accept payments using the most popular payment methods
What this means is that 95% of the technical work is already done for you right out of the box. You don't really have to worry too much about how your store works. You just have to focus your energy on making your store look good and writing content.
Learn Basic HTML CSS
All of the aesthetics for your website will be coded using a combination of html and CSS. Really, it's not that difficult. If you know how to use Microsoft Word, you can learn how to write html.
At the heart of it all, html is just a verbose way of describing text and objects. For example, if you want a portion of your text to be bold, you simply need to enclose the bolded text within special tags as demonstrated below
<strong>I want this text to be bold</strong>
As you can imagine, it would be very cumbersome to manually add tags to all of your text, so CSS (Cascading style sheets) provides you with the power to manage the aesthetics of your site in a single file.
Without going into too much depth, if you take the time to learn the basics of both CSS and HTML, you will rarely have to rely on a web developer to make small graphical tweaks to your website.
The best part? There are many great tutorials on the web that will teach you the basics for free! Here's an excellent tutorial that I found online on Starting With HTML + CSS
Learn How To Use Photoshop
Your online store will heavily rely on images in order to sell product so it is vital that all of your photos stand out and look professional.
Unless you are a master photographer (or extremely lucky), chances are that you will have to adjust or at least crop your photos before displaying them on the web.
The tool that you use to edit your photos doesn't necessarily have to be Photoshop, but it is the most popular photo editing software out there and the one that I use for every single photo on our online store.
You don't need to be a power user. At the base level, you should learn how to
Crop your photos
Reduce the picture quality and file size for the web
Adjust the contrast and levels
Learn how to make minor touchups using the healing brush
Here are a few additional articles that I have written about managing the photos for your online store.
It Doesn't Take Much
If you take a look at the simplicity of this blog and our online store, you can tell that I'm not a professional graphic designer or web developer.
But the good news is that you don't have to be an expert to create a profitable online store or blog. Your end goal should be to learn just enough in order to meet your own needs.
Even though you may think that you have no desire to learn how to create your own website, you should keep an open mind. Do you really want to be at the mercy of your web developer?
Do you really want to have to pay money every time you want to make small changes to your website? Take a week or so to learn the basics and the time investment will pay off immediately.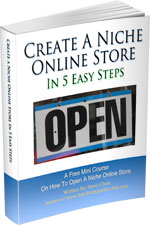 Ready To Get Serious About Starting An Online Business?
If you are really considering starting your own online business, then you have to check out my free mini course on How To Create A Niche Online Store In 5 Easy Steps.
In this 6 day mini course, I reveal the steps that my wife and I took to earn 100 thousand dollars in the span of just a year. Best of all, it's free and you'll receive weekly ecommerce tips and strategies!
Note: This post above may contain affiliate links, which means that I may receive a commission if you make a purchase when clicking a link. Please consult our privacy policy for more information.
Similar Posts
Have you read these?