Having recently finished writing 2 multi-part guides on how to start a small business and how to create a profitable online store, I must say that it felt good to get all of that information out on paper.
Creating these guides was extremely satisfying for me on so many levels and allowed me to document the many things that I learned while starting our wedding linens business.
But sometimes I wonder whether these guides will really make a difference. Sometimes I wonder how many of my readers will actually go on to start their own small business as a result.
Based on your emails, MyWifeQuitHerJob.com has readers from a broad spectrum of backgrounds and I'm just curious how many of you are truly serious about quitting the rat race?
Hell, I received a strange email the other day from a random reader who recently unsubscribed from the blog.
Thank you for writing this guide, but it really scared me away from wanting to start my own business. It seems way too complicated and a major hassle so thanks but no thanks.
Well geez…nobody ever said that starting a business was going to be easy. Would you rather be completely in the dark over what it takes? Or would you rather be prepared for what lies ahead? If reading a guide is going to scare you away, then guess what?
Starting a business is not for you. At this point, don't even try because you don't have what it takes!
This email made me really think about why I hesitated when I first considered starting my own business. I wasn't really scared. I had the time.
I didn't have the knowledge but I knew I could pick things up. What did it really take to motivate me to take the plunge?
Find Out What Motivates You
If you really want to start your own business and actually be successful at it, you need to discover what pushes your buttons. For my wife and I, it took a pregnancy to push us beyond our tipping point. Before that? I didn't have any excuses.
None. I was just a lazy piece of crap.
But as soon as I saw that pregnancy stick test positive, I got the biggest kick in the ass I'd ever received. I wanted my wife and I to be able to spend as much time as possible with our child and the only way to do that was to take charge of our own income.
Everyone has different motivations. One of my fellow entrepreneur friends decided to take the plunge because he was tired of answering to other people.
His tipping point? After 4 straight jobs and not being able to get along with any of his bosses, he realized that he just wasn't employee material.
The best way to find out what motivates you is to sit down and think about what really matters to you and imagine what your life would be like in your ideal world.
Are you unsatisfied? Do you really want to be working for someone else to make a living? Do you have any special skills that very few people have? Do you want freedom? Do you need security? How badly do you want it?
Stop Making Excuses
There is a good friend of mine who I see at work every single day and he's the furthest thing from lazy. He has tremendous talent in the creative arts. He writes well and he has the technical know how to learn how to program in any computer language available.
Everyday when I see him, I tell him that he should start a online business on the side. The kicker here is that he's way more talented that I am on so many levels that it's a shame that he doesn't start something on his own. But everyday, I hear the same old excuses.
I really want to start my own business, but when am I going to find the time? I have two kids! I just don't have any free time at all.
To combat his excuses, I've repeatedly offered my help and even volunteered to setup a website for him from scratch to no avail.
The reality is that my friend is still searching for that special something to push him over the edge. He has the knowledge and know how to be successful but he's still searching for that magic button.
No One Can Help You But You
I've seen it time and time again. Most people don't follow through on their business ideas because they lack that killer instinct. Motivation can't be learned through a book.
It can't be obtained by reading this blog or any written material for that matter. Books are only useful for teaching the mechanics. Deep down, the only person who can help you succeed is yourself.
So stop wasting your time and money on books, get rich schemes and other useless materials and concentrate on figuring out what makes you tick.
Lock yourself in a room and decide what you really want out of your life. Do you really want to be doing what you are doing today? Is your current situation ideal?
The sooner you figure things out on your own, the sooner you can change your life for the better. Start now and break out of the trance!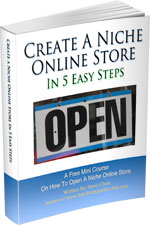 Ready To Get Serious About Starting An Online Business?
If you are really considering starting your own online business, then you have to check out my free mini course on How To Create A Niche Online Store In 5 Easy Steps.
In this 6 day mini course, I reveal the steps that my wife and I took to earn 100 thousand dollars in the span of just a year. Best of all, it's absolutely free!
Note: This post above may contain affiliate links, which means that I may receive a commission if you make a purchase when clicking a link. Please consult our privacy policy for more information.
Similar Posts
Have you read these?