I just got back from the financial blogger conference (FINCON for short) and it was an amazing experience! It was my very first blogging conference ever and after having so much fun, I now plan on attending more and possibly even speaking as well.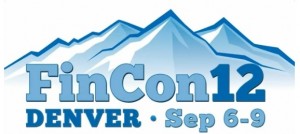 What's ironic is that I wasn't even that excited about FINCON the day before the conference began.
While the sessions looked interesting, I was a bit apprehensive about leaving the kiddos behind for my wife to take care of all by herself (though I'm sure I'll be paying for this later).
Also, I had to take a few days off and go through the hassle of traveling, booking hotels etc…which I generally hate doing.
But within the first few seconds of walking through the door, I realized the true power of FINCON which I'll discuss below.
Face To Face Contact Trumps Email Anyday
As soon as I stepped into the hotel, I saw a bunch of people that I've been emailing for years but had never ever spoke to face to face before. And by just shaking their hands and having a face to face conversation had a profound effect on my psyche.
It made me realize how lousy a communication method email really is. Hell, even though there are some bloggers that I talk to almost everyday, I always thought of them as just "virtual" friends.
For example, I practically text chat with Miranda Marquit of Planting Money Seeds, Tom Drake of Canadian Finance Blog and Larry Ludwig of Investor Junkie every day. And while I do have a good relationship with these 3 people, it instantly became magnified 10x as soon as I finally spoke to them in person.
When I saw Miranda, she gave me a big hug. As soon as I saw Tom and Larry, we started chatting away like we were old friends at a college reunion. In short, it was awesome! Now that I have met them face to face, I feel a much stronger connection to them now, even more so than before.
The Relationship Is Everything
One thing that I've come to realize about blogging or any business for that matter is that the relationship is everything. When you know someone personally, you are a thousand times more likely to go out of your way to help them out.
And the best way to establish or strengthen existing relationships is to hang out while you are all piss drunk (In Miranda's case, she gets tipsy with water)! Once the alcohol starts flowing and the inhibitions start dropping, it's the best time to get to know everyone's true personalities and establish a deep connection.
Here are some guys that I really got to know during the conference and plan on keeping in touch with.
I'm sure there are many more of you out there and I'm sorry if I missed you!
Relationship Building Tips
As with any conference, there were many people out there that were networking the right way and the wrong way. First off, I just want to get this out of the way.
No one f-ing cares about your blog.
No one cares about your business either.
People care about getting to know you as a person.
There were a handful of people I met during the course of the conference that just started blabbing away about their blog and content without me even asking. This is an instant turnoff.
If you hand me a business card without me asking, chances are it's going in the trash. I had a bunch of people ask me for my business card and I didn't take any with me. Here's my take. If I've established a relationship with you, then I don't need your business card. I'll know how to find you and I'll remember you long after the conference is over. If I want to contact you, I'll find a way to reach you even without your info.
Use your real name please! There were a few people that I spoke with for over 30 minutes and later found out that they were using their pen name. In fact, I spent a good amount of time helping this one person on how to improve their business and never found out their real name. If I don't know your name, then how I can establish a close relationship with you?
Good Relationships Will Improve Your Blog And Business
At the conference, there were a bunch of dedicated marketing reps for large finance companies interested in partnering with various bloggers. And their sole job was to get to know finance bloggers personally and to grease the relationship wheels.
Regardless of whether you think these relationships are premeditated or not, these reps are beneficial because they humanize the larger companies. By establishing a dedicated contact within a larger organization, you have access to special deals and can negotiate higher commissions for your affiliate sales. It also doesn't hurt that most of them are hot.
I was having drinks with Tom Drake at one of the pubs when some hot marketing rep walked up and started talking to him. And I shit you not, he dropped our conversion mid sentence and starting chatting with the rep directly.
Tom, if you are reading this, there's an unwritten rule.
Bros before ass-filiate revenue! (This is a tweetable)
In fact, just to show that my heart is in the right place, I'm going to post a YouTube video of you dancing at the FinCon party for kicks.
To be fair to Tom, the marketing rep did interrupt our conversation. But this is how I would have handled the situation…
Look you hot blonde marketing chick who I don't interact with on a regular basis because I'm married with two kids, I was talking to my main man Steve here. So please wait in line!
Btw, if I pulled a "Tom Drake" to anyone at FinCon, I sincerely apologize.
Another conversation that is still fresh in my mind was when Sam Dogen and I were talking to the rep from Tech Bargains. This is my recollection of the conversation.
Yeah…I suppose I could promote tech products on my PERSONAL FINANCE blog. Maybe I could rename my domain to www.FinancialTechSamurai.com. Yeah, that's it. That might work!
Anyways, since I blog a lot about ecommerce, these rules directly apply to your online store vendors as well. You should make an effort to reach out and meet your store vendors face to face and establish a relationship because it will improve your business. This is especially true with overseas and Chinese vendors. When my wife and I flew out to meet with our vendors, our product quality increased dramatically.
Go Outside Of Your Comfort Zone
Everyone is human. And everyone has their own insecurities which is why I was impressed by this girl I met named Kim Olson who blogs at KimOlsonPhotography.com. Basically, she came to the conference without knowing a single person and without having an established blog. That takes guts. Personally, I wouldn't have the balls to do that because I'm a wuss.
Anyways, even though I'm 99.9% sure that we'll probably never cross paths again (she and her husband are moving to Alaska), I was very happy to have connected with her at FinCon.
Take Action!
Now that my eyes have been opened to the world of conferences, I highly recommend that everyone go out and start getting to know others in your same industry. You don't have to have a blog. You don't have to have an online store. Whatever business you decide to run, it's important to get your butt out there and get to know other people in your industry.
Especially if you are a blogger, I highly recommend getting to know as many people as possible because you never know who will be your next friend or business partner. Here's to another FinCon next year!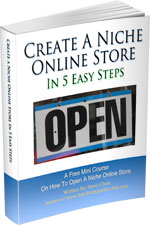 Ready To Get Serious About Starting An Online Business?
If you are really considering starting your own online business, then you have to check out my free mini course on How To Create A Niche Online Store In 5 Easy Steps.
In this 6 day mini course, I reveal the steps that my wife and I took to earn 100 thousand dollars in the span of just a year. Best of all, it's absolutely free!
Note: This post above may contain affiliate links, which means that I may receive a commission if you make a purchase when clicking a link. Please consult our privacy policy for more information.
Similar Posts
Have you read these?