This post was written by Tom Ewer, a regular contributor for MyWifeQuitHerJob.com!
When starting out in business, you just want to make some money.
Your priorities typically revolve around establishing a customer base and making some sales. Getting to that point is an awesome achievement in itself — many businesses fail before they reach "critical mass". But getting there doesn't mean that you should rest on your laurels.
In reality, at that point you have done the hard work — you should now be in a position to reap the rewards.
Because you have an established customer base, you have something to work with. The smallest tweaks can make a big difference to your bottom line.
Related: 4 Tweaks We Made To Our Business That Drastically Improved Sales
Why "Tweaking" Can be Such a Good Thing
The key to most businesses is customers. For the most part, the more of them you have, the better. The reason for this is twofold:
More customers should mean greater turnover and higher profits
More customers means more opportunities to make more money
The logic here is simple. Say your business attracts 1,000 paying customers per calendar month, and that each spends an average of $10.
Finding an additional 500 customers in the short term might be a tough call, but if you could raise a customer's average spend to $15, you would achieve the same effect in terms of turnover. And potentially, you could do so overnight.
How I Tweak for Positive Gains
Examples of how businesses tweak to raise their turnover can be found everywhere. Once you start looking for it, you'll see it all around you.
Take the freelance writing guide that I recently released as an example. I would be the first to admit that the current sales page (which may well have changed by the time you read this) isn't that great.
I cobbled it together pre-launch and haven't touched it since. I soon plan to start optimizing and split testing the page, which will undoubtedly result in a higher conversion rate. I will be attracting no more customers, but I can expect my turnover to increase.
Related: How To Prevent Your Small Business From Stagnating
The whole process of optimizing may sound rather intimidating but it doesn't need to be if you break it down into simple steps. Take my guide for example — in optimizing the sales page I will focus on the following:
Pain/desire points: i.e. what will drive people to purchase?
Social proof: can I incorporate more testimonials from well-known bloggers? Can I create positive case studies from people who have already read the guide?
Price: selling something for less does not mean that it will make you less money.

My guide presents another example — my email list of purchasers. I recently added an autoresponder message to this email list featuring a selection of my favorite books relating to freelance writing. My customers receive a useful resource and I can make additional money via affiliate links.
Writing the email took perhaps 20 minutes, but will make me money for the weeks and months to come that would have otherwise been left on the table. Since adding this autoresponder message a couple of weeks ago it has already generated five sales, from which I take a commission.
Speaking of affiliate income, another example of small tweaks for big gains can be found on my blog. Its "business model" relies upon affiliate income via products and services I use and endorse. The more people I direct to the "money pages" on my blog, the better.
Recently I added a Resources button to the sidebar which appears on every page. Clicking the button takes you directly to my Resources page, which is chock full of recommended products and affiliate links. This simple tweak only took me five minutes, but visits to my resources page as a percentage of total visits to my site has increased by 272% as a result.
Do You Tweak?
You can't really write a "how to" for tweaking in general — as you might be able to see from the three examples above, there are a near-unlimited number of ways in which you can optimize your business to boost your sales.
I haven't even mentioned the concept of making tweaks to increase your customer base, as opposed to increasing average spend. The sky really is the limit.
With that in mind, are you making the most of your business' existing customer base, or do you think that you might be leaving money on the table? If you have your own examples of tweaks you have made to boost your bottom line, I'd love to read about them below.
If on the other hand you haven't been tweaking, what are you waiting for?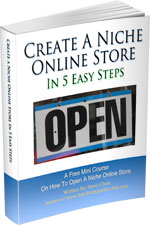 Ready To Get Serious About Starting An Online Business?
If you are really considering starting your own online business, then you have to check out my free mini course on How To Create A Niche Online Store In 5 Easy Steps.
In this 6 day mini course, I reveal the steps that my wife and I took to earn 100 thousand dollars in the span of just a year. Best of all, it's absolutely free!
Similar Posts
Have you read these?