I admit it. I used to be ashamed of telling other people about our wedding linens business. When we first opened our online store, not only did we not receive many orders in the first 4-6 months, but the idea of opening an online wedding linens store seemed almost silly compared to what my other entrepreneurial friends were up to.
You see at the time, a good number of my friends and acquaintances were starting their own businesses and they were all quite impressive. One of my friends started his own cellphone gaming company.
Another friend started his own web development software company. And a third friend started a small consulting firm. Whenever we saw each other, we would ask each other how things were going with our respective companies.
Friend: So Steve, how's the linens business? Is it fun?
Me: Linens business is ok. We are starting to get indexed in Google and business is picking up. And you?
Friend: Business is great. We are currently working with some big name companies to see how we can help their businesses grow.
Me: Wow, that sounds impressive.
I used to dread these conversations. After all, how could a silly linens business compare to a software business with limitless money making potential?
Gradually though, our linens business continued to grow while some of my friends' businesses went underwater. In the process, I learned that entrepreneurship isn't really about what you do, it's about how you do it and whether you are meeting your own personal goals and expectations.
What Are Your Goals?
The first question that you need to ask yourself is what are your goals? When we started our online wedding linens store, our goals were clear and simple. We wanted to start a business that would allow my wife to stay at home and take care of our kids.
In actuality, we didn't really care what the business was about. While we preferred to sell something that we could relate to, ultimately we probably could have pursued a wide variety of business ideas as long as it fulfilled our main goal.
As entrepreneurs, we all need to decide early on what our business goals are and stick with them. Clearly, my other friends had loftier and more aggressive ambitions.
If you asked them directly, you would find that their end goals were all to eventually create hundred million or billion dollar companies.
I doubt if our online wedding linens store will ever reach that point, but I don't really care. Family is the most important thing to me and our business allows us to spend more family time together.
The last thing I want is to run a business that consumes all of my time with only a small chance of a big payout.
How Much Time Can You Devote To Your Business?
When my wife and I started our business, we were both realistic. We didn't want to quit our jobs while our business was unestablished so we resigned ourselves to something we could create only during the weekends. We chose to open an online store because of the following benefits.
You don't have to meet with any clients during the day.
You can work at your own pace, decide when to launch or add products at your leisure
You can sell your products directly on the web with very little customer intervention. Of course this depends on what you are selling but we chose products that met this criteria.
On the contrary, all of my friends' ventures pretty much required them to work on their businesses full time. They had to constantly meet with potential customers and perform software integration and other software maintenance tasks on a regular basis.
I doubt that they could have worked on their businesses only during the weekends because of the end customers they were targeting.
Ultimately, you have to make a choice. Are you choosing to be an entrepreneur to enhance your lifestyle or to create the next big thing? Both choices are perfectly respectable.
What Is Your Time Horizon?
Many businesses take several years to generate any sort of profit. For example, most software companies don't make any money at all until their software is complete and actually shipping to customers.
Depending on the nature of the work, creating your own product and then selling it for profit can take many years.
On the other hand, opening an online store can generate revenue almost immediately. If you are importing and selling goods directly, there is almost no turnaround time except for throwing up a usable web store front.
Because we wanted our business up and running within 9 months, our time horizon for generating reasonable profits was around a year or so. This narrow time line restricted our choices on what type of businesses we could pursue.
Nothing To Be Ashamed Of
Whatever you decide to do, there's nothing to be ashamed of as long as you are actively going after your goals. Who cares if you are pursuing a not so glamorous business idea? Who cares if your friends are all trying to create hundred million dollar companies?
Only you can decide what will fit your lifestyle goals. The important thing is to get up off of your ass and do something about it. Be proud of whatever you are doing and feel a sense of purpose. As long as your business works for you, then who gives a crap?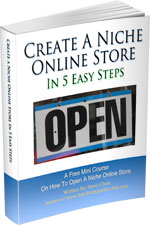 Ready To Get Serious About Starting An Online Business?
If you are really considering starting your own online business, then you have to check out my free mini course on How To Create A Niche Online Store In 5 Easy Steps.
In this 6 day mini course, I reveal the steps that my wife and I took to earn 100 thousand dollars in the span of just a year. Best of all, it's absolutely free!
Note: This post above may contain affiliate links, which means that I may receive a commission if you make a purchase when clicking a link. Please consult our privacy policy for more information.
Similar Posts
Have you read these?