I admit it. I'm a lazy person at heart. If I'm watching television and I can't find the remote, I'll watch whatever channel happens to be on. If I have a craving for a certain food but have to cook it myself, I'll just eat leftovers instead. If I'm lying in bed and I'm thirsty, I'll stay thirsty.
In fact, my wife can probably provide you with a hundred more examples of my laziness, but the topic of this article isn't about that kind of laziness. The laziness that I'm referring to is the laziness that stops you from taking charge of your life.
The laziness that I'm talking about is what makes you stay with that 60 hour a week job that you hate so much. The laziness that I'm alluding to is what stops you from pursuing your personal goals and aspirations because you don't have the time.
Something Missing
When my wife and I first got married, we wasted a lot of time on empty activities. Our life consisted of working from 9-6:30, eating dinner and then watching television until it was time to go to bed.
Sure, it was fun and relaxing but looking back, what did we have to show for it? I asked my wife the other day if she had any specific memories of that period of our life and she really couldn't come up with anything. And you know what? I couldn't come up with anything either. I couldn't even remember what shows we used to watch.
In fact, the one thing that stood out in my mind was how much my wife hated having to go to work. Every morning before she left she would kiss me goodbye and say "Okay honey. I'm off to the hell hole I call my job!".
She clearly wasn't happy and neither was I because I had to watch her suffer every morning. Over the course of 10 years, she switched companies several times, but she never was happy going to any of her jobs.
What was ironic was that we both wanted to start a business and we had the motivation but just never got around to it. In short, we were lazy.
But something eventually came over us that pushed us to create our own business. Something came over me to create this blog. Here's how we ended our lazy streak.
We Found Something Worth Working For
There's always something in life that motivates you to be a better person or to get off of your ass. For us, it was our baby. I can't even begin to describe what happened to my psyche when my wife became pregnant with our child but I'll give it a shot.
For one thing, I felt like I needed to change my ways. I needed to be more responsible. I needed to take better charge of my life. I wanted to make sure that I could provide for my family.
There were many thoughts swirling through my head at the time but most of them involved financial security. I wanted a house in a good school district. I wanted to start a college education fund so that my child wouldn't have to take out loans for school.
I wanted to have an emergency fund so large that I could be out of work for well over a year and still be ok.
For my wife, she wanted to quit her job so she could take care of our child full time. She didn't want to miss a single minute of our baby's childhood. Equally as important, she didn't want quitting her job to place a major crimp on our lifestyle or finances.
With so many factors dependent on money, we needed to find alternative sources of income. Hence our online store was born.
We Wanted To Accomplish Something Memorable
While having a baby certainly shortened the time table for us getting our act together, it certainly wasn't the only thing that caused us to overcome our laziness. Our peers played a large factor as well.
Most of my friends are extremely motivated and driven people so whenever we would get together, they would tell us about the exciting things going on in their lives. Sometimes they had crazy stories to tell us about their travels. Sometimes, they'd tell us about a new business that they were starting. There was always something going on.
But whenever the subject of "what's new" came around to us, we often had little to contribute. We could talk a mean game about the latest television shows or celebrity gossip, but in general, we had very little substance to contribute to the conversation.
This got tiresome and after awhile my wife and I desperately wanted to prove to ourselves that we could accomplish something special as well. To this day, I'm thankful to have such entrepreneurial friends. I admit that I'm jealous of some of their success stories, but at the same time they've motivated me to pursue things that I may not have ever thought of trying.
We Wanted To Help Others
Once things started running smoothly with our online store, my wife was able to quit her job. And soon after, I had several friends come to us wanting to know how we managed to supplant my wife's income with our online business.
In fact, I got so many questions that I decided to document our experiences in a blog and hence MyWifeQuitHerJob.com was born. One of the main points of this blog is that it doesn't take much prior knowledge or money to start a business, nor does it require much risk at all.
We knew absolutely nothing about web programming or wedding linens but still managed to find a way to create a successful online store. There is a ton of valuable information on the web and I hope to contribute to the vast pool of knowledge with this blog.
Helping others start their own businesses is the motivation behind MyWifeQuitHerJob.com and I hope that my writings prove to be a valuable resource to someone out there.
How Will You Overcome Laziness?
So how will you overcome laziness? Well you can have a baby, but that probably isn't the right solution for everyone:) I think the best way to overcome laziness is to sit down and reflect upon your life.
Do you need or want a change? Are you unhappy with any aspects of your life?
If so, you need to find something that inspires you or pushes you to change. It also helps to have friends there to motivate you and to have a higher goal in mind. Even the laziest people in the world have something that motivates them and it's just a matter of finding out what it is.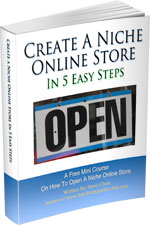 Ready To Get Serious About Starting An Online Business?
If you are really considering starting your own online business, then you have to check out my free mini course on How To Create A Niche Online Store In 5 Easy Steps.
In this 6 day mini course, I reveal the steps that my wife and I took to earn 100 thousand dollars in the span of just a year. Best of all, it's absolutely free!
Note: This post above may contain affiliate links, which means that I may receive a commission if you make a purchase when clicking a link. Please consult our privacy policy for more information.
Similar Posts
Have you read these?